Australian State Holds Crisis Talks as Floods Worsen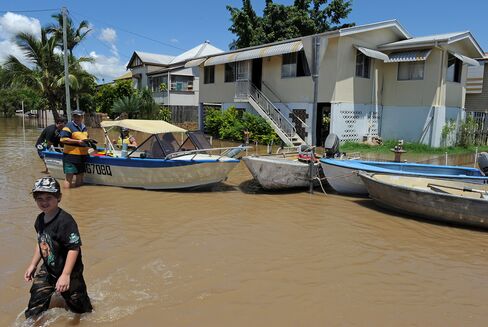 Jan. 5 (Bloomberg) -- The Queensland government began crisis talks to plan a response to the Australian state's worst floods in 50 years as rising waters threaten to inundate thousands of homes and damage the economy.
State Premier Anna Bligh recalled ministers from vacation for the emergency Cabinet meeting to focus on relief efforts and the rebuilding of devastated infrastructure, according to a statement on the government's website.
"This is an event that is without precedent in its size and its scale," Bligh told Australian Broadcasting Corp. radio today. The disaster has a "multi-billion dollar price tag" and all levels of government will work on a response, she said.
Record rainfall has caused floods to spread across an area the size of France and Germany, forcing towns to be evacuated, closing mines and spoiling crops in the nation's third-most populous state. The floods may have a "significant impact" on the nation's economy as exports are interrupted, Donald McGauchie, a Reserve Bank of Australia board member, said today.
"There's very substantial damage to infrastructure," McGauchie, who is also chairman of Nufarm Ltd., Australia's largest supplier of farm chemicals, said by phone. "The consequences to export income could be quite substantial."
Queensland is Australia's largest coal exporter and accounts for about 20 percent of the nation's A$1.28 trillion ($1.29 trillion) economy.
U.S. Condolences
Ten people have died in flood waters in the past few weeks and an estimated 200,000 people in the state have been affected, according to Queensland Police. U.S. Secretary of State Hillary Clinton yesterday offered her condolences and said the Obama administration stood ready to help.
Rockhampton, a coastal town of 75,000 residents about 500 kilometers (310 miles) north of the state capital, Brisbane, shut its airport to commercial jets after water covered the runway, train links have been cut off and roads to the south and west of the city have been closed. Flooding in the town is expected to worsen as the Fitzroy River is forecast to peak at 9.4 meters today, according to local authorities.
Australia had its third-wettest year on record during 2010, according to the Bureau of Meteorology, which says showers and storms will continue across Queensland into next week.
The rain has destroyed cotton crops, halted coal deliveries, shut mines and prompted miners including BHP Billiton Ltd. and Rio Tinto Group to declare force majeure, a legal clause allowing them to miss contracted deliveries.
The floods have cut production of coal by about 4.5 million metric tons since the start of December, Colin Hamilton, an analyst at Macquarie Group Ltd., said in an e-mail.
'Old Testament-Like Floods'
Australia's wheat and coal industries are being hurt "by the Old Testament-like floods," and investors should sell the Australian dollar against the euro, Suffolk, Virginia-based economist Dennis Gartman said in his daily newsletter yesterday.
"The damage that shall be done to the Australian dollar is very real and is as real as is the damage wrought by the flooding," he said.
The Australian dollar will face "a short-term headwind" as the flooding harms exports and hampers first-quarter growth, according to Royal Bank of Canada.
A "conservative estimate" of lost export revenue from the flooding would be about 0.5 percent to 0.7 percent of annual gross domestic product, which would be only partially offset by expected increases in the price of commodities, Sue Trinh, a senior currency strategist in an e-mailed note yesterday.
Australian Dollar
The Australian dollar dropped 1.7 percent to $1.006 this week, the second-worst performance among the 16 most actively traded currencies versus the U.S. dollar. It traded at 0.7567 euro, after reaching a record high of 0.7735 on Dec. 29.
Export-coal prices at the Australian port of Newcastle, an Asian benchmark, gained 3 percent in the three days to Dec. 31 to $126.10 a ton, the highest level since October 2008, according to Petersfield, England-based researcher IHS McCloskey. The price is for thermal coal used to make power. Coking coal, used in steelmaking, advanced 2.3 percent, according to McCloskey.
Wheat deliveries by rail to ports in the state may be halted by as much as two weeks because of flooding, according to GrainCorp Ltd., the largest grain handler in the country's east.
Freight costs have fallen as buyers of Queensland's coal cancel ship charters, intensifying competition for cargoes as the extra vessels become available. Freight rates as measured by the Baltic Dry Index yesterday slumped 4.5 percent to 1,693 points, taking the decline since Sept. 10 to 43 percent.
Flood waters in the town of St George, where cotton crops were already flooded in March, may peak next week, according to the weather bureau.
Flood alerts are in place for at least seven rivers in Queensland, the weather bureau said on its website. States of natural disaster have been declared in more than half of Queensland's 73 municipalities covering about a million square kilometers.
To contact the reporters on this story: Elisabeth Behrmann at ebehrmann1@bloomberg.net; Ben Sharples in Melbourne at bsharples@bloomberg.net.
To contact the editor responsible for this story: Edward Johnson at ejohnson28@bloomberg.net.