Yuan Gain to Slow in '11, Top Forecasters Say: China Credit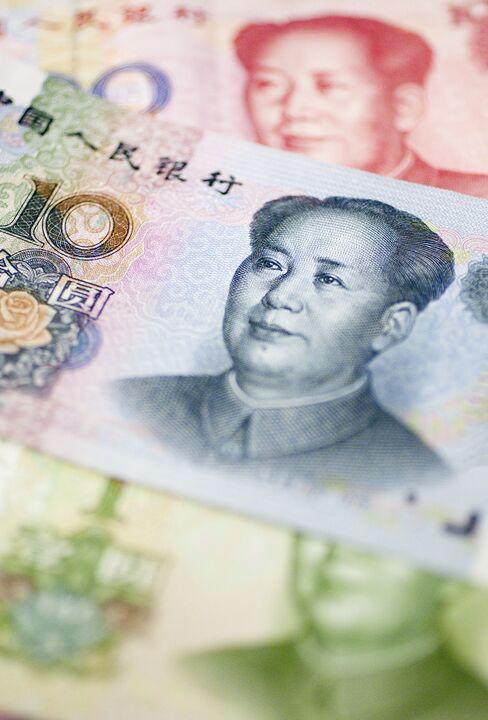 The yuan's appreciation may slow this year after the currency strengthened beyond 6.6 per dollar for the first time in 17 years, as China seeks to stem inflows that may fuel inflation, the most-accurate forecasters for 2010 said.
The yuan will advance 4.6 percent to 6.3 per dollar, after climbing 3.6 percent in just over six months, said Yen Ping Ho, the head of Asian foreign-exchange strategy for JPMorgan Chase & Co. in Singapore, whose 6.58 forecast was closest to the Dec. 31 close among 21 analysts surveyed by Bloomberg a year ago. ING Groep NV and HSBC Holdings Plc, whose predictions were the next most accurate, say the yuan will advance 3.8 percent from its year-end rate to 6.35.
"The authorities have tended to favor gradual appreciation," Ho said. "Some of the appreciation may be front-loaded in the first half to anchor inflation. But they won't move too fast as they are worried about the impact on the economy. Rapid appreciation may also promote more speculative inflows which they don't welcome."
Chinese executives including officials at China Merchants Bank Co. and Jiangsu Shagang Group Co. are reducing support for a stronger yuan on concern economic growth may slow as the central bank raises interest rates to cool the fastest inflation since 2008. The yuan is still likely to outperform currencies from the other so-called BRIC nations as the median estimate of economists surveyed by Bloomberg forecast a 5.1 percent advance this year compared with predictions of a 2.4 percent drop for Brazil's real, 0.7 percent increase for Russia's ruble and 4.1 percent rise for India's rupee.
The yuan climbed 0.17 percent to 6.5897 per dollar on Dec. 31 in Shanghai, after earlier touching 6.5896, according to the China Foreign Exchange Trade System. It fell 0.3 percent today.
State Visit
Contracts that fix rates to exchange the yuan in the future show traders are betting the currency will decline before Chinese President Hu Jintao's state visit to Washington this month and climb 2.6 percent in the coming year. One-month non-deliverable forwards traded at 6.5960 per dollar today in Hong Kong, compared with today's spot rate of 6.6090. Twelve-month contracts are stronger at 6.4405.
"The Chinese authorities are digging in their heels and refusing to budge much as they don't want to be seen as caving in to U.S. pressure," said Tim Condon, the head of Asian research in Singapore at ING, the largest Dutch financial services company.
'Token' Gains
Ma Weihua, chief executive officer of China Merchants Bank and a former central bank official, said in an interview last month that the U.S. shouldn't push for a rapid appreciation of the yuan after announcing plans to buy $600 billion of Treasuries. Shen Wenrong, chairman of Jiangsu Shagang Group, the nation's biggest private steelmaker, said in a December interview that China should allow only a "token" appreciation while the U.S. is "printing money to stoke inflation."
China allowed the yuan to climb 21 percent over three years after a currency peg ended in July 2005, before halting the appreciation for almost two years to help exporters cope with the global financial crisis. While the currency has risen 3.3 percent since June, its 2010 gain was the least among emerging Asian currencies after South Korea's won and Hong Kong's dollar.
"The yuan falls outside our top three currency picks for the year," JPMorgan's Ho said. "The appreciation will ultimately be quite modest."
BRIC 'Priority'
Brazilian President Dilma Rousseff plans to make a "priority" of holding talks with China over its yuan and trade policies, Trade Minister Fernando Pimentel said today. Rousseff will raise the issue during an April visit to China for a meeting of the BRIC nations, Pimentel said yesterday.
"Exchange rate and trade defense will be priority issues with China," Pimentel said. "This is an issue not only for Brazil but for all emerging countries."
ING's Condon, a former World Bank economist who has spent the last 18 years in Asia, said China would rather impose price controls and administrative measures to curb inflation. Most of the yuan's gains will take place in the second half as policy makers favor stability while inflation is accelerating, he said.
"Until inflation is behind them, they won't entertain any other policies and will be very cautious," said Condon.
Chinese consumer prices rose 5.1 percent in November, the fastest pace in 28 months and above the official target of 3 percent. Gross domestic product grew 9.6 percent in the third quarter from a year earlier, after expanding 10.3 percent in the second quarter and 11.9 percent in the first.
The Commerce Ministry said on Dec. 15 that it will "closely monitor" prices in the next three months.
The People's Bank of China boosted banks' reserves requirements six times last year. Policy makers raised the one-year lending and deposit rates by 25 basis points, or 0.25 percentage point, on Dec. 25, after lifting borrowing costs for the first time since 2007 in October.
Rate Swaps
The 12-month interest-rate swap, the fixed cost needed to receive the floating seven-day repurchase rate, climbed 106 basis points last year to 3.19 percent in Shanghai. The seven-day repurchase rate, which measures lending costs between banks, jumped 314 basis points to 4.70 percent.
The yield on the 3.29 percent government bond due in September 2020 increased 27 basis points in the year to 3.91 percent. The premium of the yield over similar maturity U.S. Treasuries widened to 62 basis points from a discount of 20 basis points at the start of last year.
Credit-default swaps tied to China's sovereign debt for five years closed last year at 68 basis points, up from a 2 1/2-year low of 52 basis points on Oct. 13, according to CMA prices. The contracts pay the buyer face value in exchange for the underlying securities or the cash equivalent should a government or company fail to adhere to its debt agreements.
Hot Money
The State Administration of Foreign Exchange said in November it will introduce new rules on provisioning and foreign-debt quotas to curb inflows of speculative investment seeking to profit from the rate advantage and currency gains.
The yuan's appreciation will be tempered in 2011 as China's inflation cools and Europe's debt crisis damps demand for high-yielding assets, said Richard Yetsenga, Hong Kong-based global head of emerging-markets currency strategy at HSBC.
Nine of Asia's 10 most-traded currencies excluding the yen fell against the dollar in the past month as Ireland joined Greece in seeking financial aid from the European Union.
"We are looking for another year of modest appreciation as the euro will be quite weak, especially in the first half and that will limit the yuan's ability to appreciate," Yetsenga said. "China's inflation will peak in the first quarter and this will relieve pressure on the central bank to use the yuan to fight inflation."
Before it's here, it's on the Bloomberg Terminal.
LEARN MORE