Manufacturing in U.S. Probably Grew at Faster Pace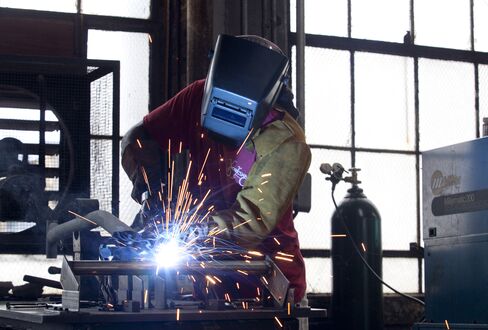 Manufacturing in the U.S. probably grew in December at the fastest pace in seven months, reinforcing signs the expansion gained momentum at the end of 2010, economists said before a report today.
The Institute for Supply Management's factory index rose to 57 from 56.6 the prior month, according to the median estimate of 57 economists surveyed by Bloomberg News. Readings greater than 50 signal growth. A separate report may show construction spending increased 0.2 percent in November.
Factory production that was driven by inventory rebuilding at the start of the recovery may now be getting more of a boost from increased spending by American consumers and companies. The national figures follow recent regional data that showed manufacturing will remain a mainstay of the world's largest economy.
"We could see further strengthening in the manufacturing numbers for December," said Conrad DeQuadros, a senior economist at RDQ Economics LLC in New York. "Manufacturing growth is being driven by a pickup in domestic demand rather than just inventory replenishment. It's suggestive of a more sustainable recovery."
The Tempe, Arizona-based ISM's report is due at 10 a.m. New York time. Estimates in the Bloomberg survey ranged from 55 to 60.
Also at 10 a.m., the Commerce Department will release data on construction spending. Projections in the Bloomberg survey ranged from a drop of 0.8 percent to a gain of 0.7 percent, following a 0.7 percent increase in October.
European Manufacturing
European manufacturing expanded more than initially estimated in December, powered by Germany's export-led expansion. A gauge of factory activity in the euro area rose to 57.1 from 55.3 the previous month, London-based Markit Economics said today. That's higher than the 56.8 reported earlier for December. Readings above 50 indicate expansion.
China's manufacturing growth, meanwhile, slowed in December partly because of tighter monetary policy. The Chinese central bank raised interest rates on Dec. 25; six days later, the currency regulator said it was expanding a program to let exporters keep revenue overseas.
A purchasing managers' index fell to 53.9 last month from 55.2 in November, China's logistics federation and the statistics bureau said Jan. 1.
U.S. Regions
Recent U.S. regional factory reports underscore the resilience of manufacturing at year-end. The Federal Reserve Bank of Philadelphia said Dec. 16 that factories in the region expanded in December at the fastest pace since April 2005. ISM-Chicago data on Dec. 30 showed businesses grew at the quickest pace in two decades.
The strength in manufacturing has been reflected in higher share prices. The Standard & Poor's Supercomposite Industrial Machinery Index, which includes Caterpillar Inc. and Deere & Co., jumped 47 percent last year, compared with a 13 percent increase in the broader S&P 500.
Jabil Circuit Inc., which provides manufacturing services, is one company benefiting from stronger emerging economies such as China and India. St. Petersburg, Florida-based Jabil said Dec. 20 that its revenue rose $4.1 billion in the three months ended Nov. 30, up from $3.1 billion a year earlier.
"At this point, in terms of U.S. spending, enterprise spending looks stable," Timothy Main, chief executive officer of Jabil, said on a teleconference with analysts on Dec. 20. "International spending looks very strong and other areas of enterprise infrastructure are pretty robust."
Increased Exports
The manufacturing industry, which accounts for about 11 percent of the economy, led the recovery from the worst recession since the 1930s as businesses rebuilt stockpiles they'd slashed during the slump. Rising exports have also spurred factory output.
Further gains in manufacturing may come from a pickup in consumer spending, which accounts for about 70 percent of the U.S. economy. Retailers' 2010 holiday sales jumped 5.5 percent for the best performance since 2005, according to MasterCard Advisors' SpendingPulse, which measures sales by all payment forms. The gain was 4.1 percent a year earlier. The numbers include Internet sales and exclude automobile purchases.
Economists in December boosted forecasts for fourth-quarter growth, reflecting a pickup in consumer spending and passage of an $858 billion bill extending all Bush-era tax cuts for two years. The legislation also continues expanded unemployment insurance benefits through 2011, trims payrolls taxes and includes accelerated tax depreciation for equipment purchases.
Auto Sales
Auto dealers are also seeing improved demand. Car sales in November rose to a 12.26 million unit pace, the highest since the government's cash-for-clunkers program in August 2009, according to industry data.
Housing, the industry that precipitated the recession, is still struggling. The projected gain for construction spending in November may reflect more of a boost from ongoing civil projects such as new roads and bridges using funds available as part of the federal stimulus effort.
                      Bloomberg Survey
=====================================================
                               ISM      ISM Construct
                              Manu   Prices Spending
                             Index    Index     MOM%
=====================================================

Date of Release              01/03    01/03    01/03
Observation Period            Dec.     Dec.     Nov.
-----------------------------------------------------
Median                        57.0     71.3     0.2%
Average                       57.0     71.5     0.0%
High Forecast                 60.0     76.5     0.7%
Low Forecast                  55.0     67.0    -0.8%
Number of Participants          57       12       40
Previous                      56.6     69.5     0.7%
-----------------------------------------------------
ABN Amro Inc.                 57.0     ---      ---
Action Economics              57.0     72.0    -0.2%
Aletti Gestielle SGR          56.8     71.0     ---
Ameriprise Financial Inc      57.3     72.0     0.0%
Banesto                       57.0     ---     -0.2%
Bank of Tokyo- Mitsubishi     56.9     ---      0.3%
Barclays Capital              57.0     ---      0.1%
Bayerische Landesbank         57.0     ---      ---
BBVA                          58.0     ---      ---
BMO Capital Markets           56.9     ---      0.2%
BofA Merrill Lynch Resear     57.5     ---      0.2%
Briefing.com                  58.0     ---     -0.4%
Capital Economics             55.0     ---      0.2%
Citi                          57.0     75.0     0.1%
ClearView Economics           55.5     67.0     0.0%
Credit Suisse                 57.5     71.0     ---
Daiwa Securities America      57.0     ---      0.5%
DekaBank                      56.5     ---      0.2%
Desjardins Group              56.0     ---     -0.5%
Deutsche Bank Securities      59.0     ---      ---
Deutsche Postbank AG          57.0     ---      ---
First Trust Advisors          57.8     ---      0.5%
Goldman, Sachs & Co.          57.5     ---      0.7%
Helaba                        55.5     ---      ---
HSBC Markets                  55.5     ---      0.3%
Hugh Johnson Advisors         58.0     ---     -0.5%
Ibersecurities                56.0     ---      ---
IDEAglobal                    57.0     70.0     0.4%
IHS Global Insight            60.0     ---     -0.2%
Informa Global Markets        56.0     ---      0.4%
ING Financial Markets         57.0     70.0     0.2%
Insight Economics             57.5     ---     -0.5%
Intesa-SanPaulo               57.0     ---      0.2%
J.P. Morgan Chase             57.0     ---      0.2%
Janney Montgomery Scott L     55.5     ---      0.4%
Jefferies & Co.               55.0     ---      ---
Landesbank Berlin             57.5     ---     -0.2%
Landesbank BW                 57.5     ---      ---
Maria Fiorini Ramirez Inc     56.5     ---      ---
MF Global                     58.0     70.0     0.0%
Moody's Analytics             57.3     ---      0.4%
Morgan Keegan & Co.           ---      ---     -0.2%
Morgan Stanley & Co.          56.6     72.0    -0.4%
National Bank Financial       56.5     ---      ---
Natixis                       57.0     ---      ---
Nomura Securities Intl.       57.5     ---      0.2%
Pierpont Securities LLC       57.0     ---      ---
PNC Bank                      56.0     ---      ---
Raiffeisenbank Internatio     57.0     ---      ---
RBC Capital Markets           57.2     ---      ---
Scotia Capital                57.5     ---      0.1%
Societe Generale              58.6     76.5    -0.5%
Stone & McCarthy Research     56.1     ---      0.3%
TD Securities                 57.0     ---      ---
Thomson Reuters/IFR           ---      ---     -0.1%
University of Maryland        58.6     71.5     0.2%
Wells Fargo & Co.             58.0     ---     -0.8%
WestLB AG                     57.0     ---      0.2%
Wrightson ICAP                57.5     ---     -0.4%
=====================================================