Technology Takeovers May Pick Up as IBM, HP Push Into the Cloud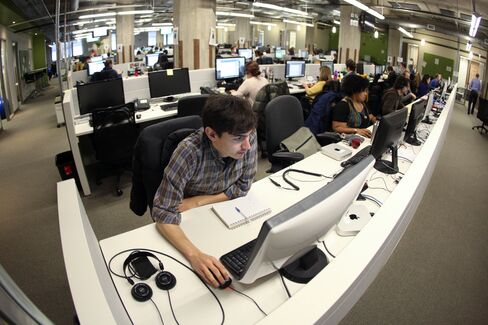 Technology companies that fueled more than $100 billion in acquisitions last year are likely to spend more in 2011 in a race to harness surging demand for cloud computing and security services.
Intel Corp., Hewlett-Packard Co. and International Business Machines Corp. led purchases of more than 2,700 companies and still spent only a fraction of the cash piles they accumulated during the recession. The dollar amount of announced tech deals gained 12 percent, lagging behind a 26 percent jump in worldwide mergers, according to data compiled by Bloomberg.
"I'm bullish" on 2011, said Larry Sonsini, chairman and co-founder of Wilson, Sonsini, Goodrich & Rosati, the Palo Alto, California-based law firm that worked with security-software maker McAfee Inc. on its $7.7 billion agreed sale to Intel. "When I look at enterprise clients, I see they are poised to invest in growth on a global basis."
Buyers aim to capture the $3.4 trillion in information-technology spending projected by researcher Gartner Inc. for 2011, a 3.5 percent increase from 2010. Cisco Systems Inc. and Oracle Corp. are among IT providers driving the convergence of services, software and hardware as they compete to become the most relevant to chief technology officers. More companies are moving to cloud computing, allowing them to access information over the Internet from external data centers.
Sonsini's firm worked on 62 technology acquisitions valued at a total of $16 billion in 2010, including the McAfee takeover -- the biggest deal in the industry last year. From his vantage point in Silicon Valley, Sonsini predicts an increase in many types of tech transactions this year.
Venture Capital
"Starting at the bottom of the enterprise ladder such as venture financing, we will see active investments in important areas such as cloud computing, clean technology, alternative energy, life sciences and Internet," said Sonsini, whose firm helped take Google Inc. and Apple Inc. public.
Venture capitalists are also pushing for paydays after a dearth of initial public offerings during 2008 and 2009. Worldwide, 94 technology companies held IPOs in 2010, up from 54 in 2009, according to Bloomberg data.
Groupon Inc., the Internet-coupon service with more than 35 million users, may be among those going public in 2011. The Chicago-based company walked away from a $6 billion takeover bid from Google in December and will decide this year whether to sell shares in an IPO, a person close to the situation said last month. Groupon has also filed to raise as much as $950 million from the sale of preferred shares.
IPO Benefits
"The increase in global tech IPOs in 2010 bodes well for M&A in the industry" in 2011 and beyond, said Drew Guevara, head of West Coast technology investment banking for Morgan Stanley, which advised Groupon together with Allen & Co. "Going public both establishes a company's market valuation and creates the potential to achieve higher value downstream through a sale."
Morgan Stanley topped the 2010 league table of financial advisers in the sector with 40 deals worth about $28 billion, followed by Goldman Sachs Group Inc. and JPMorgan Chase & Co. New York-based Morgan Stanley advised McAfee in its sale to Intel, video-storage provider Isilon Systems Inc. in its takeover by EMC Corp., and ArcSight Inc. in its sale to HP.
Speculation about who will be next has already boosted the stocks of the fastest-growing companies. F5 Networks Inc., whose software helps companies manage Internet traffic, more than doubled in 2010. Riverbed Technology Inc., a provider of equipment to boost networks' speed, more than tripled. Acme Packet Inc., a maker of devices that help networks transmit phone calls and video, quintupled as investors bet on continued revenue growth and a possible sale.
Managing Expectations
"In this environment, managing the market's expectations is always a challenge," said Ken Goldman, chief financial officer of Fortinet Inc., the Sunnyvale, California-based maker of network-security systems, whose market value increased by about 80 percent in 2010. "The risk of missing the targeted numbers even by a tad is always greater than overachieving."
A buyout of Seagate Technology Plc failed to materialize last year after the disk-drive maker ended discussions with private-equity firms, saying the indicated deal value wasn't in the best interest of the company or its shareholders. TPG Capital, which had taken Seagate private once before already, couldn't find enough equity partners to finance a takeover after other leveraged buyout firms lost interest, one person with knowledge of the matter said at the time.
"LBOs will continue to be hard if not harder in 2011, as financing is getting more expensive" said Morgan Stanley's Guevara. His firm and Wilson Sonsini worked for Seagate.
Storage Demand
Guevara, who is based in Menlo Park, California, said he anticipates deals in cloud computing will continue to be strong, followed by security technology. Most of the potential action in storage computing already has already taken place, he said.
HP, the world's biggest personal-computer maker, bought data-storage company 3Par Inc. for $2.35 billion, after an 18-day bidding war with Dell Inc. more than tripled the company's share price. In total, HP announced 9 purchases last year, including the $1.2 billion acquisition of once iconic handset maker Palm Inc. IBM, the world's biggest computer-services provider, announced 16 purchases in 2010.
"In the last few years more data has been created and stored than in all of human history," said Eric Mandl, global head of software banking at UBS AG in New York. His firm advised IBM on its $1.7 billion purchase of data-warehousing company Netezza Corp., and Dell on its $960 million purchase of data-storage company Compellent Technologies Inc. "Ultimately the companies that offer technologies to solve problems associated with the data explosion will be the winners."
Before it's here, it's on the Bloomberg Terminal.
LEARN MORE