Singapore Economy Rebounds After Manufacturing Surge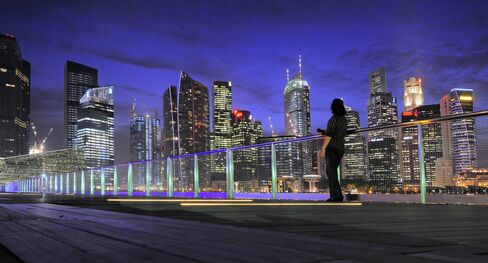 Singapore's growth rebounded last quarter as manufacturing surged, capping the biggest annual increase in output since independence in 1965. Stocks rose.
Gross domestic product rose an annualized 6.9 percent in the three months through Dec. 31 from the previous quarter, when it contracted a revised 18.9 percent, the trade ministry said in a statement today. The median forecast of eight economists surveyed by Bloomberg News was for a 9.4 percent expansion.
Singapore is on course to be the world's second-fastest growing economy, adding to inflation pressures that have prompted policy makers to allow faster currency gains and take steps to cool the property market. The expansion may signal Asia will in 2011 sustain an outperformance over developed markets hampered by Europe's sovereign credit woes and U.S. unemployment that remains above 9 percent.
"If Asia continues to lead growth, and the likelihood is that it will, then it would mean we would see stronger currencies around the region," Song Seng-Wun, an economist at CIMB Research Pte. in Singapore, said before the report. "If inflation continues to build up, the monetary policy bias for most central banks including Singapore's is to tighten further."
Singapore's stocks rose after the report, with the benchmark Straits Times Index rising 1 percent as of 9:32 a.m. local time.
Policy Tightening
Most currencies in Asia rose against the U.S. dollar last year, led by the Malaysian ringgit and the Thai baht. The Singapore dollar climbed more than 9 percent against the U.S. currency in 2010, its biggest one-year gain since 1994. The currency was little changed at S$1.2858 versus the greenback at 9:33 a.m. today.
The Monetary Authority of Singapore said in October it would steepen and widen the currency's trading band while continuing to seek a "modest and gradual appreciation," after undertaking a one-time revaluation in April. The central bank, which uses the exchange rate rather than interest rates as its main tool to manage inflation, guides the Singapore dollar against a basket of currencies within an undisclosed band.
"Inflation will likely be a major challenge and risk in 2011," said Chua Hak Bin, a Singapore-based economist at Bank of America Merrill Lynch. He expects the government to boost the numbers for fourth-quarter and 2010 growth next month, when it gives final estimates for the year.
Inflation Forecast
The Singapore central bank predicts inflation will average between 2 percent and 3 percent this year. Consumer prices rose 3.8 percent in November, the biggest increase in 22 months.
The 10 main Asian central banks outside Japan will raise rates 24 times by June after 21 increases in 2010, when "they could have and should have done more," according to David Carbon, head of economic and currency research at DBS Group Holdings Ltd. in Singapore. China increased its key rate twice last quarter while India raised borrowing costs six times in 2010.
Singapore's biggest companies are boosting operations or expanding overseas as the global economy recovers from a slump in 2009. DBS, Southeast Asia's biggest bank, said last month it will take over Royal Bank of Scotland Group Plc.'s retail and commercial banking businesses in China.
Neptune Orient Lines Ltd., owner of Asia's second-largest container line and controlled by Singapore state-investment fund Temasek Holdings Pte, in July signed a $1.2 billion order for as many as 12 vessels with Daewoo Shipbuilding & Marine Engineering Co.
Behind Qatar
Singapore grew 14.7 percent last year, Prime Minister Lee Hsien Loong said Dec. 31. That would make the city of 5 million people the fastest-growing economy in the world after Qatar's, according to International Monetary Fund estimates.
GDP grew 12.5 percent in the fourth quarter from a year earlier, compared with the median estimate for a 13.2 percent gain in a Bloomberg survey of 12 economists. The government expects an expansion of as much as 6 percent in 2011.
"The outlook for the world economy is mixed," Lee said last week. "The U.S. economy is still weak. Europe faces serious debt crises in Greece, Ireland and a few other countries. Hopefully Asia will continue to do well despite the weakness in developed countries."
Busiest Sea Lane
Singapore, the second-busiest container port globally, is located at the southern end of the 600-mile (966-kilometer) Malacca Strait, the world's busiest sea lane. The island has remained vulnerable to fluctuations in overseas demand for manufactured goods even after the government boosted financial services and tourism.
The island's services industry, aided by the opening of two casinos last year, is set to contribute more to the economic expansion in 2011, said economists including CIMB's Song and Alvin Liew of Standard Chartered Plc.
"After a record 2010, we will see growth easing to some degree of normalcy in 2011," said Song. "Manufacturing was the key reason why the economy expanded so strongly last year, while 2011 will be more skewed towards services to drive growth."
Manufacturing, which accounts for about a quarter of the economy, rose 28.2 percent from a year earlier last quarter, after gaining a revised 13.8 percent in the three months through September.
Singapore's casino resorts, run by Genting Singapore Plc and Las Vegas Sands Corp., have boosted tourism arrivals, hotel occupancy and hiring as their gambling centers, restaurants, malls and a Universal Studios Inc. theme park lure visitors.
The island's services industry grew 8.8 percent last quarter from a year earlier, after climbing a revised 10 percent in the previous three months. The construction industry shrank 1.2 percent, compared with a 7.1 percent increase in the third quarter.
The figures today were computed from data for October and November. Revised numbers are due to be released next month.