Republican Party's Debt Is Focus of Chairman Debate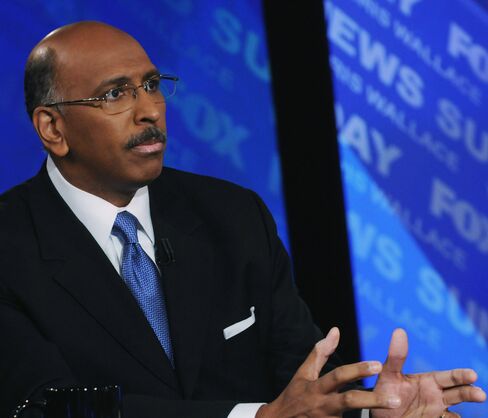 Jan. 3 (Bloomberg) -- Republican National Committee Chairman Michael Steele defended his record against criticism from four challengers that he ran up $20 million in debt and neglected major donors during his two-year term.
Steele is facing an uphill battle for re-election in a Jan. 14 vote by members of the committee. During a debate today, Steele addressed opponents' arguments that he failed to adequately fund party turnout efforts and put the party at a financial disadvantage heading into the next election in 2012.
"My record stands for itself; we won," said Steele. "I was asked to win elections." In the Nov. 2 elections, Republicans took control of the House and narrowed Democrats' lead in the Senate.
The 2012 election outcome will depend on erasing the committee's debt and will determine where and how aggressively the party can compete, Reince Priebus, Steele's former legal counsel, said at the debate. Priebus has the most committed votes ahead of the Jan. 14 vote, according to the National Journal's website.
"We need a lot of money," said Priebus, who estimated the party must raise $400 million over the next two years. "We need a chairman who will put his or her head down" and work "like an absolute dog for the next two years getting our fiscal house in order."
Another candidate, former Michigan Party Chairman Saul Anuzis, said the party has "tremendous challenges" with "this unprecedented debt."
Weakening Support
Amid weakening support, Steele announced last month he would seek another term. Speaking to reporters after the debate, Steele, a former Maryland lieutenant governor, blamed the debt on the party leadership.
"I was, as the record shows, the one who was hesitant about taking out extra debt," he said. "The party leadership wanted to make those moves. We made those moves. We spent the money to win elections and we won."
"Now we'll do like we did in 1996, 2006 and other elections where we've taken out lines of credit. We pay them off and we move on," Steele said.
According to a count published today on the National Journal's website, Priebus was in first place with 30 votes among national committee members, followed by Steele at 15. Ann Wagner of Missouri, a former RNC co-chairwoman, had 12 votes, Anuzis had 10 and former party official Maria Cino had six. The winner will need 85 of 168 votes in the party election.
Henry Barbour
Priebus, chairman of the Wisconsin Republican Party, has the backing of Henry Barbour, a nephew of Mississippi Governor Haley Barbour, a former RNC chairman. One of Steele's former close allies, California committeeman Shawn Steel, also has announced his support for Priebus.
Cino is supported by former national party Chairman Ed Gillespie.
Anuzis said he wanted to rebuild credibility among major donors who "left our party." He said he contacted some of them and found that "almost all of them were willing and able to come back and were surprised that oftentimes they weren't even asked for a contribution."
Wagner also said the party needs to restore its major donor programs.
Steele, who is African-American, won the party chairmanship after President Barack Obama's historic 2008 election by stressing the importance of inclusiveness and reaching out to minorities and other groups.
Conservative Values
Today's debate focused more on the need to uphold conservative values such as fiscal restraint and the party's anti-abortion platform.
"We're tired of going to polls holding our noses and voting for Republicans that didn't uphold the basic principles of our platform," said Priebus. "We need to stick to our principles."
Steele has sought to revive the diversity theme. During a conference call with committee members last month, he said, "Who you elect as our next chairman will speak volumes about our willingness to truly be the party of Lincoln."
Asked during today's debate whether he believed race is playing a role in the party election, Steele said he didn't believe so.
The debate was sponsored by the Daily Caller website, Americans for Tax Reform and the anti-abortion group Susan B. Anthony List.
To contact the reporter on this story: Heidi Przybyla in Washington at hprzybyla@bloomberg.net
To contact the editor responsible for this story: Mark Silva in Washington at msilva34@bloomberg.net