Porsche Shares Surge After U.S. Judge Snubs Lawsuits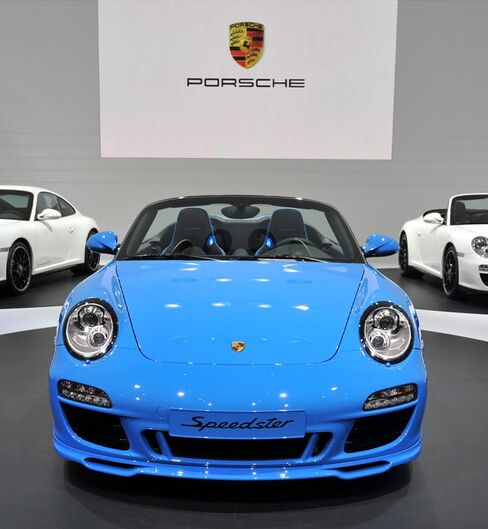 Porsche SE rose the most in 21 months in Frankfurt trading after a U.S. judge dismissed two lawsuits claiming the sports-car maker misled short sellers in its acquisition of Volkswagen AG shares in 2008.
Porsche's preferred stock climbed 8.83 euros, or 15 percent, to 68.49 euros, the biggest jump since April 2, 2009, as of the market's 5:30 p.m. closing, valuing the company at 12 billion euros ($16 billion).
U.S. District Judge Harold Baer in Manhattan dismissed on Dec. 30 the complaints filed by hedge funds Elliott Associates LP and Black Diamond Offshore and representing a total of 39 U.S. and foreign-based funds. The lawsuits claimed Porsche cost hedge funds more than $2 billion by secretly cornering the market in VW shares. Stuttgart, Germany-based Porsche is now merging with Volkswagen, Europe's largest automaker.
"Porsche has cleared an important interim hurdle on its way toward merging with Volkswagen," said Marc-Rene Tonn, an analyst with M.M. Warburg who recommends holding the stock. "The VW-Porsche combination has become more likely following the U.S. ruling."
VW Chief Executive Officer Martin Winterkorn said on Nov. 30 that the merger may stall until tax disputes in Germany and lawsuits in the U.S. are resolved. VW's supervisory board yesterday extended Winterkorn's contract through end of 2016.
2008 Transactions
The short sellers claimed that Porsche misled investors by denying through much of 2008 that it intended to acquire VW and by using manipulative trades to hide its stock positions. The sports-car maker said on Oct. 26, 2008, that it controlled most of VW's common stock, causing the shares to surge as short sellers raced to cover their positions.
"We have said all along that we consider the suits to be inappropriate and unfounded," Albrecht Bamler, a Porsche spokesman, said today by phone.
Adam Hull, a WestLB AG analyst who recommends buying Porsche shares, increased his price estimate by 11 percent to 80 euros. Commerzbank AG analyst Daniel Schwarz improved his rating to "buy" from "hold," boosting the price estimate by 5.7 percent to 74 euros.
Porsche agreed to combine with VW in August 2009 after a failed hostile attempt to gain control of the Wolfsburg, Germany-based carmaker that included the 2008 stock purchases. Porsche's shareholders backed a 5 billion-euro stock sale on Nov. 30 as part of the merger.
Before it's here, it's on the Bloomberg Terminal.
LEARN MORE