Bastianich Runs Marathon, Drinks Wine, Loses Weight: Interview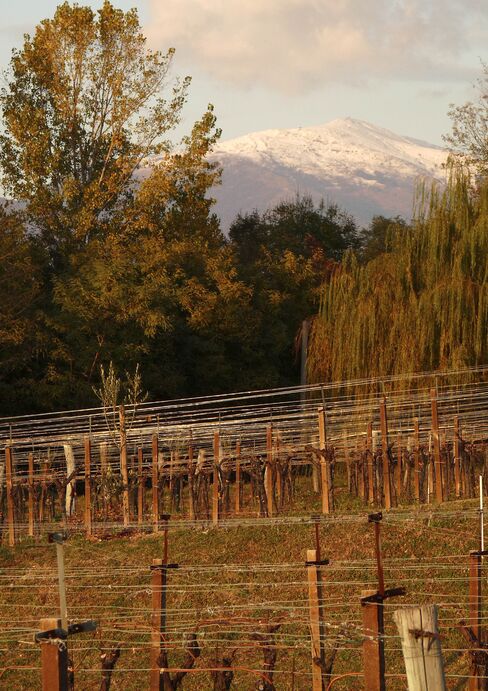 Restaurateur Joe Bastianich says he used to put down an entire cote de boeuf at two in the morning with his partner, Mario Batali.
That ended when he decided to run the New York City Marathon and lost 50 pounds.
The 6-foot-1, 200-pound Bastianich, 42, who co-owns some 20 restaurants with Batali, including New York's Babbo and Del Posto, met with me at his Italian food store, Tarry Market, in Port Chester, New York. We talked about his new book, "Grandi Vini: An Opinionated Tour of Italy's 89 Finest Wines."
Mariani: Why pick just 89 Italian wines?
Bastianich: I started out with 100, but the publisher said I'd have to cut 20,000 words, so I settled on 89. It sounded Fellini-esque.
Mariani: Tell me about your own family vineyards.
Bastianich: My grandparents in Istria had a frasca, which is about the most basic kind of grocery/restaurant. They sold wine from their own vineyard. I took control of the vineyard, hired a local winemaker, and bought another winery in 1996. We had our first commercial vintage in 1998. Now my family and I spend every summer, from June to September, in Friuli at the vineyards.
800 Wines
Mariani: How do you serve up the wine experience at your restaurants.
Bastianich: At Babbo, for instance, we have four sommeliers to interact and educate. As a result, 50 percent of our profits come from wine, which is significant. Even at our pizzeria, Otto, in Greenwich Village, we started out with 200 labels, now we're up to 800.
Mariani: What are you trying to educate them about?
Bastianich: About the magic of regional pairings and the terroir of the wine, why it tastes the way it does and why it goes with the food of the same region
Mariani: When did Italian wines gain real stature in the global market?
Bastianich: After World War II, a lot of people moved to the cities for work and abandoned the old vineyards. Then in the 1950s and 1960s wineries were paid to produce volume at a cheap price. That's when the Lambruscos and bad Chianti were popular. By the 1970s, young winemakers like Angelo Gaja, Angelo and Antonio Mastroberardino, and Piero Antinori began experimenting and going against entrenched traditions.
But I think 1990 was the benchmark year. The younger generation came back to the family vineyards and said, "Let's make really good wine that expresses our territory."
Underrated Wines
Mariani: Do you think Italian wines are still underrated compared to French and California wines?
Bastianich: I think that, by comparison with $2,000 bottles of grand cru Burgundies, first-rate barolos, which sell for under $100, are undervalued ten-fold
Mariani: Have too many Italians priced their wine out of the market?
Bastianich: In some regions like Tuscany, especially brunello di montalcino, the wine regulators have expanded the appellation to include parcels of land where you couldn't even grow potatoes. Yet the producers try to charge the same high prices the established brunello makers do. It's ridiculous.
Mariani: Given your diet and exercise regimen, just how much wine do you drink?
Bastianich: In January I'm going to start training for the Iron Man competition in Kona (Hawaii) and will have to drop more weight. But right now, I usually have lunch at a restaurant -- never my own -- and have a glass of wine, then at night two or three glasses, so it comes to about a bottle a day.
(John Mariani writes on wine for Muse, the arts and leisure section of Bloomberg News. The opinions expressed are his own.)
Before it's here, it's on the Bloomberg Terminal.
LEARN MORE