Dollar Rises a Second Day Versus Yen on U.S. Recovery Signs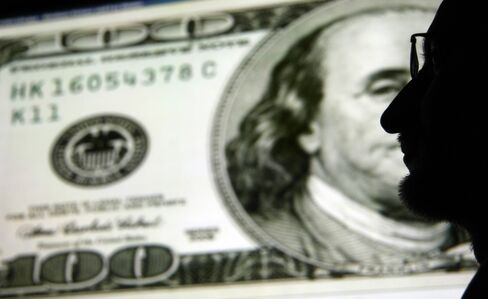 Jan. 4 (Bloomberg) -- The dollar strengthened for a second day against the yen before reports that may show orders placed with U.S. factories fell at a slower pace and payrolls gained, adding to signs the U.S. recovery is gaining traction.
The pound climbed on data that showed British mortgage approvals unexpectedly rose and manufacturing expanded at the fastest pace in 16 years. Canada's dollar traded near its strongest in 2 1/2 years versus its U.S. peer as oil near a 27-month high increases the appeal of currencies tied to worldwide growth. The Australian dollar fell against all but one of its 16 most actively traded peers as floods threaten its economic prospects.
"The data has improved slightly and that's why the dollar has looked a little firmer against the yen," said Steve Barrow, head of Group of 10 currency strategy at Standard Bank Plc in London. "There's a slight improvement in optimism over the U.S. economy. Expectations on payrolls for Friday have risen a bit and that's the key data for the week."
The greenback advanced 0.6 percent to 82.23 yen as of 7:36 a.m. in New York. The U.S. currency yesterday rose the most since Dec. 7, snapping a 10-day slump. The dollar was 0.3 percent lower at $1.3398 per euro. The yen slid 0.8 percent to 110.08 per euro, after touching 110.18, the weakest level since Dec. 21.
Canada's dollar was little changed at 99.30 Canadian cents per U.S. dollar. It yesterday reached 98.89 cents, the strongest level since May 2008.
U.S. employment probably rose for a third month in December, bringing payroll growth last year to about 1 million and pointing to further improvement in the labor market this year, economists said before a report on Jan. 7.
Jobs Report
A projected 140,000 gain in December payrolls is the median forecast of 70 economists surveyed by Bloomberg News before the report from the Labor Department. The unemployment rate may have eased to 9.7 percent from 9.8 percent.
Orders for U.S. manufacturers' goods declined 0.1 percent in November, after a 0.9 percent slide in October, according to a Bloomberg News survey of economists before the Commerce Department releases its data today.
The Standard & Poor's 500 Index of stocks advanced 1.1 percent yesterday after the Institute for Supply Management said its factory index rose in December to 57, the highest level since May, from 56.6 in November. Readings greater than 50 signal growth.
"Overall U.S. data have been good and people started to expect a better economy in 2011," said Yousuke Hosokawa, a senior currency dealer in Tokyo at Chuo Mitsui Trust & Banking Co., a unit of Japan's seventh-largest bank. "There is a possible logic that improved economic prospects leads to buying of the dollar."
Sterling Strength
The pound strengthened as a report showed U.K. mortgage approvals unexpectedly increased in November, beating economist estimates. Lenders granted 48,019 loans to buy homes, compared with 47,315 in October, the Bank of England said today.
A gauge of U.K. manufacturing growth rose to 58.3 from a revised 57.5 in November, the most since September 1994, according to Markit Economics and the Chartered Institute of Purchasing and Supply.
The U.K. currency rose 0.8 percent to $1.5606 and appreciated 0.6 percent to 85.84 pence per euro.
Crude for February delivery was little changed at $91.57 a barrel in electronic trading on the New York Mercantile Exchange. Yesterday, the contract rose 17 cents to $91.55, the highest settlement since Oct. 3, 2008, after peaking at $92.58. Canada is the biggest supplier of crude to the U.S. The Thomson Reuters/Jefferies CRB Index of 19 raw materials advanced 0.1 percent yesterday.
Canadian Jobs
The Canadian dollar was also supported by speculation a report this week may show the nation's employers increased jobs in December for a third month, backing the case for the central bank to raise interest rates.
Employers in Canada added 20,000 jobs in December, after creating 15,200 positions in November and 3,000 in October, according to a Bloomberg survey of economists before the Jan. 7 report.
The Australian dollar extended yesterday's slump against its U.S. peer on concerns flooding in the state of Queensland will hurt economic growth.
Force Majeure
Record rainfall has caused floods to spread across an area the size of France and Germany, destroying cotton crops, halting coal deliveries, shutting mines and prompting BHP Billiton Ltd. and Rio Tinto Group to declare force majeure, a legal clause allowing them to miss contracted deliveries.
The Australian currency has declined 1.6 percent over the past week according to Bloomberg Correlation-Weighted Currency Indexes, which track a basket of 10 developed-country currencies, and was trading 0.8 percent weaker at $1.0087.
The euro rose against the dollar and yen as European inflation accelerated more than economists estimated in December to the fastest rate in more than two years, led by surging energy prices.
Euro-area consumer prices rose 2.2 percent in December from a year earlier after increasing 1.9 percent in November, the European Union statistics office in Luxembourg said today. That's the highest inflation rate since October 2008 and above the 2 percent forecast by economists, according to the median of 21 estimates in a Bloomberg News survey.
German Unemployment
A separate report showed German unemployment unexpectedly rose in December for the first time in 17 months as the coldest weather in more than 40 years led companies to shed staff.
Taiwan's dollar approached a 13-year high before retreating to end little changed after suspected intervention by the central bank.
The monetary authority bought the U.S. dollar, according to two traders who declined to be identified as the central bank doesn't usually disclose such details. The currency earlier rose as much as 3.7 percent as global funds bought $460.3 million more local shares than they bought this week, the biggest two-day net purchase in almost three weeks.
Taiwan's dollar closed little changed at NT$30.201 against its U.S. counterpart, according to Taipei Forex Inc. The local dollar was trading 3.6 percent stronger a minute before the end of the trading session. It touched NT$29.080 on Dec. 30, the strongest level since October 1997.
To contact the reporter on this story: Lucy Meakin in London at lmeakin1@bloomberg.net.
To contact the editor responsible for this story: Daniel Tilles at dtilles@bloomberg.net.