Stocks, Oil Advance on Growth Outlook as Treasuries Decline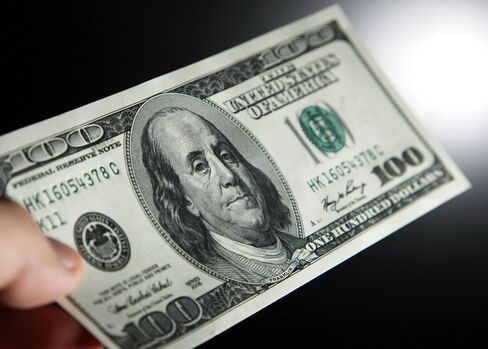 Stocks rallied, sending the Standard & Poor's 500 Index to its best gain in a month, and oil rose as growth in U.S. and European manufacturing bolstered speculation the economic recovery will strengthen. Treasuries slid.
The S&P 500 increased 1.1 percent to 1,271.87 at 4 p.m. in New York, its biggest gain since Dec. 2, and the Stoxx Europe 600 Index rose 0.8 percent for its largest advance since Dec. 21. Oil climbed to a 27-month high and copper touched a record near $4.50 a pound. The 10-year Treasury note fell, sending the yield five basis points higher.
All 10 industry groups in the S&P 500 advanced today after reports showed U.S. manufacturing expanded at the fastest pace in seven months and construction spending increased for a third month, while data later this week is forecast to indicate growth in services and employment. European manufacturing expanded more than initially estimated in December, London-based Markit Economics said.
"It's a happy start for the market to the new year," said Tom Mangan, who helps oversee $2.4 billion as a money manager at James Investment Research Inc. in Xenia, Ohio. "The stronger manufacturing numbers complete the pattern from the end of last year with strong economic data, reflecting greater confidence in the economy."
The S&P 500 last week capped a 13 percent rally for 2010 and a 39 percent gain since the end of 2008, marking the biggest two-year advance since the end of the 1990s, amid signs the economic recovery is accelerating.
First Day of Month
Financial companies led gains today, with a gauge of 81 banks, insurers and investment firms in the S&P 500 rallying 2.3 percent as a group. The first trading day of the month -- historically better than average for the U.S. stock market -- has been particularly profitable in recent months. The three biggest gains in the past five months -- and 5 of the 25 biggest rallies in 2010 --occurred on the first trading day of the month.
Smaller U.S. companies are rallying the most since 2003 relative to the S&P 500, a sign to BlackRock Inc. and JPMorgan Funds that a strengthening economy will spur a third year of gains. The Russell 2000 Index, comprised of stocks with a median market value of $528.5 million, rose 25 percent in 2010. The return left the benchmark gauge for American equity at the lowest valuation ever compared with the small-cap measure, according to data compiled by Bloomberg.
Manufacturing, Construction
The Institute for Supply Management's manufacturing index rose to 57 from 56.6 in November. A reading greater than 50 points indicates expansion and the figure matched the median forecast in a Bloomberg News survey of 63 economists. Construction spending increased 0.4 percent in November, Commerce Department figures showed today. The median estimate in a Bloomberg survey of economists called for a 0.2 percent rise.
Bank of America Corp. rallied 6.4 percent after resolving disputes with Freddie Mac and Fannie Mae by agreeing to pay more than $2.6 billion to settle claims it sold loans based on faulty information. Alcoa Inc. climbed 2.7 percent after Deutsche Bank AG advised buying shares in the largest U.S. aluminum producer.
The 10-year Treasury yield rose to 3.35 percent, while the yield on the two-year note increased one basis points to 0.61 percent. U.S. debt also declined before a government report later this week forecast to show the world's largest economy added jobs in December for a third month. Bonds pared losses after the Federal Reserve bought $7.79 billion of Treasuries.
Fed Watch
Former Fed Governor Frederic Mishkin said the central bank will likely complete its $600 billion bond-purchase program, known as QE2 for the second round of quantitative easing, though a third round is unlikely.
"The fact that the economy is stronger right now makes it much less likely we're going to see a QE3," Mishkin, an economist at Columbia University in New York, said today in an interview on Bloomberg Television's "In the Loop With Betty Liu."
About six stocks rose for every one that fell on the Stoxx 600, which extended last year's 8.6 percent advance. Porsche SE jumped 15 percent as a U.S. judge dismissed claims against the carmaker for more than $2 billion. Volkswagen AG increased 5.1 percent after extending Chief Executive Officer Martin Winterkorn's contract by five years.
Lagardere SCA climbed 9.4 percent as France's biggest publisher began talks to sell its international magazine business. JCDecaux SA, the world's second-biggest seller of outdoor advertising, advanced 2.4 percent after saying it doesn't "feel any deceleration" in its Chinese business.
Markets in London, Shanghai, Tokyo and Sydney were closed for holidays.
Emerging Markets Rally
The MSCI Emerging Markets Index increased 1.2 percent, advancing for a fifth day to the highest since June 2008. South Korea's Kospi index closed at a record high after exports increased for the 14th month. Benchmark gauges in Brazil, Turkey, Hungary and the Czech Republic gained more than 1 percent.
Oil advanced as much as 1.3 percent to $92.58 a barrel, before paring gains to settle up 0.2 percent at $91.55.
Oil demand increasing at almost twice the pace of supply is spurring forecasters to predict the second-highest price on record in 2011. Sanford C. Bernstein & Co., whose estimate last January was within 1 percent of 2010's mean price of $79.60 a barrel, says crude will average $90 this year. Natixis Bleichroeder Inc., which tied with Bernstein as most-accurate, sees $100 a barrel. Global oil use will increase 1.7 percent to a record 87.8 million barrels a day this year, and output will rise 0.9 percent, according to the U.S. Energy Department.
Record Copper
Copper futures for March delivery rose 0.2 percent to $4.4575 a pound after the price earlier climbed as much as 5.1 cents to a record $4.498 a pound in New York. In December, the metal jumped 16 percent, the most since March 2009.
The Dollar Index, which tracks the U.S. currency against those of six trading partners, rose 0.2 percent. The U.S. currency appreciated 0.2 percent against the euro. The euro, which Estonia adopted on Jan. 1 to become the 17th member of the currency region, depreciated 6.5 percent against the dollar last year, its worst performance since 2005, as the sovereign-debt crisis roiled the bloc's weakest economies.
Before it's here, it's on the Bloomberg Terminal.
LEARN MORE