Australia Floods to Worsen; U.S. Offers Assistance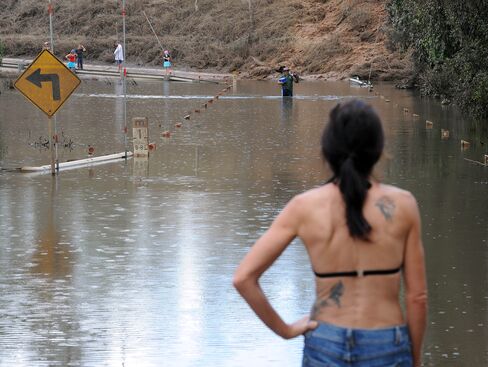 Flooding is set to worsen in the Australian state of Queensland, threatening to cut off tens of thousands of people as the military is mobilized to airlift supplies and the U.S. offers assistance.
Rockhampton, home to 75,000 people about 500 kilometers (300 miles) north of the state capital, Brisbane, may lose its last road access as the Fitzroy River peaks tomorrow in the worst flooding to hit Queensland in 50 years, according to the state government.
Record rainfall has caused floods to spread across an area the size of France and Germany, forcing towns to be evacuated, closing mines and spoiling crops in the nation's third-most populous state. Queensland's police force said today 10 people have died in floodwaters in the past few weeks, while about 73 percent of the state's exports of coal used by steelmakers is disrupted, according to Macquarie Group Ltd.
"Our thoughts and prayers are with everyone affected by these floods," U.S. Secretary of State Hillary Clinton said in an e-mailed statement today. "I offer my condolences for the loss of life and damage."
The state cabinet will hold an emergency meeting tomorrow to discuss the disaster affecting an estimated 200,000 people. State Premier Anna Bligh last week said the floods will cost "billions" as Queensland rebuilds roads and bridges, provides assistance to those whose homes are destroyed, together with the loss of royalty payments from waterlogged mines.
State Inundated
"An enormous amount of the state has been inundated and devastated," Bligh said yesterday. "The long-term impact will still take some time to determine but there are literally thousands of Queenslanders who need our support."
Suncorp Group Ltd. led insurers lower in Sydney trading today on concern damage from the floods will trigger a spike in claims. Suncorp, based in Brisbane, fell 3 percent to A$8.35 at the close, the lowest since Aug. 31.
Insurance Australia Group Ltd. lost 1.6 percent to A$3.82. IAG said in a statement it received about 600 flood-related claims as of Dec. 31 and it's too early to estimate the cost.
Standard & Poor's said it's "highly unlikely" to cut Queensland's AA+ credit rating because of the flooding.
"The Queensland government has plenty of flexibility at the AA+ level to deal with the consequences of the floods," Anna Hughes, a Melbourne-based credit analyst at S&P, said by phone.
Record Rainfall
Australia had its wettest September-to-November period on record and the Bureau of Meteorology says showers and storms are forecast to continue across Queensland until at least Jan. 6.
Flood alerts are in place for at least seven rivers in Queensland, the bureau said on its website. States of natural disaster have been declared in more than half of Queensland's 73 municipalities covering about a million square kilometers.
Rockhampton shut its airport to commercial jets after water covered the runway, train links have been cut off and roads to the south and west of the city have been closed. Flood waters are expected to peak at 9.4 meters tomorrow, possibly cutting off road access from the north, police said.
"Major flood levels" will continue for some days, Queensland Police Chief Superintendent Alistair Dawson told reporters in Brisbane today.
Black Hawk helicopters may be used for emergency evacuation and food drops in outlying areas, Prime Minister Julia Gillard said yesterday.
Coal Output Disrupted
The rain has destroyed cotton crops, halted coal deliveries, shut mines and prompted BHP Billiton Ltd. and Rio Tinto Group to declare force majeure, a legal clause allowing them to miss contracted deliveries.
Operations remain suspended at the affected mines, Bruce Tobin, a spokesman for Rio Tinto, and Fiona Martin, a BHP Billiton spokeswoman, said today.
About 98 million metric tons of steelmaking coal production capacity is under force majeure, equivalent to 73 percent of Queensland exports and 37 percent of global seaborne supply, Macquarie said in an e-mailed research note today. The floods have cost the coal industry A$1 billion ($1 billion) in lost production, the Australian Broadcasting Corp. reported, citing the Queensland Resources Council.
China Steel
Coal stocks at the export harbor of Gladstone are "very low" after flooding shut a rail network, Gladstone Ports acting Chief Executive Officer Craig Walker said in an e-mailed statement today. There are 18 ships waiting to load and a further 12 vessels expected at the harbor in the next 10 days, Walker said.
China Steel Corp.'s costs for coal increased by $10 million because of the flooding, Executive Vice President Chung Le-min said by phone from Kaohsiung, Taiwan today. Taiwan's biggest maker of the metal has bought spot coal from Russia and Canada as some Australian suppliers were unable to deliver the raw material, he said.
Wheat deliveries by rail to ports may be halted by as much as two weeks, David Ginns, a spokesman for GrainCorp Ltd., said today by telephone.
PrimeAg Australia Ltd. Chairman Peter Corish said that about 2,000 hectares, or 13 percent, of its 15,200 hectare cotton crop had been swamped. Some of this will be lost, while other areas may recover if the inundation lasts less than two to three days, Corish said in a statement.