Hyundai-Kia Sales May Rise 10% on New Models, China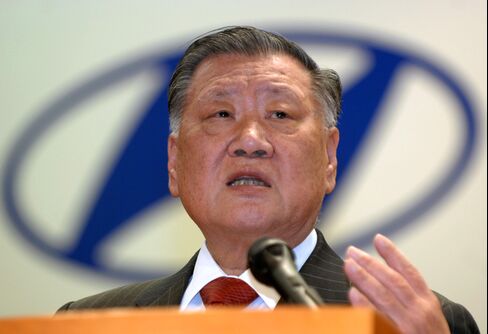 Hyundai Motor Co. and affiliate Kia Motors Corp., South Korea's two largest automakers, expect to boost vehicle sales 10 percent this year because of new models and rising demand in China and other emerging markets.
Sales may rise to 6.33 million vehicles, Chung Mong Koo, chairman of the two carmakers, said today in a speech to employees in Seoul. The companies sold a record 5.74 million vehicles last year, a 24 percent increase from 2009, according to regulatory filings.
The automakers plan to release at least 12 new or revamped models this year after sales gains from Toyota Motor Corp. helped make Hyundai the fastest-growing mass-market brand in the U.S. Hyundai is also building a third plant in China and planning to add one in Brazil as rising wages boost local car ownership.
"Upcoming new models will help the two carmakers to continue to do well in overseas markets," Yim Eun Young, a Seoul-based analyst at Dongbu Securities Co., said before Chung's speech. "Global auto demand will likely remain healthy in 2011, helped by strong demand in emerging markets."
Hyundai's sales last year rose 16 percent to 3.6 million, the Seoul-based automaker said in a separate statement today. December sales climbed 2.8 percent to 305,340.
Kia's sales surged 39 percent to 2.1 million in 2010. Sales last month jumped 28 percent to 214,183.
New Models
Hyundai will introduce 10 new and revamped models this year, including an updated version of the Azera large sedan, the company said in an e-mail. Kia plans to add new versions of its Picanto small car and Rio compact car, Michael Choo, a spokesman for the Seoul-based company, said in a separate e-mail.
"We are working to turn 2011 into a historic year," Chung said in the speech. He didn't give separate sales forecasts for the two automakers.
Hyundai rose 2 percent to 177,000 won at the close of trading in Seoul, while Kia climbed 3.8 percent to 52,500 won. Last year, Hyundai jumped 43 percent and Kia more than doubled, compared with the benchmark Kospi index's 22 percent advance.
Hyundai's third Chinese plant will boost its capacity in the world's largest auto market by 400,000 vehicles to 1 million annually by 2012. Work is due to begin on a 200,000-unit capacity plant in Brazil this year, Chung said today.
Hyundai boosted China sales 23 percent last year to 702,000 vehicles, while U.S. sales surpassed 500,000, according to the company. In Europe, Hyundai and Kia both boosted sales about 4 percent through November last year, according to the Brussels-based European Automobile Manufacturers' Association.
Hyundai and Kia led a 26 percent jump in South Korean automakers' sales last year to about 6.84 million vehicles, based on company announcements released today. The two companies, Ssangyong Motor Co., GM Daewoo Auto & Technology Co. and Renault Samsung Motors Co. boosted domestic sales 5.2 percent to 1.46 million. The overseas tally jumped 33 percent to 5.39 million.
Before it's here, it's on the Bloomberg Terminal.
LEARN MORE