Beijing Residents Rush to Register Cars on New Quota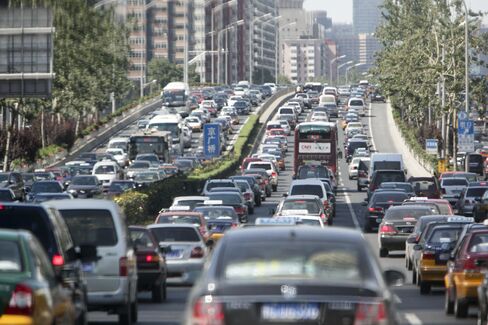 Jan. 3 (Bloomberg) -- Beijing residents rushed to apply for vehicle licenses under a new quota system as the city seeks to ease traffic that has helped make it the world's worst for commuters.
A total of 53,549 applications were made on Jan. 1, the program's first day, more than double the number of license plates to be available each month, the Beijing News reported yesterday.
Guangzhou Automobile Group Co. and Great Wall Motor Co. fell in Hong Kong trading today on concerns that the Beijing caps, along with the end of rural subsidies and higher taxes on small cars, may slow demand. State support helped China surpass the U.S. as the world's largest auto market in 2009.
"Car sales in Beijing will drop for sure," said Vivien Chan, a Hong Kong-based analyst at SinoPac Securities Asia Ltd. "For the country as a whole, the impact isn't large, until, of course, other cities start following Beijing and Shanghai."
Auto Sales in Beijing may fall as much 70 percent this year, Chan said. The fact that buyers replacing existing cars wouldn't be affected by the new rules will mitigate the impact, she said.
The government said on Dec. 23 it would set a monthly quota of 20,000 new vehicle licenses in Beijing. Non-transferrable license plates will be issued through a lottery system that runs on the 26th day of every month after officials review applications on 25th.
The Beijing Municipal Commission of Transport opened a website to accept online applications from people wishing to buy a car. Those without Internet connections can register at offices starting tomorrow.
Taxes, Subsidies
The central government also raised the sales tax on small vehicles to 10 percent from 7.5 percent on Jan. 1 as it ends measures designed to support auto sales. Rural subsidies, first introduced in March 2009, have also ended.
An unprecedented 30,000 new vehicles were registered in Beijing in the week of Dec. 13, boosting the number of vehicles on the city's roads to a record 4.76 million, as car buyers rushed to complete purchases before the start of the new rules.
Great Wall, China's largest maker of sport-utility vehicles, fell 7.9 percent to HK$22.10 in Hong Kong trading today. Guangzhou Auto, a partner of Honda Motor Co., dropped 2.1 percent to HK$10.50 and Dongfeng Motor Group Co. slid 3 percent to HK$13.00. Mainland markets were closed today because of a holiday.
Worst Commute
Beijing tied with Mexico City as having the world's worst commute, according to a survey of 8,192 drivers in 20 cities worldwide by International Business Machines Corp. last year. The research included factors such as traffic predictability, gasoline prices and emotional stress. The Chinese city also tied with Moscow for having the most road trips canceled because of anticipated traffic jams.
To alleviate congestion, Beijing already bars cars from roads on specific days each week depending on the last digit of the license plate. Drivers of vehicles not registered in the city also need to apply for a permit before entering the capital.
Shanghai, China's wealthiest city, has since 1986 controlled the number of vehicles on its roads by restricting the number of new car licenses. An ownership permit cost an average 45,291 yuan ($6,800) in November, according to government data.
To contact the Bloomberg News Staff on this story: Yidi Zhao in Beijing at yzhao7@bloomberg.net
To contact the editor responsible for this story: Paul Tighe at ptighe@bloomberg.net