Skype Says China Services Working Amid Crackdown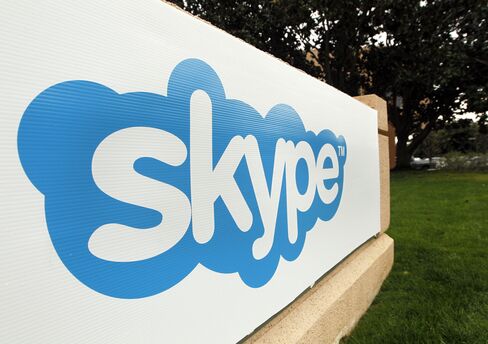 Skype Technologies SA, the world's largest carrier of international phone calls, said its services in China remain operational after the country said it's cracking down on "illegal" Internet phone companies.
"Skype is not banned," Jennifer Caukin, a Palo Alto, California-based spokeswoman for the service provider, said in an e-mail. "Our users in China currently can access Skype via Tom Online, our majority joint venture partner."
China is working to fight "illegal Internet phone services," the Ministry of Industry and Information Technology said in a Dec. 10 posting on its website. The notice, which didn't define "illegal" services or name any companies, was primarily to announce a consumer hotline for reporting any unauthorized services.
Wang Lijian, a spokesman for the ministry, said today he couldn't immediately offer any further details on the statement. There was no answer today at the hotline number provided in the ministry circular, 8610-6820-6134.
"Currently, our ministry is working with relevant departments to focus on the crackdown on illegal voice over internet protocol calls and we are now appealing to the public for clues for illegal VoIP cases," the ministry said in its Dec. 10 circular. It supplied no information on what action would be taken against "illegal" services.
Smaller Companies
The Chinese government may be targeting smaller domestic companies offering the service, rather than a large international company like Skype, said Mark Natkin, managing director of Marbridge Consulting Ltd., a Beijing-based market research firm.
"A major purpose may be to clear out small, low-visibility companies that are difficult to regulate," said Natkin. "It's much easier to have 10 large companies with a lot on the line, and a lot to lose, because they are likely to be more cooperative."
The South China Morning Post yesterday reported an unnamed official at the ministry as saying only the nation's three state-owned telecommunications companies --China Mobile Ltd., China Telecom Corp., and China Unicom (Hong Kong) Ltd. -- have the right to offer Internet phone services for calls that link telephones and computers.
Eunice Lim, a Singapore-based spokeswoman for Skype, said she couldn't comment on Chinese regulations, or supply details of how the company's services are licensed in China.
"Tom Online, like every other communications service provider in China, has an obligation to be compliant with local laws and regulations," Lim said.
Skype may not be put out of business in China at this point, Natkin at Marbridge said.
"It's not like they are operating out of some basement secretly," he said. "If the authorities thought there was a real issue, they would have shut them down."
Before it's here, it's on the Bloomberg Terminal.
LEARN MORE