India's Sensex Has Largest Annual Gain Among 10 Biggest Markets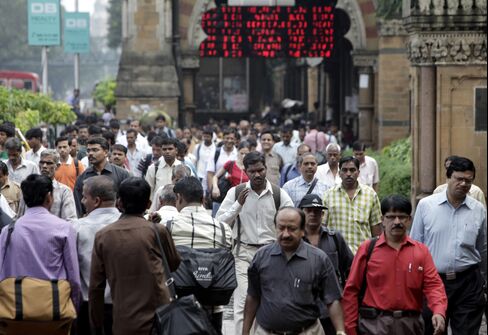 Dec. 31 (Bloomberg) -- Indian stocks rose for a second year, making the benchmark index the best performer among the world's 10 biggest equity markets as the nation's economic growth lured record foreign funds.
Bajaj Auto Ltd., the second-largest motorcycle maker and the best performer on the Bombay Stock Exchange's Sensitive Index, or Sensex, extended its gains to 76 percent this year. Jaiprakash Associates Ltd., a builder of dams, roads and bridges, was the worst performer. Today's advance pared its yearly loss to 28 percent.
"India has had very good economic growth and that has lured foreign investors," said Jitendra Sriram, who manages $750 million as head of equities at HSBC Asset Management (India) Pvt. in Mumbai. "They have rewarded us for our ability to grow at a handsome pace." Sriram favors shares of drugmakers, infrastructure, software and energy companies.
The Sensex gained 120.02, or 0.6 percent, to 20,509.09, at the 3:30 p.m. close in Mumbai. The gauge climbed 2.2 percent this week and the current quarter. It climbed 5.1 percent this month, the first monthly gain in three. The index's 17 percent advance this year, extended last year's biggest rally in 18 years.
The S&P CNX Nifty Index on the National Stock Exchange rose 0.5 percent to 6,134.50. The BSE 200 Index advanced 0.8 percent to 2,533.90.
Global funds bought a net 6.05 billion rupees ($135 million) of Indian equities on Dec. 29, taking this year's record flows into equities to 1.31 trillion rupees, according to data on the Securities and Exchange Board of India website. Foreign inflows surged 61 percent this year, making the gauge the most expensive in Asia and among the BRIC markets that also include Brazil, Russia and China.
Reliance Communications
Bajaj Auto jumped 4.1 percent to 1,541 rupees, its steepest climb since Oct. 1. Jaiprakash gained 2.9 percent to 105.85 rupees, its steepest advance since Dec. 10.
Reliance Communications Ltd., the second-largest mobile-phone operator, led a rally today in shares of companies controlled by Anil Ambani after the billionaire's decision to remove his name from corporate branding stoked speculation he may forge closer ties with brother Mukesh.
The Anil Dhirubhai Ambani Group companies will be rebranded as "Reliance" companies, Sanjay Behl, group head of branding and marketing, told Bloomberg UTV yesterday. Anil had previously branded his companies as "ADAG," while his brother Mukesh Ambani called his group "Reliance" after the siblings broke up India's second-largest industrial group in 2005.
"Reconciliation"
"It's possible the market is reading the new branding as a reconciliation between the brothers," said Jayesh Shroff, who manages $1.4 billion in equities at SBI Funds Management Pvt. in Mumbai.
Reliance Communications, Anil's flagship company, surged 5 percent to 145.35 rupees, paring its yearly decline to 16 percent. Reliance Infrastructure Ltd. gained 4.1 percent to 843.2 rupees. The stock's 26 percent plunge this year makes it the second-worst performer on the Sensex. Reliance Capital Ltd. gained 2.1 percent to 668.3 rupees. Reliance Power Ltd. added 2.4 percent to 158.15 rupees.
Gaurav Wahi, a spokesman for Reliance Communications, didn't answer a call made to his mobile phone. Manoj Warrier, a spokesman for Reliance Industries, denied the company was planning to buy Anil Ambani-owned companies.
Electoral Victory
India's finance ministry raised its economic growth forecast for the current financial year, saying higher agricultural production will boost consumer demand in rural areas. The South Asian economy may expand as much as 9.1 percent in the year ending March 31, the ministry said in a Dec. 7 report. It had projected a growth rate of 8.25 percent to 8.75 percent in February.
The Nifty index may climb to a record next year propelled by higher corporate earnings, foreign flows and domestic consumption, according to a survey of 13 local brokerages by Bloomberg UTV. Shares of drugmakers, consumer, banking and metal companies will lead the rally next year, according to the survey.
Tata Consultancy Services Ltd., the largest software services exporter, ICICI Bank Ltd., the country's second-biggest lender, Sterlite Industries (India) Ltd., the No. 1 copper and zinc producer, Hindustan Unilever Ltd., the biggest household products maker, and Tata Steel Ltd., the biggest producer of the alloy, are the top picks for next year, according to the survey.
The Sensex has climbed every quarter since Prime Minister Manmohan Singh in May 2009 led the Congress party to its biggest electoral victory in two decades, pledging to cut a fiscal deficit and boost economic growth. The gauge climbed to a record on Nov. 5 and has more than doubled since plunging to as low as 8,160.40 in March 2009, during the global financial crisis.
To contact the reporter on this story: Rajhkumar K Shaaw in Mumbai at rshaaw@bloomberg.net
To contact the editor responsible for this story: Richard Frost at rfrost4@bloomberg.net