NHL Moves Winter Classic to Night From Day Because of Weather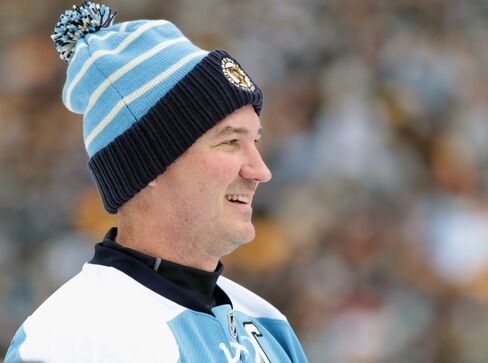 A forecast of cooler and drier weather late in the day led the National Hockey League to move the outdoor Winter Classic from this afternoon to tonight.
The game between the Pittsburgh Penguins and Washington Capitals, originally set for 1 p.m. at Heinz Field in Pittsburgh, was moved to an 8 p.m. start.
"Obviously, playing under the lights is a little bit different," NHL Deputy Commissioner Bill Daly said yesterday in a televised interview. "We think all in all this is a much better and safer circumstance for the players."
Daly said the consistency of weather forecasts calling for rain to end by late afternoon led league officials to change the starting time a day in advance.
"We felt it was better for everyone associated with the game, in particular the fans, not to have them come out here at 1 o'clock only to have a puck drop much later than that," he said.
The fourth annual Winter Classic will feature a showdown between Penguins forward Sidney Crosby, the league scoring leader, and Capitals forward Alex Ovechkin, a two-time MVP.
The Penguins (25-11-3) have the best record in the Eastern Conference. The Capitals (22-12-5) are tied for second.
The NHL issued a list of special procedures for the game in case of weather problems, including a provision that the contest will be considered official even if only two full periods can be played.
If less than two periods have been played, the NHL said, the game would be postponed and played in its entirety at Heinz Field the following day, weather permitting.
Delayed Shootout
If the teams are tied at the end of regulation and weather doesn't permit a shootout, one will take place at Washington's Verizon Center on Feb. 6 prior to the scheduled game between the Penguins and Capitals.
Yesterday, Mario Lemieux, a three-time NHL Most Valuable Player who led the Penguins to two Stanley Cup titles and now owns the club, had two assists as the alumni teams tied 5-5 in front of 10,000 fans at Heinz Field.
Peter Bondra, who scored 472 of his 503 career goals with the Capitals, tied the game with 45 seconds remaining in the second and final period.
"It was fun to play outdoors," Lemieux said after the game. "The weather was beautiful. Just to see some old faces again, some guys I haven't seen in a long time, some guys from the Cup years, it was pretty special for all of us."
The alumni game was played under a cloudy sky with temperatures near 50 degrees Fahrenheit (10 degrees Celsius).
Before it's here, it's on the Bloomberg Terminal.
LEARN MORE