How Basil Fawlty Discovered a Decent Restaurant: Richard Vines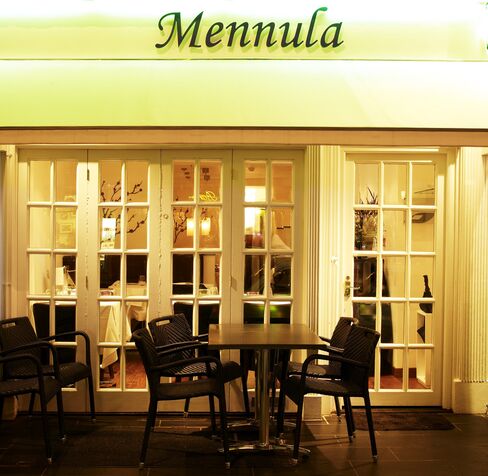 There was something about the diner at Mennula that caught my eye as he stood up rather stiffly and stretched his long legs before starting to cross the room.
It was John Cleese. The only time I've previously seen him in a restaurant was playing Basil Fawlty in "Fawlty Towers," whose comic portrayal of British food and service still strikes a chord, about 35 years after it was first shown on television.
I'm happy to say that this Sicilian establishment on Charlotte Street bears no relation to those bad old days. Rather, it represents one of the most exciting developments in food in London: The fact that unpretentious restaurants now often serve food of a quality that Britons would have needed to travel overseas to enjoy in the era of Basil.
Mennula is home to Sicilian-Lancastrian chef Santino Busciglio, who opened it in November 2009 on the site of Passione, whose owner Gennaro Contaldo helped create the Jamie's Italian chain. Gordon Ramsay features Mennula in his search for "Ramsay's Best Restaurant." The warmth and talent of the chef are evident: Busciglio is a charming and generous host who will chat with customers only until it is time to cook their food.
The menu is contemporary Italian, featuring seasonal dishes such as a starter of smoked venison with potato, winter black truffle and ricotta (13.50 pounds/$20.79); or there is a warm salad of Dorset crab, crushed potatoes & poached quail eggs. Among the pasta courses, sea-bass ravioli, marjoram & razor clams is hard to resist. Mains include pan-fried fillet of Scottish beef, celeriac cream, wild mushrooms and asparagus with winter black truffle (29 pounds).
Seared Squid
If you're on a budget, there's a set lunch I have tried, at 17.50 pounds for two courses and 19.50 pounds for three. I'm more tempted now by the six-course winter tasting menu, featuring dishes such as seared Cornish squid, roasted peppers filled with potato and salt cod and roasted pumpkin sauce; and honey-roasted middle-white pork, white polenta, savoy cabbage and black truffle. (There's also white truffle if you are fast.)
The desserts are strong, ranging from tiramisu with espresso creme anglaise through to a Sicilian tasting plate and exotic options such as a samosa of figs, wrapped in frangipane with caramelized onions, zabaione and semifreddo. There's also five types of cheese, though this is a pan-Italian selection.
Apart from Champagne and Port, it's an all-Italian wine list with about 100 options, many available by the glass and with plenty of space devoted to Sicily, including the top-priced Chardonnay Planeta 2007, at 51 pounds. The markups are ungreedy.
Almond Tree
It's a small restaurant -- seating 44 at most -- with tables outside in the summer and the booths at the back offering a good option if you're looking for a bit of privacy. It's simply decorated -- designed by Busciglio and his business partner Joe Martorana -- the walls featuring an almond-tree motif. (No surprise there: Mennula means almond in Sicily.)
It's easy to miss Mennula on Charlotte Street, which is filled with restaurants and is much-changed from the Fawlty days of the mid-70s, when it was known for Greek eateries where you could round off a boozy evening with a little plate-smashing.
While Mennula is small, it's not insignificant. It is warm and friendly and it's doing its bit to help improve the standard of food and service in London restaurants. If spotting John Cleese is a reminder of the bad old days, Mennula makes it easy to forget.
Mennula, 10 Charlotte Street, London, W1T 2LT. Information: +44-20-7636-2833 or click on http://www.mennula.com.
The Bloomberg Questions
Cost? The six-course winter tasting menu is 49.50 pounds.
Sound level? Not noisy: 70-75 decibels.
Inside tip? The booths at the back are comfortable.
Special feature? Sicilian wines.
Will I be back? Yes.
Date place? Yes.
Rating? **
What the Stars Mean:
****         Incomparable food, service, ambience.
***          First-class of its kind.
**           Good, reliable.
*            Fair.
(No stars)   Poor.
Sound-Level Chart (in decibels):
65-70: Normal office. 75-80: London street. 85-90: Passing bus. 90-95: Back of a taxi.
(Richard Vines is the chief food critic for Muse, the arts and leisure section of Bloomberg News. Opinions expressed are his own.)
Before it's here, it's on the Bloomberg Terminal.
LEARN MORE