U.K. Home Prices to Drop in 2011 on Loans, Budget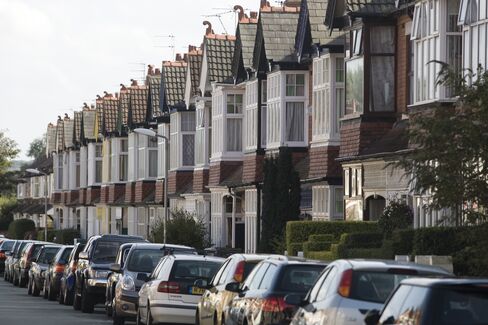 U.K. home prices will fall next year, extending a decline that began in the third quarter, as mortgage restrictions and government spending cuts discourage buyers, a Bloomberg News survey showed.
The median estimate of 23 banks, brokers and property forecasters that took part in the survey was for a decline of about 2.5 percent. Predictions ranged from a gain of 3 percent to a drop of 10 percent.
A 12-month home price rally ended after the government announced tax increases and the biggest budget reductions since World War II. Next year, property values will fall most in northeast England, Northern Ireland and parts of Scotland, according to David Newnes, managing director of LSL Property Services Plc's chain of residential-property brokers.
"Buyers remain tentative about the impact of government spending cuts and the prospect of unemployment in 2011," Newnes said. "There are simply too many properties coming onto the market that are struggling to find buyers."
Consumer confidence sank to a four-month low in December, research group GfK NOP said on Dec. 21. Prime Minister David Cameron in October set a goal of eliminating 330,000 government jobs and more than three quarters of the record public deficit by 2015.
Regional Differences
Home prices fell 2.3 percent in November from a year earlier in northeast England, the region with the lowest average home price, compared with a 6.8 percent increase in London, Land Registry data showed today.
Property values were probably little changed in 2010 after a second-half slide wiped out most of the gains in the first six months, according to the survey.
"There's going to be significant public-sector job losses and people are just expecting the private sector to muddle through and soak up" the unemployed, said Ed Stansfield, an analyst at Capital Economics Ltd. The jobless rate will rise to 3 million by 2012, the London-based research company predicts. The total was 2.5 million at the end of October, measured by International Labor Organization standards.
All the respondents to the survey said London will fare best next year, with price growth of zero to five percent. They cited the capital's comparatively small number of government jobs and the city's appeal to overseas buyers.
Less Lending
Monthly mortgage approvals have fallen to about half the average of the past decade as banks repair balance sheets and reduce property liabilities. Home loans will probably total 135 billion pounds ($208 billion) in 2011, unchanged from this year, according to the Council of Mortgage Lenders. Loans totaled 300 billion pounds in 2007, the year prices reached a peak.
Net lending is likely to fall by a third to 6 billion pounds in 2011 as record-low interest rates prompt borrowers to repay loans, the CML said. The 2008 total was 40 billion pounds.
No more than 900,000 homes will be sold next year, according to the CML. That compares with 1.6 million transactions in 2007.
Low borrowing costs will limit the number of properties coming onto the market through foreclosures and distress sales, preventing a deeper slide in Britain's 5.5 trillion-pound housing market, according to participants in the survey.
The Bank of England has held its key interest rate at a record low of 0.5 percent since March 2009 and kept a 200 billion-pound bond-purchase program in place. The rate may be unchanged "for the whole of next year," the CML said.
Banks may show an increased willingness to lend and pass on the low interest rates starting in the second half of 2011, according to a report by the Centre for Economics & Business Research for property broker Chesterton Humberts.
Next year "will be a year of two halves for U.K. house prices," it said. Low interest rates may push up prices in 2012 and 2013 to levels that are unsustainable in the long term, CEBR said.
                                           2011
4CAST                                       0
CAPITAL ECONOMICS                         -10
CARTER JONAS                               -5
CB RICHARD ELLIS                           -4
CHESTERTON HUMBERTS-CEBR                  0.9
CLUTTONS                                   -0.1
COMMERZBANK                                 0
CONFEDERATION OF BRITISH INDUSTRY          -4
COUNTRYWIDE                                -2.5
HAMPTONS INTERNATIONAL                     -4
IHS GLOBAL INSIGHT                         -7
INTESA-SANPAOLO                             0
INVESTEC                                   -2
JONES LANG LASALLE                         -1
KNIGHT FRANK                               -6
LSL PROPERTY SERVICES                      -4.5
NATIONAL AUSTRALIA BANK                    -4
ROYAL INSTITUTION OF CHARTERED SURVEYORS   -2
SAVILLS                                    -3
SCHRODERS                                   3
SOCIETE GENERALE                           -5
SPICERHAART                                -1
WINKWORTH                                   0