Slim Pension Fund Trails Citigroup With Treasury Bills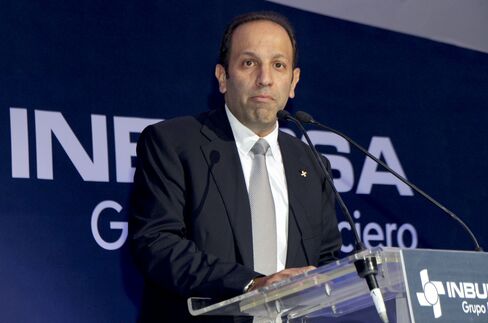 Billionaire Carlos Slim's Grupo Financiero Inbursa SAB is paying the lowest return among Mexican pension funds by keeping more than 50 percent of assets in local government bills, missing out on the biggest rally in longer-term debt since 2006.
The five funds of Afore Inbursa, as the pension division is known, returned an average 7.06 percent annually in the 36 months ended in November, trailing the more than 9 percent advance of top performing funds managed by ING Groep NV and Citigroup Inc., according to data from pension regulator Consar.
Slim's group has 57 percent of its $9.6 billion in pension assets in government bills that mature in less than a year because it expects an expanding economy will prompt the central bank to raise interest rates, hurting longer bonds, Inbursa Chief Executive Officer Marco Antonio Slim Domit said. Mexican T-bills yield 4.12 percent to 4.77 percent while the 10 percent peso bond due in 2024 returned 17.3 percent this year, including reinvested interest, according to data compiled by Bloomberg.
"There are moments to be conservative and moments to be aggressive," Slim Domit, who at 42 is the billionaire's second-eldest son, said in a Dec. 17 telephone interview from Mexico City. "With interest rates, yes, we think that this is a moment to be conservative."
Banco de Mexico, led by Governor Agustin Carstens, will hold the benchmark interest rate at 4.5 percent, the lowest since the bank started setting a target rate in 2005, through the end of 2011, according to a Dec. 20 survey of 18 economists by Citigroup's Banamex unit.
Rates on Hold
Carstens said in a Nov. 10 interview he would consider cutting rates should rising foreign capital inflows cause the peso to appreciate and hurt exports. The Banamex survey shows economists expect a rate increase in January 2012.
In the U.S., which buys 80 percent of Mexico's exports, the Federal Reserve is keeping interest rates near zero to stimulate the economy. U.S. growth will slow next year to 2.6 percent from 2.8 percent in 2010 while Mexico's expansion will ease to 3.7 percent from 5.1 percent this year, according to the median estimate of economists surveyed by Bloomberg.
ING Afore, based in Mexico City, produced a 10.1 percent average return over the past 36 months, the most among Mexico's 14 pension funds, according to Consar data. As of Nov. 30, ING had 21 percent of its 183 billion pesos of assets in inflation-linked bonds, 20 percent in fixed-rate bonds, 19 percent in equities and 0.05 percent in treasury bills.
Best Through Crisis
Citigroup's Afore Banamex, whose average return was 9.4 percent in the period, had 23 percent of assets in inflation-linked bonds, 21 percent in fixed-rate government bonds and 16 percent in stocks, according to Consar.
Mexico's inflation-linked bonds returned 10.9 percent this year through Dec. 29, including reinvested interest, according to Barclays Plc indexes. The benchmark IPC stock index rose 19 percent in the period.
Afore Inbursa's preference for treasury bills helped it offer the highest returns among pension funds in late 2008 and early 2009 during the global economic crisis. The fund has held at least 45 percent of its assets in treasury bills since at least March 2008, according to Consar.
In January 2008, Slim Domit said in an interview Afore Inbursa would "go to the limit" on stocks if the benchmark IPC index fell below 20,000. Afore Inbursa boosted its stock allocation to 13 percent in September 2008 before beginning to reduce the following month, when the IPC tumbled to as low as 16,868.66. The equity allocation was 8.9 percent as of Nov. 30 and the IPC closed today at 38,243.14.
'Slow'
"This afore is well known for being relatively slow at moving into risky assets," said Alonso Cervera, chief Latin America economist at Credit Suisse Group Ltd. in Mexico City.
The companies controlled by Carlos Slim, whose public holdings of $65 billion make him the world's richest man according to Forbes magazine, have been taking advantage of low interest rates to raise money for investments. Mobile-phone carrier America Movil SAB sold more than $8 billion in bonds this year in Mexico, the U.S. and Europe. Inbursa raised $1.3 billion in the local bond market this year as it tripled branches from the end of 2008.
Grupo Financiero Inbursa, founded 45 years ago by 70-year-old Slim, has gained 42 percent this year, putting its market value at $14.5 billion. Grupo Financiero Banorte SA rose 20 percent. Inbursa climbed 33 centavos to 54.09 pesos at 4 p.m. New York time in Mexico City trading.
While a "conservative" investment strategy makes sense in volatile markets or for workers who are close to retirement, funds dedicated to younger clients should have a mix of equities, structured products and infrastructure investments, said Gabriel Casillas, JPMorgan Chase & Co's chief economist in Mexico City.
Client Losses
"In a period of recovery, or in the case of a person who has a long way before retirement, much better strategies can be chosen that incur more risk but probably are going to produce better returns," said Casillas.
Inbursa's pension fund for clients aged 26 and less has 42 percent of assets in Mexican treasury bills, compared with an average of 2.5 percent for the 14 funds in the system. Inbursa's 0.5 percent allocation in fixed-rate bonds compares with an average of 29 percent for the pension industry.
Inbursa has lost about 32,000 pensioners this year for other funds, less than 1 percent of its client base, according to Consar data. The number of pensioners in the system rose 3.3 percent in the period, with ING Afore gaining 0.3 percent. Afore Banamex added 4.2 percent.
"It's good that workers are taking more time to change accounts," said Pedro Ordorica, president of regulator Consar. "This is a long-term saving system."