Stocks Rally as Dollar Falls Versus Yen; Treasuries Advance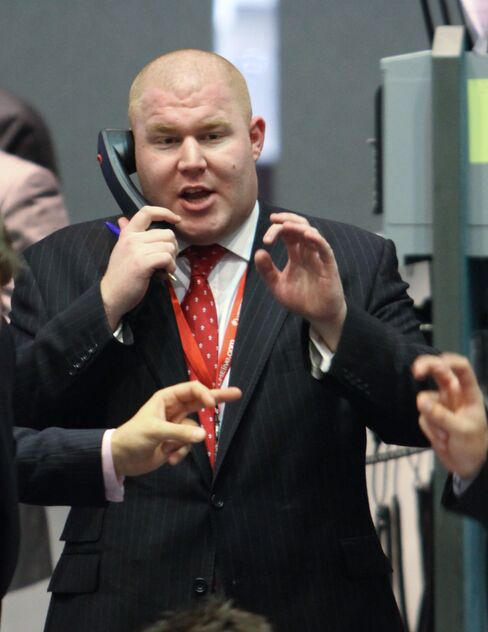 Stocks rose, with the MSCI World Index recovering all its losses following Lehman Brothers Holdings Inc.'s 2008 collapse, on speculation economic growth will accelerate. Treasuries extended gains as a $29 billion sale of seven-year notes drew stronger-than-estimated demand.
The MSCI World Index of shares in 24 developed nations rose 0.5 percent to 1,281.89 at 4:12 p.m. in New York. Earlier it topped its closing level of 1,283.14 on Sept. 12, 2008, before Lehman's bankruptcy spurred a 46 percent slump through March 9, 2009. The dollar slid 0.9 percent to 81.65 yen, falling an eighth day in the longest drop since 2004. Yields on seven- and 10-year Treasuries decreased more than 13 basis points each.
Optimism that the global economic recovery will continue has driven stocks higher in 2010 and prompted predictions from Wall Street strategists that the Standard & Poor's 500 Index will complete the biggest three-year rally since the late 1990s in 2011. The Shanghai Composite Index today snapped a five-day slump that was fueled by concern China may raise interest rates further to ease price increases.
"One of the things that's been worrisome is the rise in interest rates driving mortgage rates much higher," said Richard Campagna, chief executive officer of 300 North Capital LLC, which manages $500 million in Pasadena, California. "The fact that we're seeing a rally in Treasuries, combined with the improved performance of emerging-market equities, may indicate that central banks in emerging markets are getting ahead of the inflation curve."
2010 Rally
The MSCI World Index has gained 9.7 percent in 2010, building on last year's 27 percent rally, as the Federal Reserve pledged stimulus measures to support the U.S. recovery.
U.S. businesses probably expanded for the 15th consecutive month and pending homes sales rose, economists said before reports tomorrow, following data showing a surge in holiday spending even as consumer confidence unexpectedly fell and home values dropped.
Confidence in the economic recovery helped leveraged-loan issuance in the U.S. more than double this year, as private-equity firms sought funds for buyouts and borrowers refinanced debt amid a rebound from the worst financial crisis since the Great Depression.
More than $369 billion of loans were raised as of Dec. 28, led by financing for the purchases of Tomkins Plc and Burger King Holdings Inc., up from $170 billion in 2009, according to data compiled by Bloomberg. Interest rates fell to 3.91 percentage points more than the London interbank offered rate on average, from 10.28 percentage points at the end of 2009, according to Standard & Poor's Leveraged Commentary and Data.
Commodity Producers Lead
Producers of raw materials and energy led gains in the MSCI World Index today, rising at least 0.9 percent each as a group. Bank of Ireland, based in Dublin; Sears Holdings Corp. of Hoffman Estates, Illinois; and Canada's Ritchie Bros. Auctioneers Inc. posted the biggest advances, climbing at least 6.2 percent.
The S&P 500 advanced for a third straight day, adding 0.1 percent to 1,259.78. The U.S. stock index surpassed its Sept. 12, 2008, closing level on Dec. 21. It has surged 13 percent this year and is heading for the biggest December rally since 1991, up 6.7 percent in the month. Data tomorrow from the Institute for Supply Management-Chicago Inc. is forecast to show businesses in the U.S. expanded in December, while the National Association of Realtors may say pending sales of previously owned homes rose 2 percent in November from the prior month.
Seven-Year Auction
The yield on the current seven-year note decreased 16 basis points to 2.71 percent, while the 10-year yield lost almost 14 basis points to 3.35 percent.
The seven-year notes sold today drew a yield of 2.830 percent, compared with the average forecast of 2.864 percent in a Bloomberg News survey of 6 of the 18 primary dealers. The bid-to-cover ratio, which gauges demand by comparing total bids with the amount of securities offered, was 2.86, compared with an average of 2.88 for the past 10 sales.
The MSCI Asia Pacific Index rallied 0.7 percent to the highest level since June 2008. Japan's Topix index gained 0.6 percent, erasing its year-to-date loss, while the Hang Seng Index in Hong Kong rallied 1.5 percent, rebounding from a three-month low.
The MSCI Emerging Markets Index advanced 1.1 percent to the highest level on a closing basis since Nov. 11. The Shanghai Composite Index snapped a five-day slump after the China Securities Journal reported the nation's banking industry may have 800 billion yuan ($120 billion) of profit this year.
Norilsk Rallies
OAO GMK Norilsk Nickel led gains in Russian shares, climbing 6 percent, after saying it plans to buy back as much as $4.5 billion of stock. South Korea's Kospi Index advanced 0.5 percent to the highest level since November 2007 as a gauge of manufacturers' confidence rose for the first time in four months. Benchmark equity indexes in India and Indonesia climbed more than 1 percent as metal prices rose.
Copper futures declined in New York after metal inventories monitored by the London Metal Exchange rose for an 11th straight session, the longest advance in 11 months, signaling the rally to a record price may be overdone. Copper for March delivery dropped 1.65 cents, or 0.4 percent, to close at $4.3115 a pound on the Comex in New York. The price climbed to an all-time high of $4.3350 yesterday and has gained 50 percent since July 1.
The Australian dollar touched $1.0184, the highest level against its U.S. counterpart since before the December 1983 move by the nation to stop pegging it to a trade-weighted basket of currencies. The U.S. dollar depreciated 1.6 percent to 76.74 cents versus New Zealand's kiwi, from 75.56 yesterday.
The Swedish krona gained against all but one of its major peers as a report showed the nation's trade surplus widened in November to the highest this year, while New Zealand's dollar appreciated against all 16.
Poland's zloty strengthened 0.6 percent against the euro, snapping a three-day retreat, after state-owned lender Bank Gospodarstwa Krajowego sold the common currency, according to three traders involved in the transactions who declined to be identified because the information isn't public.