Tower Australia Shares Jump After Dai-Ichi's Takeover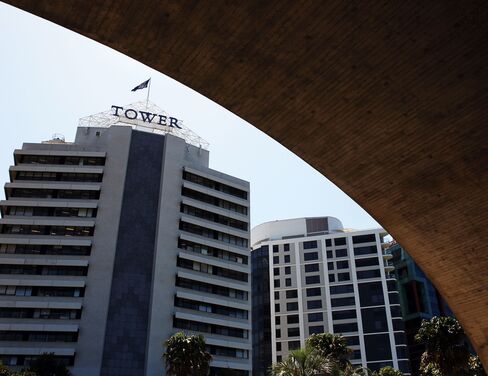 Tower Australia Group Ltd. shares jumped the most on record after Dai-ichi Life Insurance Co. agreed to take over the insurer.
Tower shares jumped 42 percent to A$3.87 at the 4:10 p.m. close in Sydney trading, the biggest gain since the insurer was spun out of its former New Zealand parent Tower Ltd. in November 2006. Dai-ichi Life, Japan's second-biggest life insurer which already owned 29 percent of Tower Australia, said yesterday it will pay A$1.2 billion ($1.2 billion) to buy the remainder in its biggest overseas acquisition.
Tower Australia's independent directors unanimously recommend shareholders vote in favor of Dai-ichi Life Insurance's takeover offer in the absence of a superior proposal, according to a statement from the Sydney-based company today. Dai-ichi Life's offer of A$4 a share was 46.5 percent more than Tower Australia's share price before the announcement.
"The Independent Directors believe that this offer represents a compelling premium and a highly attractive outcome for our shareholders," Tower Chairman Rob Thomas said.
Before the offer, Tower was trading at 1.3 times its book value, the second lowest among six Australian insurers tracked by Bloomberg. Dai-ichi's offer values the stock at 1.95 times, higher than the 1.8 multiple for the six companies, according to data compiled by Bloomberg.
Tokyo-based Dai-ichi, established in 1902, purchased about 30 percent of Tower Australia from Guinness Peat Group Plc for 37.6 billion yen ($456 million) in 2008. The Japanese company also has operations in Vietnam, India and Thailand.
Japan's life insurers are struggling for new customers after the first global recession since World War II. One in five Japanese citizens is over 65 years old. Only 13 percent are under 15, according to government statistics.
The transaction is expected to close in May.
Before it's here, it's on the Bloomberg Terminal.
LEARN MORE