N.Y. Rule on 'Gruesome' Anti-Smoking Ads Struck Down by Judge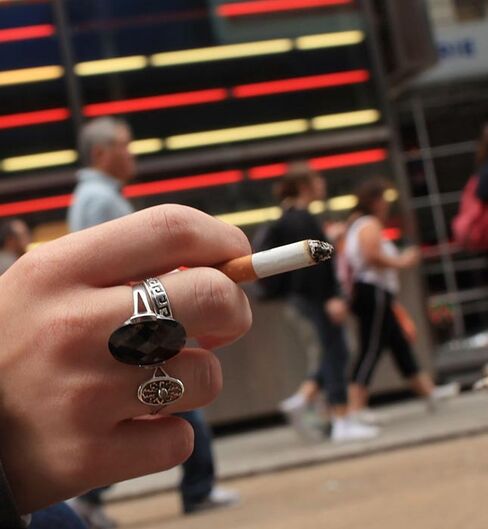 A New York City health regulation requiring the display of anti-smoking ads featuring "graphic, even gruesome images" wherever cigarettes and other tobacco products are sold was struck down by a federal judge.
The regulation, issued in September 2009, is preempted by a federal law that governs cigarette labeling and advertising, U.S. District Judge Jed Rakoff ruled yesterday.
"Even merchants of morbidity are entitled to the full protection of the law, for our sake as well as theirs," Rakoff said in a written opinion. The regulation "imposes burdens on the promotion of cigarettes that only the federal government may prescribe," the judge said.
The decision stems from a suit filed in June by the three biggest U.S. cigarette makers and groups representing convenience stores. At the start of the case, the city agreed to postpone enforcement of the rule until Jan. 1.
"We are disappointed that this important health initiative was rejected by the court," Nicholas Ciappetta, the city lawyer who handled the case, said in a statement. "We are studying the decision and considering our legal options."
The signs were to contain images of a brain damaged by stroke, a diseased lung and a decaying tooth and gums, with information about the dangers of smoking, Rakoff said. The signs were also to have said: "Quit Smoking Today -- For Help, Call 311 or 1-866-NYQUITS."
The plaintiffs in the suit, including Philip Morris USA Inc., R.J. Reynolds Tobacco Co. and Lorillard Tobacco Co., claimed the regulation violates free speech guarantees in the U.S. and New York State constitutions, exceeds the Board of Health's legal authority and is preempted by the Federal Cigarette Labeling and Advertising Act.
Rakoff said the measure violates that Labeling Act, which was originally enacted in 1965. He declined to rule on the other grounds.
The case is 23-94th St. Grocery Corp. v. New York City Board of Health, 1:10-cv-04392, U.S. District Court, Southern District of New York (Manhattan).
Before it's here, it's on the Bloomberg Terminal.
LEARN MORE