Favre Fined for Lack of Cooperation in Message Probe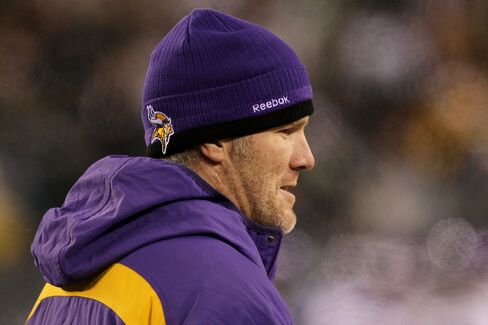 Quarterback Brett Favre was fined $50,000 by the National Football League for lack of cooperation in its probe of suggestive messages he allegedly sent to a female co-worker while both were with the New York Jets in 2008.
The NFL said it didn't punish Favre for his actions involving Jenn Sterger, a former Jets' sideline reporter, a decision disagreed with by Sterger and her lawyer. The league said forensic analysis was unable to establish evidence that the 41-year-old three-time Most Valuable Player had sent objectionable photographs to Sterger, and couldn't say that he violated its conduct policy.
Commissioner Roger Goodell did conclude that Favre, now with the Minnesota Vikings, "was not candid in several respects during the investigation." That extended the time of the investigation and produced "negative public attention for Favre, Sterger and the NFL," according to the statement.
It also said Goodell and NFL investigators didn't find "anything to suggest that Sterger engaged in any inappropriate conduct."
Joseph Conway, Sterger's lawyer, said in an e-mailed statement that they were "extremely disappointed, but not surprised" by the NFL's ruling.
'Lewd Behavior'
"While I am not privy to how Mr. Goodell reached such a finding, we strongly disagree with his conclusion that there was insufficient evidence to support a violation of the policy," Conway said. "To the contrary, our evidence and the personal testimony of Ms. Sterger clearly showed a pattern of lewd and offensive behavior by Mr. Favre that lasted all of the 2008 season."
Conway also said the NFL "completely failed to address the complicity" of the Jets' organization in Favre's behavior. He said Favre got Sterger's telephone numbers from people still employed by the team.
Bob Hagan, a Vikings' spokesman, in an e-mail referred requests for comment to the league's statement. E-mails sent to Bruce Speight, a Jets' spokesman, and Bus Cook, Favre's agent, weren't immediately returned. Favre and the other Vikings' players have the day off after beating the Philadelphia Eagles last night.
The ruling by Goodell came more than four months after the website Deadspin.com said Favre sent voicemails and photos to Sterger, 27, who at the time was a Jets' sideline reporter and later became an on-air personality for the Versus network.
Final Year
The decision also came in what is likely the final week of Favre's NFL career. The Vikings, at 6-9, are eliminated from playoff contention and Favre has said he won't return for a 21st season.
Deadspin posted a slideshow on Oct. 7 that included audio of messages left for Sterger and below-the-waist photos that the website said were of Favre and had been sent to her.
The website reported the next day that Favre also pursued two unidentified Jets massage therapists, citing interviews with one of them.
"Misconduct by Favre regarding that claim was unable to be substantiated because individuals with potentially relevant information declined to be interviewed or otherwise cooperate with the investigation," the NFL said.
League officials met separately with Favre and Sterger. ESPN reported that Sterger provided "visual evidence" to the league the week of Nov. 22.
Workplace Policy
The suspension follows the NFL's decision this season to mandate a league-wide training program in response to "unprofessional conduct" in September by the Jets' coaches and players toward Ines Sainz, a reporter for Mexico's TV Azteca. The program will focus on "proper conduct in the workplace," Goodell said.
Favre has been married for 14 years and became a grandfather last spring.
He's in his second season with the Vikings after one year with the Jets that followed a 16-year stay with the Green Bay Packers.
Favre's record string of consecutive starts ended at 297 on Dec. 13 because of a right shoulder injury. He started the following week against the Chicago Bears, leaving the game after suffering a concussion that again sidelined him in the Vikings' win last night over the Eagles. His status for Minnesota's season finale at the Detroit Lions hasn't been announced.
Losses, Firing
The Vikings, who lost the National Football Conference championship game in overtime to the New Orleans Saints in January, were never able to match that success this season. Favre has thrown 19 interceptions compared with 11 touchdown passes. He also traded verbal barbs with coach Brad Childress before Childress was fired in November.
Favre briefly retired from football following his final season in Green Bay and again following his stay with the Jets. After having surgery in May to remove scar tissue and bone spurs from his left ankle, he didn't reveal his decision to return to Minnesota this season until Aug. 17.
An 11-time Pro Bowl selection, Favre is the NFL's all-time leader in passing yards, passing touchdowns, completions and interceptions.
Before it's here, it's on the Bloomberg Terminal.
LEARN MORE