Courtesan in Sexy Red Dress Menaced by Guests, Clock: Interview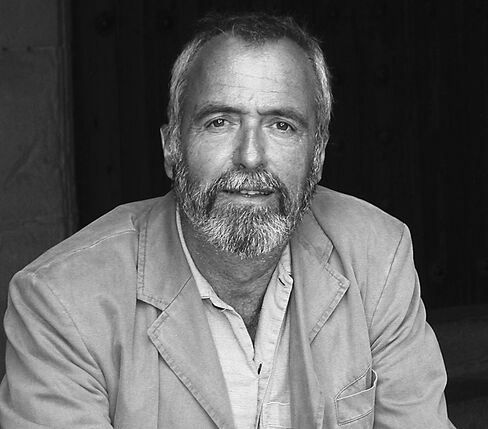 No corkscrew curls and crinolines for this girl.
In the Metropolitan Opera's new production of Verdi's 1853 opera about a doomed courtesan, "La traviata," Violetta wears a short, sexy red dress and high heels.
Director Willy Decker keeps everyone else, including women, in formal black suits. The stage features a curved white wall, a big clock and not much else.
When the curtain rises on New Year's Eve, you won't be able to take your eyes off of Marina Poplavskaya, the diva in the dress.
The composer would probably not object. He was furious when prim censors made him place his story in a previous century.
I spoke with Decker in the press room at the Met during rehearsals.
Lundborg: You've already staged this in Salzburg in 2005 and again in Amsterdam, so have you changed anything for the Met?
Decker: The essence remains, but the stage dimensions are different here. We had to redesign the room, and of course that changes the details, but I think for the better: The action is even more concentrated than in Salzburg.
That Dress
Lundborg: You've updated the opera, so is your Violetta different from Verdi's?
Decker: It's entirely Verdi's Violetta. The action is meant to be timeless -- I want her to be seen through the eyes of a modern human being and to free her from all specific historical elements.
Lundborg: How did you come up with the sexy red dress?
Decker: You want to create the utmost visual conflict between her and her surroundings. Because you can always see where she is, the audience never leaves her, emotionally or dramatically.
Lundborg: We're all on her side, a woman alone in "the desert called Paris."
Decker: Society blames a woman like Violetta for betraying the idea of love, but in this society she's the only one who really loves. That's the whole essence of the piece.
Lundborg: If we're looking at Violetta through modern eyes, why would any woman now make such a deal with Papa Germont?
Decker: He's very insulting, brutal and destructive, and she is about to send him away. But he's also clever when he shows her a picture of his daughter.
Violetta is moved because the girl looks like Alfredo, and it also reminds her of her younger self.
She's not doing the will of Germont. She makes a conscious sacrifice for someone else out of deep knowing, compassion and selflessness.
Urgency of Music
Lundborg: How do you begin?
Decker: I listen to the music. No pencil, no paper, no score. Suddenly you feel the enormous urgency of the music, something that is driving Violetta to go faster and faster until she dies. You also hear the clock all the time.
Lundborg: Instead of making them carefree party-goers, you've given the chorus a sinister edge.
Decker: If you listen to the music carefully, they are pretty aggressive.
Lundborg: Why are European directors taking such liberties with opera?
Decker: There's a lot of bullshit going on. We have many opera houses and the same repertoire, so it's very competitive.
Most of the time, directors change things in a superficial way for the shock value.
'Parsifal' to Tango
Lundborg: What's on your iPod now?
Decker: Everything from "Parsifal" to the tango -- I listen to early music, music from other cultures, India, Japan, fado.
Lundborg: How do you relax when you're not working?
Decker: I'm a seriously practicing Zen Buddhist, so that takes a lot of free time, though our distinction between free time and non-free time is a wrong concept anyway.
"La traviata" runs at the Metropolitan Opera from Dec. 31 through Jan. 29. For information: http://www.metoperafamily.org. The Salzburg production with Anna Netrebko and Rolando Villazon is available on DVD.
(Zinta Lundborg is an editor for Muse, the arts and leisure section of Bloomberg News. The opinions expressed are her own. This interview was adapted from a longer conversation.)
Before it's here, it's on the Bloomberg Terminal.
LEARN MORE