Sugar Extends Rally to 30-Year High on Global-Supply Concerns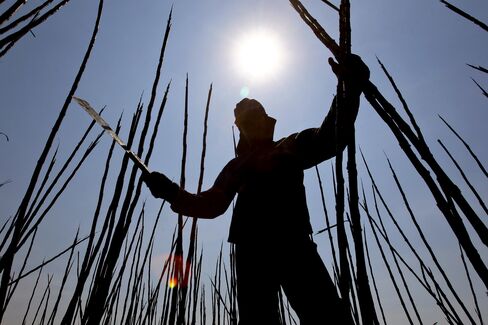 Sugar futures extended a rally to a 30-year high on mounting concern that dry weather in Brazil, the world's biggest producer, and record rainfall in Australia will slash worldwide supplies.
Global demand will reach 165.3 million metric tons in the year ending Sept. 30, topping supplies by almost 3 million tons, ABN Amro Bank NV and VM Group have said, reversing a forecast for a surplus. Dry weather early in the growing season and rain during the harvest hurt crops in Brazil, according to their report. Sugar headed for the third straight annual gain.
"The market conditions point to prices going higher," said Bruno Zaneti, a risk-management consultant at FCStone Group in Campinas, Brazil. "With volumes being very light because of the holiday season, we may see some sharp movements."
Raw sugar for March delivery gained 0.75 cent, or 2.2 percent, to settle at 34.39 cents a pound at 2 p.m. on ICE Futures U.S. in New York. Earlier, the most-active contract reached 34.6 cents, the highest since Nov. 25, 1980. The commodity has gained 28 percent this year. In 2009, the price more than doubled, marking the biggest gain in 35 years.
The rally may increase costs for candy makers Hershey Co. and Tootsie Roll Industries Inc. and Krispy Kreme Doughnuts Inc. Zaneti said sugar may reach 40 cents within two months.
"There is reduced sugar usage or increasing use of substitutes because of higher prices," Michael McDougall, a senior vice president at Newedge USA, said today in a report. "The companies that supply artificial sweeteners have seen their product sales increase by leaps and bounds."
Adverse Weather
The price has more than doubled from this year's low of 13 cents on May 7. The record for sugar was 66 cents on Nov. 21, 1974. The highest level in the 1980s was 45.75 cents on Nov. 5, 1980.
Rain in Australia's Queensland state this month after the country's wettest spring on record forced producers to leave some sugar cane unharvested.
"Bad weather conditions are threatening crops around the globe," Vibul Panitvong, the executive chairman of the Thai Sugar Miller Corp., said last week.
Thailand is the second-largest exporter, followed by Australia.
'The fundamentals remain very supportive," said Jimmy Tintle, an analyst at Transworld Futures in Tampa, Florida.
In 2009, rain damaged crops in Brazil and dry weather curbed output in India, the second-largest producer.
Estimated ICE volume today was 40,517 contracts. The daily average in the past three months was 98,531.
The market for refined-sugar futures on NYSE Liffe in London was closed for a public holiday.
Before it's here, it's on the Bloomberg Terminal.
LEARN MORE