Queensland's Bligh Cuts Vacation for Flood Response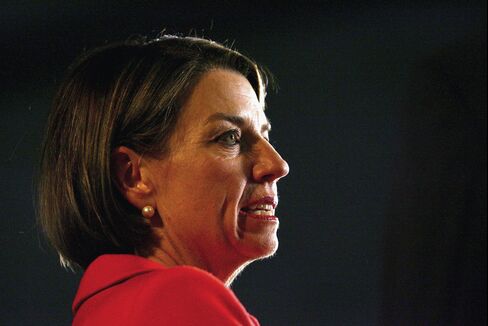 Queensland Premier Anna Bligh cut short her Christmas vacation to oversee the emergency response to floods inundating parts of the sugar and coal producing state in Australia's northeastern corner.
"Many communities remain at risk of flooding," Bligh said in a statement today. "Our priority is ensuring communities are prepared and that they are getting the support they need."
Weeks of rain in Queensland and northeastern parts of neighboring New South Wales have forced the evacuation of hundreds of people, Queensland Emergency Services said. The floods threaten to delay coal deliveries into next month, while Cotton Australia says some 7,500 hectares of the crop planted near Theodore in the state's east have been destroyed.
Rio Tinto Group, the world's third-largest mining company, today declared force majeure at four of its coal mines in Queensland. The declaration will allow it to miss deliveries because of circumstances beyond its control.
"The severe monsoonal rain, on top of the significant rainfalls in November and December, has had an adverse impact on mining operations and has cut access roads and rail networks," London-based Rio said today in a statement to the Australian stock exchange. It couldn't provide a forecast for how much its coal sales may be cut.
More rain may be on the way. Australia's Bureau of Meteorology says southeastern Queensland and eastern New South Wales have a 60 percent to 70 percent chance of getting higher-than-average rainfall between January and March.
Economists are starting to tally the financial toll and consider whether revised outlooks would affect the Reserve Bank of Australia's forecasts.
Impact on GDP
Queensland accounts for about 20 percent of Australia's A$1.3 trillion ($1.31 trillion) economy, with trade contributing most to the state's growth in the 12 months ended June 30. The state's unemployment rate of 5.5 percent in November was higher than the national average of 5.2 percent.
Flooding may reduce the nation's gross domestic product by 0.25 percent in the fourth quarter, said Ivan Colhoun, head of Australia economics at ANZ Banking Group Ltd. in Sydney.
"The RBA would be looking at what the effects will be on the economy in the big picture," Colhoun said. "But I can't remember a period where flooding has caused more than a small, short-term impact on the economy."
Flood Warnings
Bligh today inspected the flood-affected areas of the state, including the towns of Bundaberg and Rockhampton, according to a Queensland government statement on its website.
The Bureau of Meteorology has issued 14 flood warnings in the state today.
Evacuation of 300 people in the town of Theodore continues, with the assistance of two Blackhawk helicopters from the Australian air force, Emergency Services said. Theodore has been cut off by flood waters. Chinchilla and Dalby were declared disaster areas with about 60 people evacuated from each of those towns, according to the Emergency Services.
Television pictures show whole towns consumed by muddy floodwaters. Traffic has been brought to a standstill, with some residents waiting out the floods in pockets of high ground.
Coal Delays
QR National Ltd., Australia's largest coal transporter by rail, expects deliveries to be "adversely" affected for at least this month and next. The wet weather and flooding is "hampering access to the track and hence recovery efforts," Brisbane-based QR said in a statement today.
The effect of heavy rain on the state's cotton yields will depend on weather in coming weeks, David Bone, communications manager for industry group Cotton Australia, said in a telephone interview today.
Flooding in October in Queensland contributed to a 2 percent decline in the nation's coal and other non-farm exports, said Spiros Papadopoulos, a senior economist at National Australia Bank Ltd. in Melbourne.
With the latest damage and transportation disruptions, "there is likely to be a larger negative impact on our mining and resource exports in December," he said.
The damage may cut Australia's economic output by 0.5 percent, or A$6 billion ($6 billion), as farming and mining exports are curtailed, the Australian newspaper reported today, citing AMP Ltd. Chief Economist Shane Oliver.
A Wet Spring
Australia had its wettest September-to-November spring on record, prompting mining companies including Xstrata Plc and Vale SA to declare they wouldn't be able to fulfill coal-delivery contracts.
Xstrata's Oaky Creek mine reported a spill of mine water Dec. 27, according to a statement from the Queensland Ministry of Climate Change and Sustainability. The breach poses a "very low" risk of environmental harm, Acting Climate Change and Sustainability Minister Andrew Fraser said in a statement. Xstrata spokesman James Rickards didn't immediately respond to a request for comment.
BHP Billiton Ltd., the world's largest mining company, will report any significant impact on its coal mines in the region in its next quarterly production report, spokeswoman Kelly Quirke said yesterday.
The flooding could mean weather-damaged wheat and chick pea crops that have yet to be harvested in southern Queensland will be left in the fields, Wayne Newton, grains president of farmer group Agforce, said by phone yesterday from Dalby. Some recently planted cotton and sorghum crops were under water, he said.
"There has been very little harvest progress in the last fortnight because of continual wet weather and I would suspect that a lot of that wheat would not be harvestable," he said. Reduced quality and crop losses this season likely cut the value of the state's winter grain production by a range of about A$300 million to A$400 million, he said.
Before it's here, it's on the Bloomberg Terminal.
LEARN MORE