Ferraris Show Poland Narrows Gap as Europe Weakens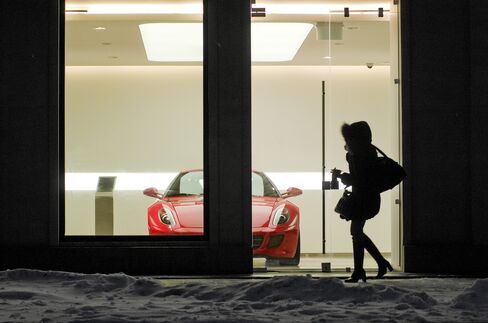 Dante Cinque had buyers lined up even before opening Ferrari's first Polish showroom, taking over the Warsaw site formerly occupied by the Communist Party.
"Poland is much better than it's perceived abroad, in every way," Cinque, general manager of Ferrari Warszawa, said in the store on Nowy Swiat Street, which opened in October. "I get the feeling in Poland that wealth is being created."
Poland passed the Netherlands in 2009 to become the sixth-biggest economy in the 27-nation European Union, according to exchange-rate adjusted figures from the World Bank. The country of 38.2 million people was the only one in the EU to avoid a contraction last year, with growth of 1.8 percent. While most nations struggle to emerge from the worst recession since World War II, the World Bank forecasts growth of 3.5 percent in 2010.
Poland's WIG20 blue-chip stock index gained more than 9 percent to the end of November in dollar terms, compared with 3 percent for the region's benchmark Stoxx Europe 600 Index. Credit Suisse Group AG, Goldman Sachs Group Inc. and Morgan Stanley are expanding in Warsaw as domestic and foreign companies list on the Warsaw Stock Exchange and the government plans to sell 40 billion zloty ($13.2 billion) of state assets in 2010-2011.
The country's $430 billion economy has been propelled by manufacturers of products such as car parts and machinery that are exported by Germany; tax cuts from the beginning of 2009 that slashed the top personal income tax rate to 32 percent from 40 percent; the 9.7 percent drop in the zloty against the euro since the beginning of 2008, which has helped make Poland's competitive position; and 67 billion euros ($88.2 billion) of EU grants earmarked through 2013.
'Bastion of Growth'
"We've built a bastion of growth," Prime Minister Donald Tusk said in a Nov. 16 press conference on the third anniversary of taking up office. Poland is prepared for a "test of wills," he said, referring to the EU's next seven-year budget, which may pit the bloc's largest aid recipient against U.K. Prime Minister David Cameron, who wants to curb spending to reduce Britain's record budget deficit.
The spread between Polish and German 10-year bonds narrowed on Dec. 16 to a seven-month low of 290 basis points. Costs to insure Polish five-year debt were at 146.500 basis points as of yesterday. That compares with 496.305 for Portuguese credit default swaps, indicating that investors are betting that the east European country is less likely to default than the euro member. Fitch Ratings downgraded Portugal's debt rating one level on Dec. 23, saying the economy faced a "deteriorating" outlook.
'10 Ferraris'
Average gross wages have increased by almost a third over the last five years, statistics office data show.
"I have clients who have 10 Ferraris in the garage," Cinque said, adding that most of his customers own companies and work in industries including banks and real estate.
Unemployment was 9.7 percent in October, according to EU figures, compared with 14.1 percent in Ireland and 20.7 percent in Spain. The economy grew at an annual rate of 4.2 percent in the third quarter, the fastest pace in two years, buoyed by the 9 percent increase in retail sales in October.
Liebrecht & wooD is helping build Plac Unii, a 550 million-zloty retail and office complex in Warsaw, to capitalize on rising consumer demand. The company is betting that the country will turn economic gain into political clout, adding to the attractiveness of real estate in the capital.
Drawing Closer
"In 10 to 20 years, Poland will be one of 'the' countries in Europe," said Marc Lebbe, a Warsaw-based managing director at Liebrecht & wooD. "There's no reason why it shouldn't wield as much power one day as France or Spain or Italy."
Domestic politics are still scarred by an April 10 plane crash, which killed President Lech Kaczynski and 95 others in Smolensk, Russia, as they traveled to honor Poles murdered by Stalin's secret police. Some of the victims belonged to the main opposition party, Law & Justice, run by Kaczynski's twin brother, Jaroslaw, who said the government bears "moral responsibility" for the accident.
Early presidential elections called after the crash were won by Bronislaw Komorowski, former parliamentary speaker and a leading member of the ruling Civic Platform party. Tusk faces an election challenge from Law & Justice in parliamentary elections in the second half.
Poland's general government deficit has more than quadrupled since 2007, swelling this year to 7.9 percent of gross domestic product, according to EU forecasts. The Finance Ministry estimates public debt will reach 53.2 percent of GDP this year compared with 44.8 percent in 2007.
Credit-Rating Concerns
Fitch Ratings said in a report last month that Poland should curb its deficit to avoid a credit-rating reduction. If the country's public debt rises above 55 percent of GDP, it would breach the second of three legal thresholds anchored in Polish law, triggering mandatory budget cuts.
Those legal limits, tougher than the EU's, keep bondholders "relaxed," even with Poland set to run the EU's sixth-widest budget gap next year, said David Hauner, head of emerging-market economics at Bank of America Merrill Lynch in London.
"Poland has a long way to go to draw even with 'old' Europe," said Maja Goettig, chief economist at Bank BPH SA. "But we have great potential -- and we've been able to use the crisis to do some catching up."
Before it's here, it's on the Bloomberg Terminal.
LEARN MORE