Euro Pain Turns to 23% Gain for Europeans in S&P 500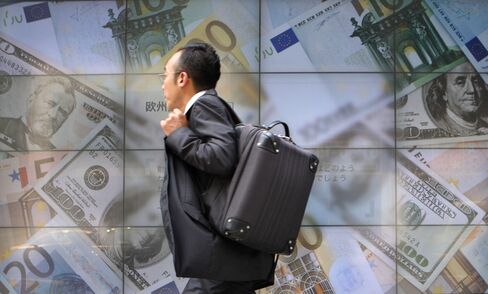 For all the losses facing Europeans this year, investors from the region who bought U.S. stocks as the euro weakened are getting the best returns in a decade.
The Standard & Poor's 500 Index rose 23 percent this year when translated to euros, the most since the currency was formed in 1999 and almost double the 13 percent gain for Americans, according to data compiled by Bloomberg. Buying the Nikkei 225 Stock Average in Tokyo produced a 20 percent increase for Europeans, compared with a 2.5 percent loss when priced in yen, the data show.
Record budget deficits and bailouts of Greece and Ireland sent the European currency down 8.4 percent in 2010, boosting winnings for anyone converting dollar-denominated investments back into euros. Concern about further declines may spur more overseas investment in 2011, according to Dirk Pattyn at Degroof Fund Management Co. in Brussels, whose U.S. fund gave European investors a 24 percent return this year.
"The focus is still the debt problem in Europe, and many clients might be looking at the U.S. as a first alternative," said Pattyn, who held Chevron Corp. and Microsoft Corp. among $33 billion in investments at his company this year. "It's been an excellent year for U.S. investors in Europe. You have the currency that added a lot, and also you had the performance of the underlying index."
Most Since 2007
Investors outside the U.S. purchased American stocks at an annual pace of $146 billion in the third quarter, on course for the biggest annual gain since 2007, data from the Federal Reserve show. Europeans bought a net $18.3 billion of U.S. stocks in September, the most since May 2007, just as credit markets started to freeze, the data show.
While the benchmark Euro Stoxx 50 Index slipped 3.5 percent this year up to the end of last week, traders in the 16 nations that share the single European currency made an average 29 percent by investing in 62 non-euro nations tracked by Bloomberg.
The Euro Stoxx 50 slid 1.4 percent at 8:40 a.m. in London today, while futures on the S&P 500 fell 0.5 percent.
The euro's retreat against the dollar this year has been the biggest since 2005 even as the U.S. deficit swelled to a record in February and the unemployment rate rose to seven-month high of 9.8 percent in November, according to Bloomberg data.
"We were expecting a good performance of the U.S. market. What we didn't expect is that the dollar would be as strong as it has been," said Paris-based Hubert Goye, who helps oversee $707 billion for BNP Paribas Investment Partners. "Given the budget situation in the U.S., given the fact that the economy was not extremely strong, there were many reasons why the dollar could remain under pressure."
Boosting Returns
Goye's Actions USA fund rose 28 percent in euros this year and 17 percent in dollars, according to data compiled by Bloomberg. Currency movements boosted his return from holding shares of Cupertino, California-based Apple Inc. to 68 percent and doubled the value of his investment in Norwalk, Connecticut-based Priceline.com Inc.
Chevron in San Ramon, California, the second-biggest U.S. energy company, has gained 18 percent this year, the equivalent of 29 percent in euros. Redmond, Washington-based Microsoft's 7.2 percent drop turns into a 1.5 percent rally when the largest software maker is priced in Europe's currency.
The debt crisis in Europe has made the U.S. economy look strong by comparison. Surging borrowing costs in the region's so-called peripheral nations forced the European Union to lead bailouts of Greece and Ireland for a combined 195 billion euros ($256 billion). Greece's ASE Index has plunged 34 percent this year and Spain's IBEX 35 has tumbled 14 percent, the worst performances among 24 developed markets tracked by Bloomberg.
'Flight to Safety'
"It has been a flight-to-safety trade from Europe to the U.S.," said Jason Brady, a managing director at Thornburg Investment Management in Santa Fe, New Mexico, which oversees more than $72 billion. "They will continue to move their money out of the less well-capitalized countries of Europe and the U.S. is still considered one of the safer places to invest."
Moody's Investors Service cut Ireland's credit rating five levels on Dec. 17, put Greece on review for a potential downgrade, and said Dec. 15 that Spain's ranking was at risk. Fitch Ratings trimmed Portugal's rating to A+ on Dec. 23, citing concern about government financing and the country's banks. In contrast, Moody's said last month the U.S.'s top Aaa rating won't be under pressure this year or next.
'Nice Situation'
"We've seen quite a nice situation due to the credit crisis," said Henrik Drusebjerg, a senior strategist at Nordea Investment Management, which oversees $76 billion in Copenhagen, where the Danish krone has declined 8.7 percent against the dollar in 2010. "Equities have done very nicely, partly because the reporting season was much better than expected."
Denmark's benchmark OMX Copenhagen 20 Index soared 36 percent this year, the best performance among 24 developed markets tracked by Bloomberg.
Profit for companies in the S&P 500 rose 42 percent in the third quarter, with 79 percent of members beating analyst estimates, according to data compiled by Bloomberg. For the Stoxx Europe 600 Index, 57 percent of firms topped predictions, the data show.
Bearish Call
As concern about Europe's debt crisis deepens, the euro may slide to $1.18 by the third quarter from $1.31 at the end of last week, according to Stephen Hull, head of global foreign-exchange strategy at Morgan Stanley in London, who has the second-most bearish call among 46 analysts surveyed by Bloomberg. Investors should buy the dollar and sell the euro because governments in the monetary union don't want a strong currency, the New York-based bank wrote in a Dec. 9 report.
The survey's consensus suggests the euro will finish 2011 little changed from last week. Nordea's Drusebjerg said the European currency may find support if the region's governments present a "sensible" strategy to tackle their budget deficits.
Betting on dollar-denominated assets has "been fairly good in 2010, but it's a theme you should be careful about," he said.
This year's gain for the S&P 500 in euros would be the highest since the 39 percent return in 1999, according to Bloomberg data. Euro-based investors that have held money in S&P 500 shares since the start of 2000 are worse off than their U.S. counterparts, having lost 34 percent compared with the Americans' 14 percent decline.
Bullish on Franc
In addition to winning from moves against the dollar this year, investors based in the euro area have benefitted from the common currency's 18 percent depreciation against the yen and 12 percent slide versus Sweden's krona. The euro's losses are helping boost the value of the Swiss franc. Options traders are more bullish on the franc for the next three months than any major currency except the yen, Bloomberg data show.
A 22 percent gain by the OMX Stockholm 30 Index, the second-best performing gauge in 2010 among 24 developed markets tracked by Bloomberg, translated into a 39 percent surge for euro-region investors. The currency effect makes the Swedish benchmark gauge the best-performing developed-market index worldwide when measured in euros, overtaking Denmark's Copenhagen 20.
Pattyn at Degroof Fund Management says the U.S. may keep luring European investors, even without help from currency fluctuations, because it has faster economic growth.
"We do still have a positive view on U.S. investment," said the fund manager. "With the returns this year, I can believe our European clients are quite happy."
Before it's here, it's on the Bloomberg Terminal.
LEARN MORE