'Fockers' Tops Weekend Box Office With $34 Million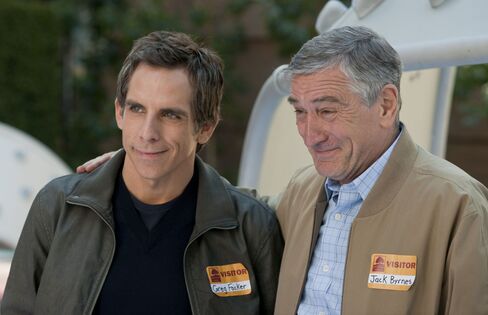 Dec. 26 (Bloomberg) -- The comedy "Little Fockers" led the Christmas weekend box office in the U.S. and Canada, taking in $34 million in ticket sales for Universal Pictures.
"True Grit," the Western drama from directors and brothers Joel and Ethan Coen, opened in second place with $25.6 million for Paramount Pictures, researcher Hollywood.com Box-Office said today in an e-mailed statement.
Ticket revenue fell for a seventh consecutive weekend relative to 2009, narrowing chances that 2010 box-office sales will exceed last year's record $10.6 billion, Paul Dergarabedian, president of Hollywood.com's box-office service, said in an interview.
Ticket sales are waning "and the reason is these movies are relatively unappealing," said Brandon Gray, president of Box Office Mojo, an audience reporting service. "The movies that are doing well are no match for the movies that were doing well last year. Intended blockbusters are falling flat."
"Avatar" was the top movie at this time last year, with Christmas weekend sales of $75.6 million before going on to become the top-grossing film of all time.
"Little Fockers" is the third film in the series about two incompatible families linked by marriage. The first two movies generated $847 million worldwide for Universal, which is owned by General Electric Co.
Another Sequel
Although the industry expects smaller audiences when Christmas Eve falls on a Friday, this weekend attracted fewer moviegoers than in 2004, when the holiday last occurred on a weekend, Gray said.
Robert De Niro plays an overbearing father and Ben Stiller is his hapless son-in-law who is unable to please him. In the latest film, Stiller's character must once again prove himself as the families get together to celebrate a birthday.
"True Grit," from Viacom Inc.'s Paramount Pictures, stars Jeff Bridges as the grizzled, trigger-happy U.S. Marshal Rooster Cogburn. A 1969 version of the film brought a best-actor Oscar to John Wayne for his portrayal of Cogburn.
In the new movie, based on the novel by Charles Portis, Hailee Steinfeld plays Mattie Ross, a strong-willed teen who seeks Cogburn's help in tracking down the man who killed her father. Matt Damon and Josh Brolin co-star.
"Tron: Legacy," Walt Disney Co.'s sequel to the 1982 movie about a man trapped inside a video game, fell to third from first with $20.1 million. The film also stars Jeff Bridges, this time as a programmer who has remained in the cyber world for two decades. His son, played by Garrett Hedlund, is pulled into the game to help him plot an escape. Olivia Wilde co-stars.
Sales Decline
"The Chronicles of Narnia: The Voyage of the Dawn Treader," the third film based on the C.S. Lewis books, fell to fourth place with $10.8 million.
"Yogi Bear," based on the television cartoon, was fifth with sales of $8.8 million. The film from Time Warner Inc.'s Warner Bros. features the voices of Dan Aykroyd as Yogi and Justin Timberlake as his pal, Boo Boo. In the movie, the bears join forces with a park ranger to keep Jellystone Park out of the hands of a private developer.
"The Fighter," distributed by Paramount, was sixth with sales of $8.5 million. "Gulliver's Travels," the weekend's other new film, opened in seventh place with $7.2 million in sales. In a modern update of the Jonathan Swift novel, Jack Black stars as an aspiring writer who is transported to a Lilliput, a land of tiny people.
Sales for the weekend's top 12 films dropped 46 percent to $142 million from last year's $264 million, according to Hollywood.com. This year's domestic box-office sales total $10.3 billion, down 0.45 percent from a year earlier. Attendance is down 5.4 percent.
The amounts below are based on actual ticket sales for Dec. 24-25 and estimates for today.
                       Rev.            Avg./   Pct.   Total
Movie                 (mln)  Theaters  Theater Chg.   (mln)  Wks
================================================================
1 LITTLE FOCKERS       $34.0   3,536   $9,620   --    $48.3   1
2 TRUE GRIT             25.6   3,047    8,402   --     36.8   1
3 TRON: LEGACY          20.1   3,451    5,826   -54    88.3   2
4 CHRONICLES OF NARNIA  10.8   3,532    3,058   -13    63.9   3
5 YOGI BEAR              8.8   3,515    2,504   -46    36.8   2
6 THE FIGHTER            8.5   2,511    3,385   -30    27.6   3
7 GULLIVER'S TRAVELS     7.2   2,546    2,828   --      7.2   1
8 BLACK SWAN             6.6   1,457    4,530   -21    29.0   4
9 TANGLED                6.5   2,582    2,525   -26   143.8   5
10 THE TOURIST           5.7   2,756    2,068   -33    41.2   3
11 THE KING'S SPEECH     4.6     700    6,511   315     8.4   5
12 HOW DO YOU KNOW       3.7   2,483    1,490   -51    15.2   2


Top 12 Films Grosses:

   This Week     Year Ago      Pct.
     (mln)         (mln)       Chg.
===================================
     $142.1        $264       -46.2


Year-to-date Revenue:

     2010          2009
      YTD           YTD        Pct.
     (mln)         (mln)       Chg.
===================================
   $10,330       $10,377      -0.45


Year-to-date Attendance:     -5.4%

To contact the reporters on this story: Michael White in Los Angeles at mwhite8@bloomberg.net or Henry Goldman at hgoldman@bloomberg.net.
To contact the editor responsible for this story: Anthony Palazzo at apalazzo@bloomberg.net.