Payments Rising to $7 Billion Spur New Offer: Argentina Credit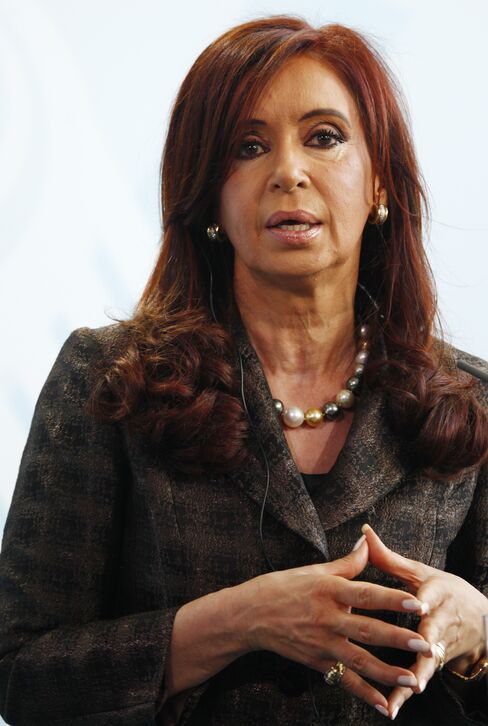 Argentina is attempting to persuade debt holders to accept a swap offer for the second time this year as the government seeks to regain access to international markets with $7 billion of foreign obligations due next year.
Bonds rose after the government reopened the offer yesterday with similar terms to a June restructuring that exchanged $12.2 billion of defaulted notes. The extra yield investors demand to hold Argentine dollar bonds instead of U.S. Treasuries fell 319 basis points since June 1 to 495, or 252 basis points above the average for all emerging markets debt, according to JPMorgan Chase & Co.
President Cristina Fernandez de Kirchner is seeking to win over bondholders as interest and principal payments on external debt escalate $400 million next year to $7 billion, which the government will likely cover by using reserves, according to Eduardo Suarez, an emerging-markets strategist at RBC Capital Markets in Toronto. Lawsuits by creditors holding $4 billion in defaulted notes and seeking full repayment remain a hurdle for the government, he said.
"They will need to sell bonds at some point, unless they want to continue to use reserves" to make debt payments, Suarez said in a telephone interview. The new proposal "is a signal to creditors that Argentina is trying to become more market friendly, but it won't solve the lawsuit issue," he said.
Benchmark dollar bonds due in December 2033 rose for a fifth day yesterday, with the yield falling to 9.02 percent, the lowest since Nov. 11. The average yield on Argentine dollar bonds dropped almost two percentage points, or 200 basis points, this year to 8.88 percent yesterday as Fernandez restructured debt and record-low interest rates in the U.S. and Europe spurred demand for the country's securities.
Gesture to Bondholders
The terms of the offer won't give creditors par bonds or past-due interest on notes due in 2017 that were issued in this year's swap, Finance Secretary Hernan Lorenzino said in a telephone interview in Buenos Aires yesterday.
"This is a gesture to bondholders who didn't participate," said Lorenzino, 38. "Argentina is demonstrating its willingness to offer a solution and leave the default behind."
As debt payments climb in 2011, Fernandez plans to draw $7.5 billion from foreign reserves to cover the obligations, up from $6.6 billion this year, according to the 2011 federal budget.
Dollar inflows from a record 55 million metric ton soy bean harvest this year are helping Argentina offset the payments. Regular central bank dollar buying lifted reserves $2.2 billion this year to a record $52.35 billion yesterday.
Record Reserves
"With the commodities environment and inflows still supportive, Argentina will continue to build reserves," Suarez said. "I'm not saying it's a risk yet, but it's certainly a risk that's out there."
The government has no participation target for the reopening offer, which will be managed exclusively by the Buenos Aires-based Caja de Valores SA and is open to creditors worldwide, Lorenzino said in the interview.
"Every bondholder who enters is one lawsuit that gets dropped or one less lawsuit in the future," Lorenzino said. "From our perspective, that's positive."
Creditors including Styrofoam cup magnate Kenneth Dart and Elliott Management Corp., a New York-based hedge fund, are suing Argentina in international courts for repayment of the debt.
Elliott and Dart
Switzerland's foreign ministry will decide whether a $1 billion claim by Elliott's NML Capital Ltd. and Dart's EM Ltd. on Argentine assets at Basel, Switzerland-based Bank for International Settlements, is admissible, Zurich-based newspaper Tages-Anzeiger reported today.
"This is an ongoing process on which we are unable to provide detailed information," Adrian Sollberger, a Foreign Ministry spokesman, told Bloomberg by e-mail from the capital, Bern. BIS spokeswoman Marisa Bourtin also declined to comment.
The new offer, for which $6.1 billion of bonds are eligible, closes on Dec. 30, according to a resolution in yesterday's official gazette. Creditors holding about $4 billion of securities are seeking full repayment through lawsuits, Lorenzino said. Prior to the June exchange, former President Nestor Kirchner restructured about 75 percent of the debt in 2005.
The peso fell 0.1 percent to 3.977 at 3:23 p.m. New York time. It's down 4.5 percent this year.
The extra yield investors demand to hold the government's dollar bonds instead of U.S. Treasuries narrowed 5 basis points to 490, according to JPMorgan.
Default Swaps
The cost of insuring Argentine bonds against default for five years fell 12 basis points yesterday to 606, according to CMA DataVision. Credit-default swaps pay the buyer face value in exchange for the underlying securities or the cash equivalent should a government or company fail to comply with debt agreements.
The year-end swap bid is unlikely to resolve Argentina's default, said Arturo Porzecanski, an international finance professor at American University in Washington. The proposal may have been requested by investors who missed the June deadline, he said.
"It won't cure the default because the bulk of the bondholders who didn't enter has consolidated into a hard core of litigants who have judgments and have won lawsuits," Porzecanski said in a telephone interview.
Before it's here, it's on the Bloomberg Terminal.
LEARN MORE