Copper Declines on Inventories; S&P 500 Retreats, Dollar Slips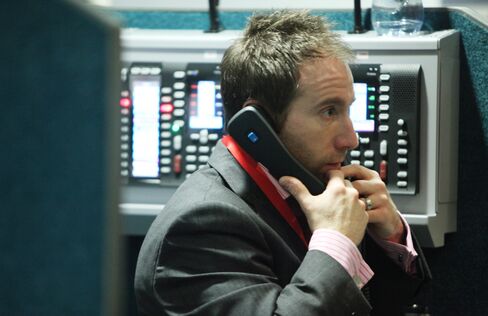 Copper and U.S. stocks retreated amid concern that demand from China will slow, while the U.S. dollar weakened against Australian and New Zealand counterparts as reports showed increased orders for durable goods. Oil rose.
Copper futures retreated 0.4 percent to $4.2585 a pound, while the Standard & Poor's 500 Index slipped 0.2 percent to 1,256.77 at 4 p.m. New York time after a five-day rally drove its valuation to 15.7 times reported earnings, the highest since June. The U.S. dollar fell 0.5 percent versus Australia's currency, 0.9 percent against New Zealand's and 0.7 percent compared with the yen. Crude oil futures climbed 1.1 percent to $91.51, the highest settlement price since October 2008.
London Metal Exchange data show copper inventories rose for a ninth straight day, reaching the highest level since Oct. 29, signaling slowing demand. China is the world's biggest metals user. Orders for U.S. capital equipment rebounded in November, sapping demand for the American currency today. The S&P 500 stalled after climbing to a two-year high.
"The economic data points that we're getting are good on balance, but not madly positive," said James Paulsen, chief investment strategist at Minneapolis-based Wells Capital Management, which oversees $342 billion. That could explain the muted response of investors. There's downward pressure on commodities. That should weigh on today's light action."
U.S. stock markets are closed tomorrow in observance of the Christmas holiday. Volume on exchanges amounted to less than 4.6 billion shares, the lowest total for a full day this year.
Homebuilders Fall
Lennar Corp. and KB Home dropped at least 4.1 percent in U.S. stock trading after a government report showed that fewer new homes than forecast were sold in November. Bank of America Corp. slumped 2.4 percent after a judge gave MBIA Inc. permission to use statistical sampling, rather than going through every loan, in a fraud lawsuit. Micron Technology Inc. lost 4.1 percent as the largest U.S. maker of computer-memory chips reported fiscal first-quarter sales that missed analysts' estimates.
The S&P 500 completed its recovery this week from the 46 percent plunge that followed Lehman Brothers Holdings Inc.'s bankruptcy in September 2008 as government data showed that the world's largest economy grew at a faster pace in the third quarter than previously estimated. The stock index rallied 6.6 percent in December through yesterday after posting a combined gain of 13 percent in September and October, the biggest increase during those months since 1998.
Confidence among newsletter writers that U.S. stocks will rally has risen to the highest level since the middle of October 2007, the week after the S&P 500 and the Dow climbed to records. The proportion of bullish publications tracked by Investors Intelligence jumped to 58.8 percent on Dec. 21 from 56.8 percent a week earlier, the firm said yesterday. Sentiment has improved since October 2008, when the financial crisis drove the figure to a 20-year low of 22.2 percent.
"Optimism on stocks got very high yet people are afraid to short the market," said Mark Bronzo, who helps manage $21 billion at Irvington, New York-based Security Global Investors. "The economy is growing at a moderate pace, but most data points are moving on the right direction. The U.S. will likely surprise positively."