Nippon Yusen to Triple Capesize Fleet Serving India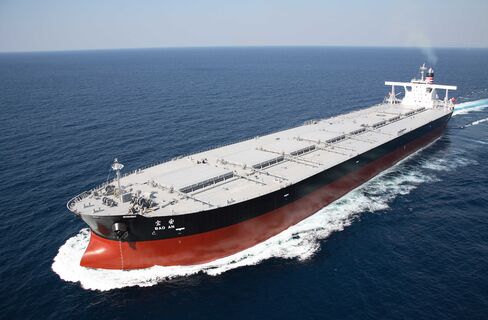 Nippon Yusen K.K., Japan's second-largest operator of dry-bulk ships, plans to more than triple its fleet of capesizes serving India because of demand for coal and iron ore in the world's fastest-growing major steel market.
The shipping line expects to have 15 capesizes hauling the commodities to India by 2015, close to the fleet size currently serving China, Kazuo Ogasawara, general manager of its bulker group, said in an interview in Tokyo. The company plans to expand its total capesize fleet to 120 from 95 by 2012-2013.
Indian imports of coal may surge nearly seven-fold to 200 million metric tons a year by 2015 as the growing economy drives demand for metal and electricity, Ogasawara said. The nation's steel consumption may also jump 14 percent next year, compared with a 3.5 percent increase in China and a decline in Japan, according the World Steel Association.
"Crude steel output in India is set to surpass the level of Japan," Ogasawara said in a Dec. 21 interview. "In addition, electricity demand is coming in."
The shipping line is in talks with Indian steelmakers on long-term contracts, Ogasawara said, without elaborating. It currently runs four vessels for Indian customers Tata Steel Ltd. and Tata Power Co.
India will likely use 68 million tons of steel next year, compared with 599 million tons in China, the world's largest steel consumer, and 62 million tons in Japan, according to an Oct. 4 estimate by the World Steel Association.
New Orders?
Nippon Yusen will watch the market and the timing of port projects before deciding whether to place any new orders for ships, Ogasawara said. India needs to triple port capacity by 2020, Shipping Minister G.K. Vasan said at a conference in New Delhi on Dec. 22.
Next year, about 200 capesize bulkers will be delivered globally, and capacity may outpace demand, Ogasawara said. Rates to hire capesizes that mostly haul iron ore and coal have dived 43 percent this year to $21,219 a day, according to the Baltic Exchange in London.
Fleet expansion has driven rents lower even as demand increased. Seaborne trade in coal and iron ore to make steel and generate power will rise 10 percent this year, according to London-based Clarkson Plc, the world's biggest shipbroker. At the same time capesize-fleet capacity will grow 23 percent.
Nippon Yusen, also Japan's largest shipping line by sales, fell 1.4 percent to 364 yen as of the 11 a.m. trading break in Tokyo. The stock has gained 28 percent this year.
India, the third-largest iron-ore exporter, may also become a net importer, as domestic companies invest in overseas mines to secure adequate supplies, Ogasawara said. NMDC Ltd., India's biggest iron-ore producer, plans to buy a mine in Australia, its first overseas acquisition.
India Coal
India's Coal Minister Sriprakash Jaiswal also said this week that state-run companies will seek to buy mines in South Africa, Botswana and Mozambique to plug a domestic shortfall. He is due to visit Africa next month.
Coal India Ltd., the world's biggest producer of the fuel, and Neyveli Lignite Corp. are among state-owned companies looking for deposits overseas. Jaiswal said local supply may fall short of demand by 83 million metric tons in the year ending March 31.
Nippon Yusen said Oct. 29 it expects a profit of 76 billion yen ($907 million) for the year ending March 31, compared with a previous forecast of 68 billion yen, following a rebound in demand for container shipments to the U.S. and Europe. Tokyo-based Mitsui O.S.K. Lines Ltd., operator of the world's largest merchant fleet, also raised its forecast. The companies also operate car carriers, oil tankers and liquefied natural gas carriers.