New Zealand Economy to Get Lift From Rebuilding, Rugby in 2011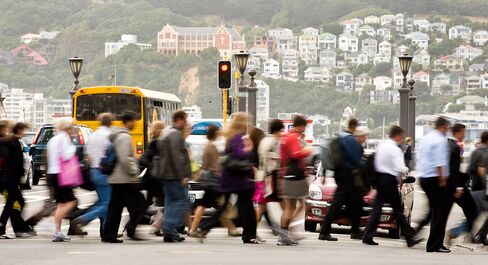 New Zealand's economy will likely rebound from the verge of a recession and expand next year, buoyed by earthquake reconstruction and a tourism boost from the Rugby World Cup.
Gross domestic product fell 0.2 percent in the third quarter, as the Sept. 4 temblor damaged houses, businesses and roads, Statistics New Zealand said in Wellington yesterday. Finance Minister Bill English said the recovery won't be derailed, citing falling unemployment and rising prices for commodity exports.
Rebuilding work after the magnitude 7 earthquake rocked Christchurch city is underpinning demand and helping prevent a recession, economists said. Another catalyst may be the rugby tournament's 85,000 visitors next year to the country of 4.4 million and an estimated NZ$500 million ($372 million) in tourism spending in the second half of 2011.
"The Rugby World Cup is going to have a significant positive impact on growth in the third quarter and thereafter," said Helen Kevans, economist at JPMorgan Chase & Co in Sydney. "Positives on the radar" include reconstruction, strong economic growth for New Zealand's trading partners and elevated commodity prices, she said.
After the GDP report, Kevans said she changed her outlook for the next interest-rate increase by Reserve Bank of New Zealand Governor Alan Bollard to June from March.
Bollard on Dec. 9 kept the official cash rate at 3 percent and said it was "prudent" to keep borrowing costs low until the recovery became more robust.
Currency's Effects
New Zealand's currency has fallen 1.6 percent against the U.S. dollar in the past month, which may support demand for exports, which make up 30 percent of the economy. The currency, up about 6 percent in the past year, bought 74.38 U.S. cents at 5:45 p.m. yesterday after falling as low as 73.86 cents immediately after the GDP report.
In the third quarter, the production-based measure of GDP was hurt by a contraction in manufacturing and homebuilding while farm and mining output also declined, yesterday's report showed. Growth was also led lower by a decline in exports, while consumer spending rose for a sixth quarter after a surge in demand for electrical goods and furniture immediately before the Oct. 1 increase in the sales tax.
Still, the cleanup work may accelerate, and the boost from the Rugby World Cup is starting before fans arrive.
Stadium Work
The city of Auckland, New Zealand's largest by population, has invested NZ$240 million to build new stands and transport facilities at Eden Park, which will seat 60,000 people at the World Cup final. The southern city of Dunedin has invested NZ$130 million in a new stadium, employing as many as 600 people.
Prices for commodity exports rose 4.5 percent to a record in November, according to an index calculated by ANZ National Bank Ltd. Fonterra Cooperative Group Ltd., the world's largest dairy exporter, this month raised its forecast payment to New Zealand farmers by 4.5 percent, citing rising international prices and improving global demand.
The Organization for Economic Cooperation and Development on Dec. 13 said its leading indicator rose to the highest in four months in October as faster growth in China and the U.S. offset signs of slowdowns in Brazil and India.
In New Zealand, the economy has probably grown only modestly this quarter, said Craig Ebert, senior markets economist at Bank of New Zealand Ltd. in Wellington, who lowered his prediction to 0.3 percent from 0.5 percent.
'Pushed Forward'
"We see enough in the confidence-type and other indicators to think that the economy pushed forward," he said.
Business confidence was little changed near a five-month high this month as expectations for hiring and investment improved, according to an ANZ National Bank survey of 486 companies published Dec. 16.
The average annual growth rate is likely to accelerate to 3.4 percent in 2011, from a 1.7 percent pace this year, Ebert forecast before yesterday's third-quarter figures. Average growth was 1.4 percent in the year through September, yesterday's report showed.
""I am quite confident the economy will build momentum in 2011 and beyond," English said in an e-mailed statement.
Unemployment was 6.4 percent in the third quarter, down from 6.9 percent the previous three months and little changed from 6.5 percent in the same period a year earlier, the statistics agency said Nov. 4.
One potential drag on growth may be a drought in parts of the North Island, including Waikato, the largest dairy region. Milk output has fallen 4.7 percent on the North Island this month compared with December last year, Fonterra said on Dec. 16.
New Zealand's economy shrank last quarter for the first time since the first three months of 2009, which was the end of five straight quarterly contractions as the global credit crisis contributed to the nation's worst recession in three decades.
The RBNZ has estimated the cost of earthquake rebuilding will be at least NZ$5 billion ($3.7 billion) spread mainly over 2011 and 2012.
Before it's here, it's on the Bloomberg Terminal.
LEARN MORE