Morgan Stanley Overtakes JPMorgan as Top Bank for Equity Sales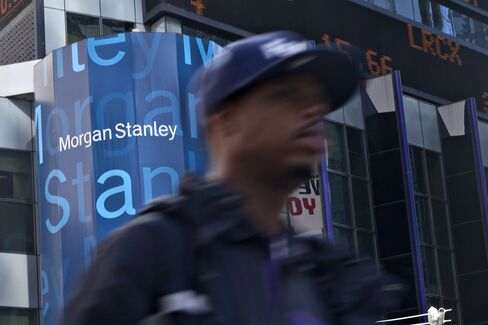 Morgan Stanley ended JPMorgan Chase & Co.'s two-year run as the top banker for stock sales after charging the lowest fees and winning deals from the U.S., China and Brazil to arrange offerings by state-owned companies.
The 75-year-old securities firm's global market share rose to 10.4 percent in 2010 on $72.7 billion of initial public offerings, additional sales and convertible bond issues, its first top ranking in six years, according to preliminary data compiled by Bloomberg. JPMorgan was second with $59.7 billion, while Goldman Sachs Group Inc. dropped to third after its share of U.S. equity underwriting slumped to the lowest level since at least 1998, the data show.
While banks vie for first place in the so-called league tables betting it may lead to more business, Morgan Stanley's ranking came at a price. It was paid an average 2.3 percent fee, the lowest of the top 10 banks, after underwriting state-backed sales of General Motors Co., Citigroup Inc., Agricultural Bank of China Ltd. and Petroleo Brasileiro SA.
"If the banks wanted to remain active, they've had to participate in some of the government-sponsored programs," said Eric Teal, chief investment officer at First Citizens Bancshares Inc. in Raleigh, North Carolina, which manages $4.5 billion. "Like most government programs, they tend not to be highly profitable, but they're larger in size. It's about getting in on some of those bigger deals even though there's less profit."
Lehman's Collapse
Banks arranged $699 billion in share sales this year, up 22 percent from 2009, as the MSCI World Index of 24 developed markets recouped almost all the losses spurred by the collapse of New York-based Lehman Brothers Holdings Inc. in September 2008. About 37 percent of Morgan Stanley's underwriting came from state-controlled companies, Bloomberg data show.
"It was the hangover and the legacy of the crisis that the government had stakes," said Bruce McCain, Cleveland-based chief investment strategist at KeyCorp's private-banking unit, which oversees $25 billion. "The market had recovered enough this year that it made sense to bring those stakes to market."
GM, 61 percent owned by the Treasury, paid 0.75 percent in fees, or a total of $136 million, to underwriters in its $18.1 billion IPO last month. The sale was the second-largest in U.S. history behind San Francisco-based Visa Inc.'s $19.7 billion deal in March 2008, data compiled by Bloomberg show. The government spent $49.5 billion to rescue the Detroit-based automaker after it filed for bankruptcy in June last year.
Citigroup Bailout
Morgan Stanley was the sole lead manager for the Treasury's sale of $10.5 billion of Citigroup stock this month. The deal helped the U.S. recoup some of the $45 billion it spent to bail out the New York-based lender. Citigroup paid $42.3 million in fees, or 0.4 percent of the proceeds, according to a filing with the Securities and Exchange Commission.
Agricultural Bank of China in Beijing was charged fees of 1.96 percent for the Hong Kong portion of its record $22.1 billion IPO. Rio de Janeiro-based Petrobras paid 0.65 percent of the proceeds for the $22.8 billion sale underwritten by seven banks in September.
Fees for the government offerings arranged by Morgan Stanley averaged 0.9 percent, the data show. The firm split a 0.001 percent fee with five banks for India's sale of a $2.2 billion stake in Hyderabad-based NMDC Ltd. in March.
The average stock offering this year paid 3 percent in fees, three times more than on Morgan Stanley's government deals, the data show.
'Win or Lose'
"We don't want to ever win or lose business solely on the basis of fees," John Moore, co-head of U.S. equity capital markets at Morgan Stanley, said in a telephone interview. "As for large transactions, the benefits of market leadership in a single year are always important. But as, if not more, important is the opportunity to serve clients in varied ways over a long period of time."
JPMorgan, the second-biggest U.S. bank, underwrote 333 deals, the most this year and almost 10 percent more than Morgan Stanley, Bloomberg data show. Its market share fell for a second year even as the firm helped arrange sales for GM and Agricultural Bank, and the $20.5 billion Hong Kong IPO by AIA Group Ltd., the Asian unit of New York-based American International Group Inc.
The bank retained its top ranking for U.S. corporate bond sales, according to data compiled by Bloomberg. New York-based JPMorgan arranged 13.8 percent of the investment-grade debt offerings, while winning a 14 percent share for junk bonds. Tasha Pelio, a New York-based spokeswoman, declined to comment.
Coal India, Petronas Chemicals
In Asia, which accounted for 36 percent of the world's equity sales, JPMorgan missed out as Morgan Stanley managed the $3.5 billion state-backed sale from Kolkata-based Coal India Ltd. and Malaysia's $4.7 billion offering of Petronas Chemicals Group Bhd. in Kuala Lumpur. Goldman Sachs arranged Queensland's $4.2 billion IPO of Brisbane, Australia-based QR National Ltd.
Asia was Goldman Sachs's biggest market, accounting for 47 percent of its $57.2 billion in deals. The most profitable securities firm in the history of Wall Street also won the largest share of business in Europe, the Middle East and Africa. It was the sole manager for Boulogne-Billancourt, France-based Renault SA's sale of a $4.2 billion stake in Volvo AB of Gothenburg, Sweden, the region's largest deal of the year.
The gains failed to offset Goldman Sachs's decline in the U.S., where its share plummeted by 51 percent to 8.6 percent. Andrea Rachman, a spokeswoman for the New York-based company, declined to comment.
Bloomberg 2010 Global League Table Rankings: Top 10
Equity and Equity-Linked Sales, Excluding Self-Led Offerings

Underwriter    Rank  Share(%)   USD(Mln)    Fees(%)  Issues
Morgan Stanley  1     10.4     72,749.91     2.328     303
JPMorgan        2      8.5     59,710.58     3.137     333
Goldman Sachs   3      8.2     57,156.32     2.954     215
Bank of America 4      6.4     44,777.69     2.834     266
Citigroup       5      5.4     37,709.42     2.402     219
Credit Suisse   6      4.9     34,500.37     2.827     232
Deutsche Bank   7      4.9     34,299.56     2.700     181
UBS             8      4.8     33,609.60     3.168     219
Nomura          9      3.8     26,422.13     3.839      73
Barclays       10      3.4     23,782.00     2.742     134

Total Amount                  699,168.02     2.997   3,357
(As of Dec. 20, 2010)
Before it's here, it's on the Bloomberg Terminal.
LEARN MORE