TD Bank May Buy More in U.S. After Chrysler Financial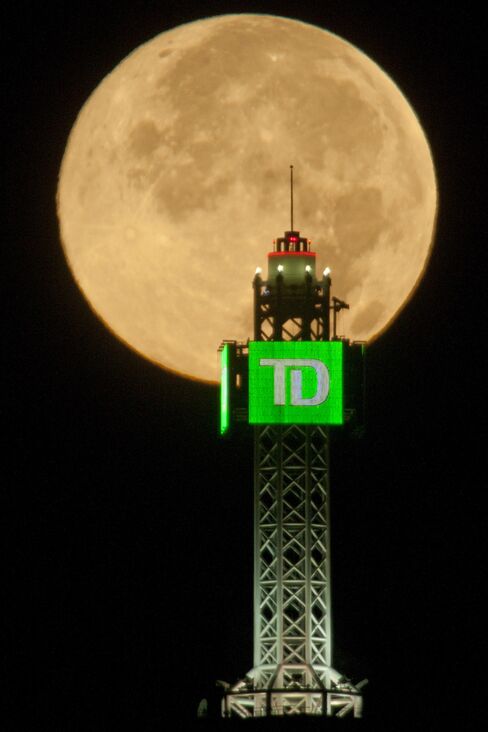 Toronto-Dominion Bank may continue to make acquisitions in the U.S. after increasing its bet there with the $6.3 billion purchase of Chrysler Financial Corp., capping a record quarter for U.S. takeovers by Canadian lenders.
Toronto-Dominion's bid for the auto-finance company "doesn't really alter" the Toronto-based bank's appetite for smaller transactions, Chief Executive Officer Edmund Clark said.
"We're not deal junkies, but we keep saying what we're looking for," Clark said yesterday in a telephone interview. "We want $10 billion (in assets) or less deals; tuck-ins that add to our franchise and meet our strategy."
The purchase of Chrysler Financial adds to the more than C$20 billion ($19.6 billion) that Canada's second-largest bank spent on U.S. acquisitions since 2004. Toronto-Dominion's U.S. territory spans 16 states from Maine to Florida with 1,269 branches, the first time a Canadian bank has more locations south of the border than at home.
"These small transactions have ended up with us having a pretty significant franchise in the United States," said Clark, 63. "We clearly have very strong market presence down the east coast of the United States; now we'll be in the top five for bank-owned auto lending."
Toronto-Dominion and Bank of Montreal are among Canadian banks that are taking advantage of their relative strength to add assets in the U.S. as troubled Europeans lenders pull back. Bank of Montreal last week agreed to buy Wisconsin's biggest bank for $4.1 billion.
European Withdrawal
HSBC Holdings Plc, Britain's biggest bank, bought U.S. subprime lender Household International Inc. in 2003 for $15.5 billion, in its biggest-ever acquisition. Following the bursting of the subprime bubble, HSBC closed the U.S. consumer finance division to new customers in 2009 after more than $53 billion of loan-loss provisions in North America. London-based HSBC also sold a $4 billion U.S. car loan portfolio this year, while Allied Irish Banks Plc sold its stake in Buffalo-based M&T Bank Corp. for $2.1 billion.
"The European banks are not in any kind of a position to compete for these assets, and the Canadian banks certainly are," said Tony Demarin, chief investment officer at BCV Asset Management in Winnipeg, Manitoba, which manages about C$250 million, including Toronto-Dominion shares. "This is a once-in-a-decade, once-in-a-20-year opportunity."
Canada's banking system has been ranked the world's soundest for three straight years by the Geneva-based World Economic Forum. Lenders including Toronto-Dominion and Royal Bank of Canada withstood the worst financial crisis since the Great Depression without taking government bailouts, and recorded only a fraction of the $1.31 trillion in writedowns taken by banks and brokers worldwide.
Bank of Montreal
Toronto-Dominion's purchase follows the bid last week by Bank of Montreal to buy Milwaukee-based Marshall & Ilsley Corp., The acquisitions mark the biggest quarter for Canadian bank deals in the U.S. in at least 12 years, according to Bloomberg data.
Toronto-Dominion, which operates south of the Canadian border as TD Bank, began its U.S. expansion in 2004, convinced that there were limited opportunities once the federal government blocked Canadian banks from buying each other.
In August 2004, Toronto-Dominion announced it would buy 51 percent of Portland, Maine-based Banknorth Group Inc. for $3.5 billion. A year later, the bank sold TD Waterhouse to TD Ameritrade Holding Corp., making it the largest shareholder in the Omaha, Nebraska-based brokerage.
Adds Banknorth
By 2007, Toronto-Dominion acquired the rest of Banknorth for $3.19 billion, with Clark installing former risk officer Bharat Masrani as head of the U.S. operations. In March 2008, the bank bought Cherry Hill, New Jersey-based Commerce Bancorp for about $8.33 billion. Toronto-Dominion added South Financial Group Inc. this year for $191.6 million and now has about 200 branches in the U.S. southeast.
"We obviously have an unbelievable deposit-gathering machine," said Clark, who joined the bank in 2000 and became CEO in 2002. "Now we need to complement it with an asset-gathering machine."
The purchase of Chrysler Financial from Cerberus Capital Management LP will add $100 million to Toronto-Dominion's earnings by 2012, and the bank forecasts new loan originations of about $1 billion a month the following year. The bank expects to surpass a target of $1.6 billion a year in U.S.-based profit within three years, compared with $1 billion in earnings last fiscal year.
Loan Book
"It gives them a big book of auto-loan business you will have gone through with a fine-toothed comb, and TD has the ability to borrow at a better rate than Cerberus would," said Terry Shaunessy, president of Shaunessy Investment Counsel in Calgary, which manages about C$200 million. "TD has shown it has very good credit analysis."
Chrysler Financial, based in Farmington Hills, Michigan, has about 1,850 employees and will have $7.5 billion in loans when the transaction closes. About 90 percent of the loans are in the U.S., and 10 percent in Canada. Chrysler Financial isn't related to Chrysler Group LLC, the company that's now controlled by managers from Fiat SpA.
"In our view, the largest risk in the transaction is that the company will be unable to hit its average loan balance targets for 2012 of $10 billion," said Brian Klock, an analyst at Keefe, Bruyette & Woods. "We believe this target should prove manageable."
Citigroup Inc., JPMorgan Chase & Co., and Sandler O'Neill & Partners LP are advising New York-based Cerberus on the transaction. Goldman Sachs Group Inc. advised Toronto-Dominion.
Toronto-Dominion rose 54 cents to C$73.70 at 4:15 p.m. trading on the Toronto Stock Exchange, and has risen 12 percent this year.
Before it's here, it's on the Bloomberg Terminal.
LEARN MORE