Sales of U.S. Previously Owned Homes Probably Rose in November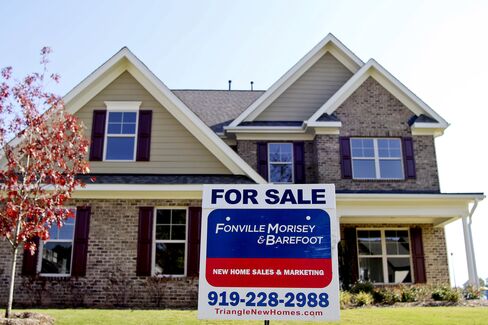 Sales of existing homes probably rose in November as the industry that triggered the worst recession in seven decades struggled to recover, economists said before a report today.
Purchases increased to a 4.75 million annual rate, up 7.1 percent from October, according to the median of 70 estimates in a Bloomberg News survey. Another report may show the U.S. economy expanded at a faster pace in the third quarter than previously estimated.
Lower prices and mortgage rates have made houses more affordable, which may keep supporting demand after the end of a government tax credit caused the industry to slump. At the same time, unemployment hovering near 10 percent is a reminder it will take years for housing to regain pre-recession levels.
"The earliest I see sound improvement is 2012," said Yelena Shulyatyeva, an economist at BNP Paribas in New York. Even so, she said, "we're going to see some gradual improvement in the demand measures for housing."
The National Association of Realtors is scheduled to release the sales figures at 10 a.m. in Washington. Survey estimates ranged from 4.25 million to 5.2 million.
A tax credit worth as much as $8,000 boosted sales to a two-year high 6.49 million pace in November 2009, when the incentive was originally due to expire.
The subsequent extension of the credit prompted a rebound in sales for two months through April, followed by a plunge in July to a 3.84 million rate.
Record Low
The real-estate agents' group projects sales for the year will drop to a 4.82 million pace, the fewest since 1997.
Cheaper houses, near record-low mortgage rates and rising earnings are among the factors now helping underpin demand. The NAR's housing affordability index, which takes into account borrowing costs, home prices and household incomes, climbed to a record in October.
The world's largest economy grew at a 2.8 percent annual rate in the third quarter, according to the median estimate of economists surveyed before a Commerce Department report at 8:30 a.m. That's more than the 2.5 percent the government estimated last month.
The housing market may remain a drag on growth. Foreclosure moratoriums across the country along with government investigations into faulty paperwork threaten to delay a recovery as houses slated for repossession take longer to come to market.
Construction Permits
Builders in the U.S. began work on more homes in November for the first time in three months, while permits fell to the third-lowest level on record, a sign construction will bump along the bottom, the Commerce Department reported Dec. 16.
Joblessness is forecast to average 9.4 percent next year and mortgage rates, after reaching record lows in November, have risen on signs the economy is picking up, additional reasons why a housing recovery will take time to develop.
Federal Reserve policy makers, who met Dec. 14 for the final time this year, are concerned about housing. They cited declines in home values as one of the constraints on consumer spending.
"The housing sector continues to be depressed," Fed officials said in a statement after the gathering, at which they reiterated a plan to expand record monetary stimulus and said economic growth is "insufficient to bring down unemployment."
Falling Prices
Home values are poised to drop by more than $1.7 trillion in 2010, according to Zillow Inc., a closely held provider of home price data. This year's estimated decline, more than the $1.05 trillion drop in 2009, brings the loss since the June 2006 home-price peak to $9 trillion, Seattle-based Zillow said on Dec. 9.
The lack of demand has depressed homebuilding stocks this year. The Standard & Poor's Supercomposite Homebuilding Index, which includes Toll Brothers Inc. and Lennar Corp., is up 2.5 percent since Dec. 31, while the broader S&P 500 has gained almost 13 percent.
Even so, home sales will probably avoid setting new lows and the industry will gain momentum in 2012, according to Douglas Yearley, chief executive officer of Toll Brothers, the largest U.S. luxury-home builder.
"As the economy improves, we believe our buyers are going to come right back out," Yearley said in a Dec. 8 interview with Bloomberg Television. "It's still a buyer's market and you still need some incentives."
                       Bloomberg Survey

==============================================================
                               GDP Personal    Exist    Exist
                            Annual Consump.    Homes    Homes
                              QOQ%     QOQ%     Mlns     MOM%
==============================================================

Date of Release              12/22    12/22    12/22    12/22
Observation Period            3Q T      3QT     Nov.     Nov.
--------------------------------------------------------------
Median                        2.8%     2.9%     4.75     7.1%
Average                       2.8%     2.9%     4.72     6.6%
High Forecast                 3.3%     3.0%     5.20    17.4%
Low Forecast                  2.5%     2.8%     4.25    -4.1%
Number of Participants          71       17       70       70
Previous                      2.5%     2.8%     4.43    -2.2%
--------------------------------------------------------------
4CAST Ltd.                    2.7%     ---      4.65     5.0%
ABN Amro Inc.                 2.5%     ---      4.80     8.4%
Action Economics              3.1%     ---      4.75     7.2%
Aletti Gestielle              3.0%     2.9%     4.60     3.8%
Ameriprise Financial          2.9%     2.9%     4.75     7.2%
Banesto                       2.6%     ---      4.64     4.7%
Bank of Tokyo- Mitsubishi     3.0%     ---      4.78     7.9%
Bantleon Bank AG              ---      ---      4.80     8.4%
Barclays Capital              2.5%     2.8%     4.75     7.2%
Bayerische Landesbank         2.7%     2.8%     ---      ---
BBVA                          2.7%     2.8%     4.78     7.9%
BMO Capital Markets           2.8%     ---      4.78     7.9%
BNP Paribas                   2.5%     ---      4.74     7.0%
BofA Merrill Lynch Research   3.0%     ---      4.62     4.3%
Briefing.com                  2.7%     ---      4.87     9.9%
Capital Economics             2.6%     ---      4.90    10.6%
CIBC World Markets            2.5%     ---      ---      ---
Citi                          3.2%     2.9%     4.80     8.4%
Commerzbank AG                3.0%     ---      4.80     8.4%
Credit Agricole CIB           2.8%     ---      4.65     5.0%
Credit Suisse                 3.0%     ---      4.60     3.8%
Daiwa Securities America      2.8%     ---      4.65     5.0%
Danske Bank                   ---      ---      4.65     5.0%
DekaBank                      3.0%     ---      4.80     8.4%
Desjardins Group              2.5%     ---      4.80     8.4%
Deutsche Bank Securities      3.0%     ---      4.60     3.8%
Deutsche Postbank AG          2.7%     ---      ---      ---
Exane                         2.8%     ---      4.80     8.4%
First Trust Advisors          3.0%     2.9%     4.71     6.3%
FTN Financial                 2.5%     ---      4.60     3.8%
Goldman, Sachs & Co.          2.5%     ---      4.48     1.0%
Helaba                        2.8%     ---      4.70     6.1%
High Frequency Economics      2.7%     ---      4.90    10.6%
Horizon Investments           2.9%     ---      4.75     7.2%
HSBC Markets                  3.0%     ---      4.85     9.5%
IDEAglobal                    2.8%     2.8%     4.70     6.1%
IHS Global Insight            2.8%     ---      4.66     5.2%
Informa Global Markets        3.0%     3.0%     4.55     2.7%
ING Financial Markets         2.8%     2.8%     4.60     3.8%
Insight Economics             3.0%     ---      4.25    -4.1%
Intesa-SanPaulo               2.9%     ---      4.70     6.1%
J.P. Morgan Chase             3.0%     2.9%     4.75     7.2%
Janney Montgomery Scott       2.7%     2.8%     4.73     6.8%
Jefferies & Co.               2.9%     ---      4.75     7.2%
Landesbank Berlin             2.5%     ---      4.75     7.2%
Landesbank BW                 2.7%     ---      4.71     6.3%
Maria Fiorini Ramirez         2.8%     ---      4.75     7.2%
MF Global                     3.0%     2.9%     4.63     4.5%
Moody's Analytics             3.0%     ---      4.61     4.1%
Morgan Keegan & Co.           3.3%     ---      ---      ---
Morgan Stanley & Co.          3.0%     ---      5.20    17.4%
National Bank Financial       ---      ---      4.60     3.8%
Natixis                       2.7%     ---      4.80     8.4%
Nomura Securities Intl.       2.7%     ---      4.57     3.2%
Nord/LB                       2.9%     ---      ---      ---
Pierian Capital               3.2%     ---      4.62     4.3%
Pierpont Securities LLC       2.8%     ---      4.85     9.5%
PineBridge Investments        2.7%     ---      4.65     5.0%
PNC Bank                      2.7%     ---      4.80     8.4%
Raiffeisenbank International  2.5%     ---      4.85     9.5%
Raymond James                 2.7%     ---      4.60     3.8%
RBC Capital Markets           3.0%     2.8%     4.80     8.4%
Scotia Capital                2.8%     ---      4.70     6.1%
Societe Generale              2.6%     2.9%     4.99    12.6%
Standard Chartered            2.5%     ---      4.85     9.5%
State Street Global Markets   2.9%     2.9%     4.78     7.9%
Stone & McCarthy Research     3.1%     ---      4.60     3.8%
TD Securities                 ---      ---      4.80     8.4%
Thomson Reuters/IFR           2.9%     ---      4.70     6.1%
UBS                           3.0%     2.9%     4.72     6.6%
University of Maryland        2.6%     ---      4.64     4.7%
Wells Fargo & Co.             2.7%     ---      4.65     5.0%
WestLB AG                     2.7%     ---      4.75     7.2%
Westpac Banking Co.           2.7%     ---      4.83     9.0%
Wrightson ICAP                3.0%     ---      4.80     8.4%
==============================================================