De Niro, Hoffman Slum in Ghastly 'Fockers'; 'Illusionist': Film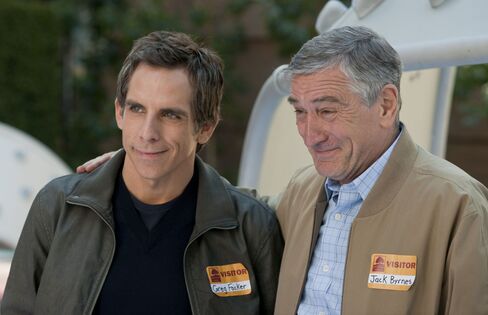 Dec. 22 (Bloomberg) -- In "Little Fockers," Jack Byrnes worries that his gawky grandson Henry may have a "double dose" of his bumbling father's DNA.
More disturbing is the third dose of this comedy series starring Ben Stiller as nurse Greg Focker and Robert De Niro as Byrnes, his control freak father-in-law. It's a lame effort to milk more money from a blockbuster franchise that peaked with the original "Meet the Parents" and began its precipitous slide with the follow-up "Meet the Fockers."
Predictably, "Little Fockers" has a lot of silly double entendres involving the family name. Byrnes asks Greg if he wants to take over as patriarch and become the "Godfocker." When Greg's outrageous mother (Barbra Streisand) gets hugged by her twin grandchildren, she calls it a "Focker sandwich."
If the Focker jokes have grown stale, so have the contrasts between Greg's hyper Jewish parents (Dustin Hoffman plays his touchy-feely dad) and his wife's button-down WASP family (Blythe Danner is her sweetly oblivious mom).
It's pathetic to see great actors like Hoffman and De Niro slumming in such schlock, though their own pain was undoubtedly soothed by substantial paychecks.
The film, directed by Paul Weitz ("American Pie") and co-written by John Hamburg and Larry Stuckey, focuses on Greg's increasingly complex life.
Sexy Saleswoman
In addition to dealing with his intrusive father-in-law, he tries to get his kids into a prestigious private school run by a free-thinking principal (Laura Dern), push a delinquent contractor (Harvey Keitel) to finish renovations on his home and resist the lure of a gorgeous pharmaceutical rep (Jessica Alba) who wants him to peddle her products.
Alba adds sex appeal, while Dern and Keitel (who appeared with De Niro in the Martin Scorsese classics "Mean Streets" and "Taxi Driver") are underemployed. Stiller specializes in bug-eyed looks, like the one he flashes when his son (Colin Baiocchi) catches him injecting grandpa in the groin to combat his reaction to a Viagra-like drug.
It's embarrassing all around.
"Little Fockers," from Universal Pictures, opens today across the U.S. Rating: *
'The Illusionist'
"The Illusionist" is no mirage. Bucking the tide of glossy, computerized 3-D animations, this little French masterpiece is a throwback to the silent-film era when gestures and expressions spoke volumes.
The story of a lonely, aging magician who befriends an admiring teenage girl in 1959, Sylvain Chomet's almost-wordless fairy tale is a poetic meditation on friendship, love and the power of deception.
Based on an unproduced script written by the legendary French filmmaker Jacques Tati in the late 1950s, the movie features characters created with hand-drawn 2-D graphics, giving them lifelike imperfections that CGI can't duplicate. (Computers were used for objects like cars and trolleys.) Music, natural background sounds and the occasional mumbled word provide the only aural sensations.
The movie opens in Paris and includes a brief stop in London, but it's primarily set in Scotland. The magician meets the girl while performing in a pub on a remote island and later takes her to Edinburgh, where he takes a series of menial jobs to feed and clothe her. He makes her think that nice things appear by magic, an illusion he maintains until she falls in love with a handsome stranger.
Edinburgh's cobblestone streets and medieval buildings are lovingly imagined by Chomet and his animators, who transport us into a magical world that's hard to leave.
"The Illusionist," from Sony Pictures Classics, opens Dec. 25 in New York and Los Angeles. Rating: ****


What the Stars Mean:

****          Excellent
***           Good
**            Average
*             Poor
(No stars)    Worthless

(Rick Warner is the movie critic for Muse, the arts and leisure section of Bloomberg News. Opinions expressed are his own.)
To contact the writer on the story: Rick Warner in New York at rwarner1@bloomberg.net.
To contact the editor responsible for this story: Manuela Hoelterhoff at mhoelterhoff@bloomberg.net.