Cuomo Sues Ernst & Young Over 'Major' Lehman Fraud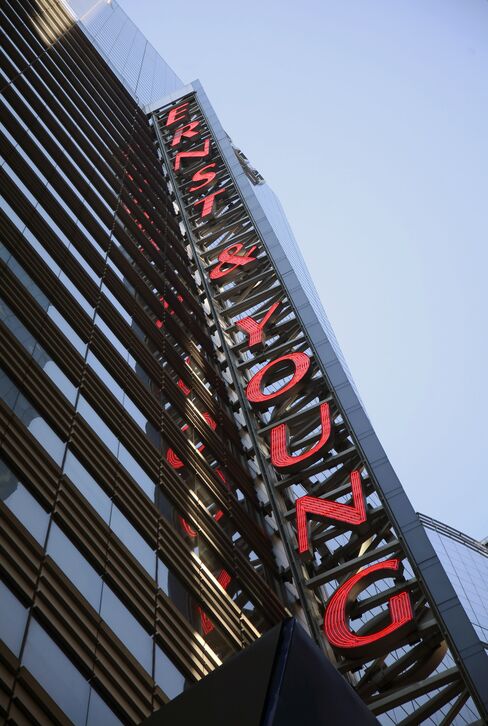 New York Attorney General Andrew Cuomo sued Ernst & Young LLP, accusing the firm of facilitating a "major accounting fraud" by helping Lehman Brothers Holdings Inc. deceive the public about its financial condition.
For more than seven years before Lehman declared bankruptcy in 2008, the investment bank engaged in transactions approved by Ernst & Young whose purpose was to move debt off its balance sheet and make it appear less leveraged, Cuomo said in a statement. This was done through what are known as "Repo 105" transactions.
"This practice was a house-of-cards business model designed to hide billions in liabilities in the years before Lehman collapsed," Cuomo said today in one of his last cases as attorney general. "Just as troubling, a global accounting firm, tasked with auditing Lehman's financial statements, helped hide this crucial information from the investing public."
The state seeks to recover more than $150 million in fees collected by Ernst & Young for work performed for Lehman from 2001 to 2008, plus investor damages and equitable relief, Cuomo said. He will be sworn in as New York governor on Jan. 1. His successor will be New York Democratic state Senator Eric T. Schneiderman.
'Vigorously Defend'
Ernst & Young intends to "vigorously defend against" Cuomo's allegations, the firm said in a statement today. The accounting for Repo 105 trades conformed with U.S. rules, giving Cuomo "no factual or legal basis for a claim," it said.
"Lehman's audited financial statements clearly portrayed Lehman as a highly leveraged entity operating in a risky and volatile industry," it said, responding to Cuomo's allegation that investors were deceived by Lehman's financial reports.
Lehman, once the fourth-largest investment bank, failed in September 2008 because of risky real estate bets and too much debt, which it tried to hide from investors, partly by using so-called Repo 105 trades, according to bankruptcy examiner Anton Valukas's report.
Repo 105 transactions, or sale and repurchase agreements, are a form of short-term financing that Lehman used to move as much as $50 billion off its balance sheet temporarily to show investors it wasn't carrying too much debt, according to Valukas and Cuomo. Higher leverage undermines a firm's capacity to absorb financial shock, and scares off lenders.
Leverage Ratios
In 2007 and 2008 before Lehman collapsed, the company was reporting net leverage ratios of 12.5 to 16.1, Cuomo said, referring to the investment bank's measure of how much debt it had. The ratios were "materially misleading" because they ignored $39 billion to $50 billion of Repo 105 assets that were temporarily removed from Lehman's balance sheet, he said. The investment bank "hid" these assets in a large group of derivatives in footnotes to its financial statements, he said.
"This aggregation made it impossible for readers of the financial statements to know that Lehman had engaged in Repo 105 transactions, he said. "E&Y was fully aware of each of these materially misleading statements by Lehman with respect to net leverage but took no steps to require Lehman to correct them."
According to Cuomo, Lehman first accounted for Repo 105 trades as borrowing, then in 2001 used a new accounting rule with Ernst & Young's help to portray them as sales. By doing so, Lehman disguised that it was obligated to take the debt back, swelling its leverage ratios again, he said.
Repo 105 Impact
"Lehman and E&Y also affirmatively decided not to disclose the impact of Repo 105 transactions on Lehman's financial statements -- and in particular the obligation to repurchase -- to the investing public," Cuomo said.
Also in 2001, Lehman gained approval for the use of Repo 105 trades to manage debt from Ernst & Young partners William Schlich and Matthew Kurzweil, along with Kevin Reilly, who handled the accounting firm's relationship with Lehman, Cuomo said.
"E&Y understood that the Repo 105 transactions were, as Reilly described it, designed to "manage balance sheet metrics,'" he said.
"As the public auditor for Lehman, E&Y had the absolute obligation to ensure that Lehman's financial statements complied with GAAP and did not mislead the public," Cuomo said in his lawsuit, referring to generally accepted accounting principles. Instead, Ernst & Young delivered a clean opinion each year, Cuomo said. "By doing so, E&Y directly facilitated a major accounting fraud and helped Lehman mislead the public as to its true financial condition."
'Blatant Purpose'
Lehman checked with Ernst & Young again in 2002 as it rapidly expanded its use of repurchase agreements "for the blatant purpose of reducing the balance sheet," Cuomo said, citing a memorandum from Lehman to the accounting firm. Lehman's limit on Repo 105 trades was then about $30 billion, he said.
Lehman at times had to go abroad to find an accounting firm that would classify repurchase agreements as sales, using the U.K. firm of Linklaters LLP, according to Cuomo. While Linklaters' classification applied only to U.K. transactions, Lehman used its opinion also for billions of dollars in government bonds, Cuomo said.
While Schlich has said he was unaware of this use of the Linklaters opinion, Lehman told him about it, according to Cuomo, who cited testimony by ex-Lehman financial controller Martin Kelly.
As credit tightened in 2007 and 2008, Lehman's Repo 105 trades shot up to as much as $50 billion. The investment bank portrayed the trades in internal documents as "a low cost way to offset the balance sheet and leverage impact of current market conditions," according to Cuomo.
'Frantic' Use
The attorney general cites e-mails within Lehman near the close of quarterly financial reporting periods when the use of the debt-reducing devices became "frantic," he said.
"We have a desperate situation and I need another 2 billion from you, either through Repo 105 or outright sales," a Lehman financial executive wrote to the firm's fixed income group in the first quarter of 2008. "The cost is irrelevant, we need to do it."
In a July 2008 e-mail, Lehman's Michael McGarvey, a senior member of Lehman's finance group, said he considered the Repo 105 program to be "window dressing" based on "legal technicalities."
Ernst & Young audited Lehman's 2007 results and reviewed the investment bank's 2008 quarterly financial statements, Cuomo said. "At a time when disclosure was most warranted, when Lehman was facing severe liquidity problems in 2007 and 2008 and its leverage was too high in the view of the financial community on which Lehman depended for capital, the fraud grew even larger."
Lehman's 'Responsibility'
Responding to the Valukas report in March, Ernst & Young said leverage ratios reported in Lehman's management discussion and analysis "were the responsibility of management, not the auditor. They are not part of the audited financial statements."
Auditors are required to read such statements by management in case something conflicts with details in the financial statements they've audited, said Barry Epstein, an accountant who has done work for the U.S. Justice Department and the Securities and Exchange Commission.
"They should have reviewed enough of the firm's transactions to see that it was engaging in window dressing," Epstein said.
Class Action
Ernst & Young has been named in at least one class-action lawsuit accusing former Lehman Chairman Richard Fuld and other executives of misleading investors by using devices such as Repo 105. Responding to one suit, filed in April on behalf of retirement funds including the Alameda County Employees' Retirement Association in Oakland, California, Ernst & Young said in court papers that even Valukas "did not find that Lehman's accounting for the Repo 105 transactions was wrong."
In his report, Valukas faulted the accounting firm because it "did not evaluate the possibility that Repo 105 transactions were accounting-motivated transactions that lacked a business purpose," and didn't take a stand on whether Lehman's extensive use of the device was "material" and should be reported.
"Financial statements may be materially misleading even when they do not violate GAAP," he wrote in his report.
In December 2009, Ernst & Young and some of its partners paid $8.5 million to settle SEC allegations that they knew or should have known about fraudulent accounting by Bally Total Fitness Holding Corp. In June 2009, the firm paid $109 million to settle investor claims the auditor didn't find a $2.7 billion fraud at HealthSouth Corp.
Arthur Andersen
Cuomo, who has powers to bring criminal charges, brought a civil suit against Ernst & Young. Arthur Andersen LLP, the accounting firm that was accused of destroying Enron Corp. documents, was convicted of obstructing justice in 2002 and is now largely defunct.
"Regulators are concerned there will be no competitors left" to audit U.S. companies, Epstein said.
The Cuomo lawsuit is People of the state of New York by Andrew Cuomo v. Ernst & Young, 451586/2010, New York state Supreme Court (Manhattan).
Lehman's bankruptcy case is In re Lehman Brothers Holdings Inc., 08-13555, U.S. Bankruptcy Court, Southern District of New York (Manhattan). The class action lawsuit is In re Lehman Brothers Equity/Debt Securities Litigation, 08-cv-05523, U.S. District Court, Southern District of New York (Manhattan).
Before it's here, it's on the Bloomberg Terminal.
LEARN MORE