London's Top 10 New Restaurants of the Year: Richard Vines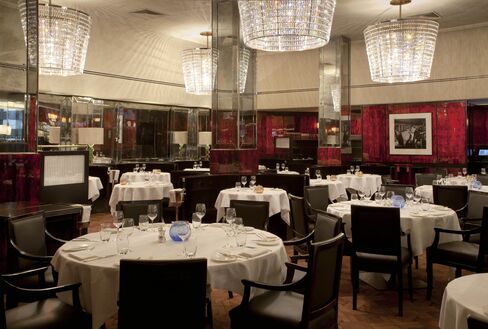 Selecting the best new London restaurants this year is easy because there are plenty, and many offer value for money as well as good food and service.
There has been no flight to the safety of familiar dishes and no-risk wines. More adventurous choices are on offer and culinary novelties include the advent of the kimchi burger.
Here's my Top 10:
28-50: This wine bar on Fetter Lane is the brainchild of sommelier Xavier Rousset and chef Agnar Sverrisson of Texture, a restaurant that just keeps getting better. At 28-50, much of the focus is on unusual, good-value wines, yet the food is far from playing second fiddle. Chef Paul Walsh spent the previous five years at the three-Michelin-star Restaurant Gordon Ramsay and he works wonders in a tiny kitchen. Best dish: Onglet of beef, chips, sauce Choron (15.50 pounds/$24). http://www.2850.co.uk/.
Bar Boulud: New York chef Daniel Boulud's bistro at the Mandarin Oriental Hyde Park was the hit of the year. Alongside classic dishes such as coq au vin were options such as spicy Tunisian sausages and a Moroccan-style terrine of slow-cooked leg of lamb with aubergine and sweet potato. Best dish: Yankee Burger with cheese and fries (13.25 pounds). http://www.barboulud.com/barbouludLondon.html.
Bistrot Bruno Loubet: Bruno Loubet was one of London's most lauded chefs in the 1990s, with restaurants such as L'Odeon. His return to the U.K. after spending much of the past decade in Australia has been a triumph, turning the generally neglected dining room of the Zetter Hotel into a gourmet destination. It can be hard to get a table, and the service has been stretched at times by the crowds, yet this is a bistro that is always worth the trip. Best dish: Hare royale, macaroni and spinach gratin (20 pounds). http://www.bistrotbrunoloubet.com/.
Brawn: This East London restaurant builds on the success of its big brother Terroirs, specializing in charcuterie and well-sourced seasonal dishes prepared with a minimum of fuss. Brawn is as stripped down as St. John, with which there is a spiritual connection, but chef Ed Wilson is no copycat. He's doing his own thing, serving natural food and wine mainly from southern Europe with a generosity that feeds your enjoyment. Best dish: Baked field mushrooms, bone marrow, garlic and parsley (5 pounds). 49 Columbia Road, E2 7RG. Tel. +44-20-7729-5692. (No website.)
Les Deux Salons: Chef Anthony Demetre and front-of-house business partner Will Smith here take to a bigger stage the winning formula they developed at Arbutus and Wild Honey: fine food and value for money combined with an entire wine list available by the glass and carafe. Demetre tends to use cheaper cuts rather than luxury ingredients and so is able, for example, to offer a three-course pretheater menu for 15.50 pounds. The service was uneven in the opening days. Best dish: Starter of ravioli of rose veal, fresh goat's curd, cavolo nero (8.95 pounds. http://www.lesdeuxsalons.co.uk/.
Hawksmoor (Seven Dials): If you thought the original Hawksmoor in Spitalfields was popular, try getting a table at the new place, in a former brewery in Covent Garden. Few of us would normally favor dining underground, yet this steak house and cocktail bar is so buzzy and beautifully designed, it's a pleasure from the moment you start to descend the staircase. The bar menu is best and it's worth trying for options such as the kimchi burger in the restaurant itself. Don't forget the beef-dripping chips. Best dish: Warm lobster roll with garlic and hazelnut butter, Bearnaise on the side (25 pounds). http://www.thehawksmoor.co.uk/.
Koffmann's: Chef Pierre Koffmann is revered and respected by his peers. He evolved the rustic food of his childhood in southwest France to the level of three-Michelin-star gastronomy at La Tante Claire, and then retired from the stove after the death of his wife. He's back now with nothing to prove, creating the kind of food he likes to eat and he's in the kitchen every day, doing what he loves. Best dish: Pig's trotter stuffed with sweetbreads and morels (28 pounds). http://www.the-berkeley.co.uk/koffmanns.aspx.
Polpetto: This New York-style, casual Italian eatery above the French House pub in Soho is the creation of Russell Norman, the restaurateur behind Polpo. Snacks start at 1 pound and a dish such as crispy soft-shell crab, parmesan batter, fennel salad is 8 pounds, which goes some way to explaining the waiting lines. While you can't book for dinner, it's worth the wait. Best dish: Panacotta, blackberries, salted hazelnut praline (6 pounds). http://www.polpetto.co.uk/.
Savoy Grill: Gordon Ramsay Holdings looked to have lost its nerve with the opening of Petrus, which lacked ambition. The Savoy Grill is an adventurous leap back to an age where the style is understated flamboyance and the vehicle is a trolley for tableside service and dishes such as mandarin baked Alaska flambe. It's fun, glamorous and a return to form for Ramsay. Best dish: Steamed steak-and-onion pudding with onion sauce (18 pounds). http://www.gordonramsay.com/thesavoygrill/.
Zucca: Italian food in London just gets better and Zucca, in Bermondsey, is evidence of the rising standards. Everything about this place -- the dining room, the menu, the service and the wine -- is unfussy and the food is so good that you are likely to keep returning, if you can get a table. I order most of the starters (including venison, with balsamic vinegar, and carpaccio of sea bream) and both the daily pasta plates rather than main courses. Best dish: Pappardelle, hare ragu and pecorino (8.50 pounds as a main). http://www.zuccalondon.com/.
(Richard Vines is the chief food critic for Muse, the arts and leisure section of Bloomberg News. Opinions expressed are his own.)
Before it's here, it's on the Bloomberg Terminal.
LEARN MORE