Intel Wins Approval for McAfee Acquisition From FTC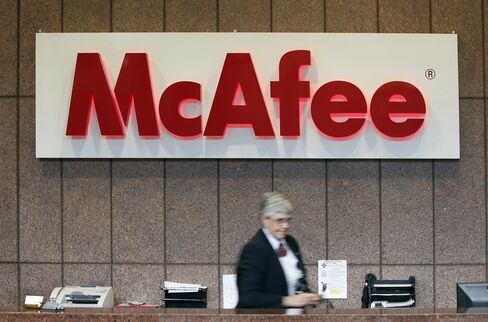 Intel Corp., the world's largest chipmaker, won clearance from the U.S. Federal Trade Commission to acquire McAfee Inc., bringing the company a step closer to expanding into the security-software market.
Intel, based in Santa Clara, California, announced the decision in a statement on its website. The company is still working with the European Commission as that organization reviews the purchase, Intel said.
In August, Intel agreed to buy the company for $7.68 billion, saying it will use the deal to create chips with built-in security. The acquisition of McAfee, also based in Santa Clara, would be the biggest purchase in Intel's history. Integrating McAfee defenses into its products will make devices more efficient and secure, Intel has said.
Shares of Intel declined 13 cents to $21.10 at 4 p.m. New York time on the Nasdaq Stock Market. The stock has gained 3.4 percent this year. McAfee rose 33 cents to $46.38 in New York Stock Exchange composite trading.
Under the deal, Intel would pay $48 a share in cash per share -- 60 percent more than McAfee's closing price before the acquisition was announced.
New Markets
Intel's processors run more than 80 percent of the world's personal computers. In addition to helping the company add features to its PC chips, McAfee is part of Intel's plan to expand into new areas, such as mobile phones and consumer electronics. McAfee is the second-largest maker of security software, behind Mountain View, California-based Symantec Corp.
Intel plans to run McAfee as an independent company, under the leadership of current Chief Executive Officer Dave DeWalt. It also will continue to sell stand-alone software products. New Intel chips, including capabilities provided by McAfee, would go on sale next year.
Computer functions can run more quickly when it's woven directly into a chip and doesn't have to go through other programs, Intel said when it announced the deal. That also makes it harder for hackers to circumvent. In the first half of the year, McAfee added more than 10 million new malware variants to its database of security threats.
Before it's here, it's on the Bloomberg Terminal.
LEARN MORE