Insurance Sales Rise Most in 4 Years on Personal Lines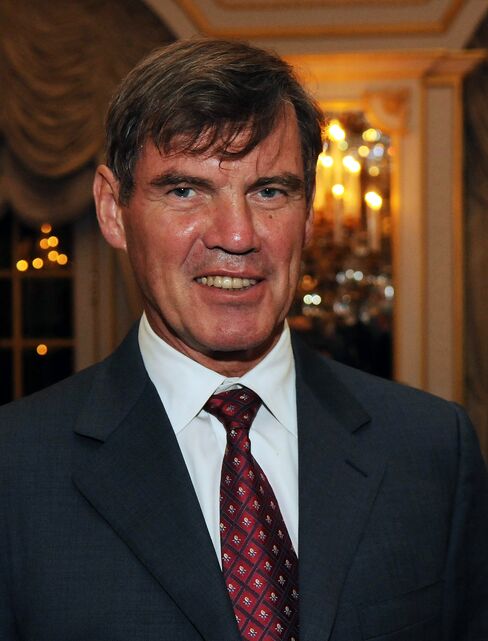 U.S. property and casualty insurance sales gained the most in 16 quarters on a recovery of personal auto and home coverage.
Third-quarter policy sales rose 2.3 percent to $110.7 billion from $108.2 billion in the year-earlier period, the Property Casualty Insurers Association of America said today in a statement. A revival may help carriers including American International Group Inc., Travelers Cos. and Allstate Corp. counter lower yields on some fixed-income holdings.
"Sustained growth in written premiums from this point forward could bring about improvement in underwriting and overall financial results," said David Sampson, chief executive officer of the association, in an e-mailed statement today.
Carriers are selling more policies to individuals after commercial clients including builders and manufacturers scaled back coverage in 2008 and 2009. Liberty Mutual Holding Co., the Boston-based insurer owned by policyholders, said it added personal auto and homeowners sales in the third quarter.
"Growth and profitability of personal" lines helped offset pressure on rates charged to business customers, Liberty Mutual Chief Executive Officer Edmund Kelly said in a conference call on Nov. 5.
Insurers rely on auto sales, home construction and gains in employment to stoke demand for coverage. Total seasonally adjusted auto sales rose to 12.26 million last month from 11.17 million in June. U.S. housing starts increased to a 555,000 annual rate in November, up from June's 539,000 pace, according to the Commerce Department. First-time applications for unemployment benefits decreased by 3,000 to 420,000 last week, Labor Department data showed.
'Double-Edged Sword'
A gain in sales may increase claims costs, said Michael Murray, assistant vice president for financial analysis at ISO, a unit of Verisk Analytics Inc.
"The economic recovery is a double-edged sword," said Murray. Higher demand for coverage may be followed by higher claims as "roads become more congested, foot traffic in stores and other establishments increases, and businesses hire more and more inexperienced employees." Verisk, the supplier of actuarial data to insurers, published the report with the association and the Insurance Information Institute.
Net income for the industry was $10.1 billion in the third quarter, compared with $10.5 billion a year earlier. Investment income, such as payments on bonds, slipped to $11.4 billion from $12.3 billion as yields declined.
Fitch Ratings reiterated its "stable" outlook for U.S. property and casualty insurers on Dec. 7, saying that premium revenue may rise in 2011 as rates improve for personal coverage.
Farmers, Allstate
Farmers Group Inc., a U.S. subsidiary of Switzerland's largest insurer, Zurich Financial Services AG, is adding customers at a unit that sells auto coverage to customers over the phone and on the Internet, said Jeff Dailey, Farmers' president of personal lines, in an interview on Dec. 17.
Farmers' revenue from auto policies is starting to "tick up," said Dailey.
Allstate, the largest publicly traded U.S. home and auto insurer, is increasing rates in Texas, the second most populous state, after overall property-liability premiums fell to $6.5 billion in the third quarter from $6.54 billion a year earlier.
The insurer raised home rates 5.4 percent for Allstate Texas Lloyd's customers and 9.7 percent for Allstate Fire & Casualty Insurance Co. clients, according to filings with the Texas Department of Insurance last month. in the third quarter from $6.54 billion a year earlier.
"We increase prices when we think we need to," said Chief Executive Officer Thomas Wilson in an earnings call on Oct. 28.
Earlier Increase
The last time sales climbed more than 2.3 percent was in the third quarter of 2006, according to the groups' data.
Catastrophes striking the U.S. in the first nine months of 2010 caused $10.7 billion in insured losses this year, up about $400 million from the prior-year period, the report said. Allstate, Travelers and Chubb Corp. returned capital to shareholders after the U.S. escaped major hurricanes in the season ended Nov. 30.
Allstate said in last month it may repurchase $1 billion in shares by March 31, 2012. Travelers boosted its 2010 stock buyback program in September to a range of $4.5 billion to $5 billion in shares from a previous projection of $4 billion. Chubb, the insurer of commercial property and high-end homes, said on Dec. 9 it will buy back a record 30 million shares.
Allstate advanced 53 cents, or 1.7 percent, to $31.87 at 4:09 p.m. in the New York Stock Exchange composite trading. Travelers rose 42 cents to $55.87. The 24-company KBW Insurance Index has risen 24 percent this year.
Before it's here, it's on the Bloomberg Terminal.
LEARN MORE