European Investment Banking Fees Shrivel Amid Sovereign Crisis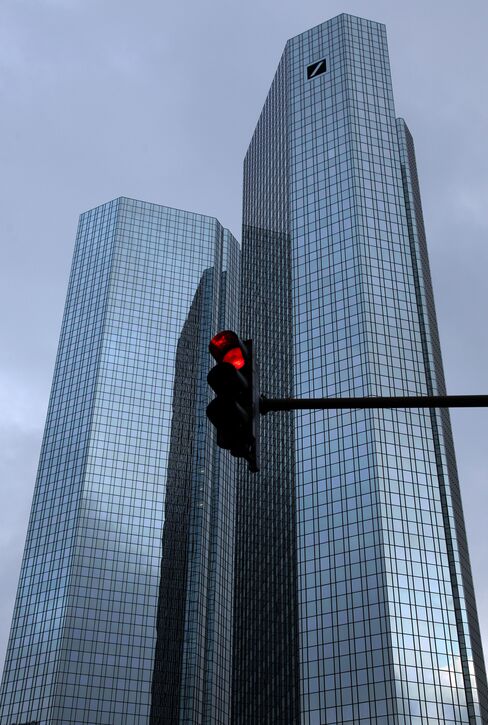 Investment banking fees in Europe shrank to the lowest in six years in 2010 as companies aborted fundraisings and takeovers during the sovereign-debt crisis.
Income from arranging mergers, stock, bond and loan sales in Europe, the Middle East and Africa dropped about 10 percent from 2009 to $21.9 billion, estimates by New York-based research firm Freeman & Co. show. Fees in Asia jumped 18 percent to $17.8 billion, narrowing the gap with Europe to the lowest since at least 1998. At that rate, revenue from Asia may surpass Europe in 2011, according to Freeman.
Greece's near-default this year sparked speculation among investors that Ireland, Portugal and Spain would follow. Concern that the euro might not survive the crisis intact and that government spending cuts may stifle growth in the region made companies wary of making acquisitions and investors reluctant to back offerings of new stocks and bonds.
"The euro uncertainty holds European companies back from being more active," said Tom Kirchmaier, a fellow at the London School of Economics. "It's therefore difficult to predict whether or not the numbers will improve, as it very much depends on political decisions."
The value of completed takeovers involving western European companies fell 16 percent from 2009 to $532 billion in 2010, while the value of share sales more than halved to $51 billion, data compiled by Bloomberg show. Morgan Stanley was the top-ranked adviser on mergers announced in Europe in 2010, followed by JPMorgan Chase & Co., the data show. Goldman Sachs Group Inc. and Deutsche Bank AG were the top arrangers of stock offerings for Europe, the Middle East and Africa in the period.
Job Cuts?
Revenue from arranging mergers in Europe, the Middle East and Africa, the most lucrative business, declined 1 percent to $8.7 billion, the Freeman data show. Fees for arranging stock offerings posted a 33 percent drop to $4.2 billion, the steepest fall, and income from arranging leveraged loans shrank 21 percent, Freeman said.
Europe's decline in fees in 2010 contrasts with gains in Asia and the U.S., the Freeman estimates show. That may make investment banks more likely to cut jobs in Europe than in other regions, or curb bonuses for bankers in London and Frankfurt.
"Remuneration should be reflective of profitability," said Neil Dwane, who helps oversee about $80 billion of equities as chief investment officer at Allianz Global Investors' RCM unit in Frankfurt. "Profitability will be declining as trading profits, bond and equity divisions have had a tougher time year over year."
Bond Sales Decline
Overall sales of corporate bonds in Europe fell 43 percent to 602.7 billion euros ($790 billion) this year, according to Bloomberg data. Fees from arranging investment-grade bond sales for European companies fell 27 percent to $4 billion, while income from sales of high-yield securities doubled to $1.6 billion, Freeman said.
Deutsche Bank, BNP Paribas SA and Barclays Capital were the top three underwriters of corporate bonds in the region in 2010, Bloomberg data show.
"Concern about the prospect of a double-dip recession, coupled with the fact that no one really knows what is going to happen with the sovereign- stock and bond debt crisis means investors are very wary about committing capital," said James Chappell, a financial services industry strategist at Olivetree Securities in London, who has been covering the sector for about 15 years. "Investors in credit are looking for the greatest risk-reward and that's to be found in high yield bonds. That's why fees are up there."
Revenue in the Americas rebounded 23 percent to $41 billion, driven by a 52 percent increase in fees from mergers and a 76 percent rise in income from arranging high-yield bonds, the data show.
U.S. Economy
U.S. analysts expect the recovery to gain strength: the economy will expand by 2.6 percent in 2011, according to the median forecast of 66 economists in a Bloomberg News survey this month, up from a 2.5 percent prediction in November.
Fees in Asia climbed 17 percent to $17.7 billion, led by a 66 percent increase in revenue from China, according to Freeman. China is encouraging state-owned companies to make international purchases as it seeks to secure energy and raw materials for its growing economy. The country accounted for 9 percent of the global value of deals announced so far this year, up from 5 percent in 2007, Bloomberg data show.
"It's a case of Europe exiting the fees recession more slowly and later," said Scott Moeller, professor at Cass Business School in London and a former investment banker at Deutsche Bank and Morgan Stanley. For Europe, "it may just be that in 2011 the stars will come into alignment, but I suspect that will be in the second half of the year."
Irish Rescue
The European Union-led 85 billion euro bailout of Ireland has helped the Stoxx Europe 600 index to climb 6 percent since the package was agreed on Nov. 28. The benchmark is up 10 percent for the year.
That's helped the pace of announced deals to pick up in the final quarter: companies announced $164.8 billion of mergers since the end of September compared with $155.5 billion in the previous three months, according to Bloomberg data. That rebound culminated with Novartis AG's Dec. 15 announcement it will take full control of Alcon Inc. after agreeing to pay $12.9 billion for stock of the eye-care company it doesn't already own.
"The equation is straightforward, fewer deals means less in fee revenue," said Frank Aquila, partner at law firm Sullivan & Cromwell LLP in New York. "It really has been a challenging year in Europe."
Before it's here, it's on the Bloomberg Terminal.
LEARN MORE