Toronto-Dominion Said to Near Chrysler Financial Deal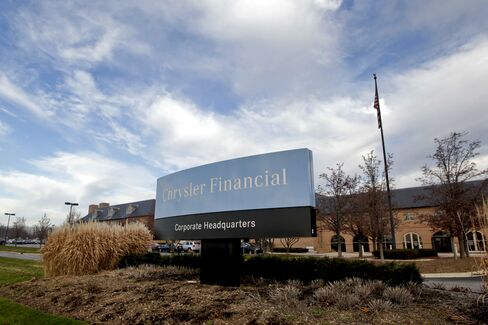 Toronto-Dominion Bank is near an agreement to buy Chrysler Financial, the lender once owned by the third-largest U.S. automaker, from Cerberus Capital Management LP, said three people with knowledge of the matter.
Toronto-Dominion may announce a deal as soon as tomorrow morning, said the people, who spoke on the condition of anonymity because the talks are private. Toronto-Dominion and Cerberus had been discussing a price of about $6 billion to $7 billion, other people with knowledge of the situation said earlier this month.
Canada's second-largest bank has spent more than C$20 billion ($19.9 billion) expanding in the U.S., including $7.1 billion for Cherry Hill, New Jersey-based Commerce Bancorp Inc. in 2008, the bank's biggest acquisition.
Canadian banks, ranked the soundest by the World Economic Forum for three straight years, are expanding abroad to add lower-priced assets after the worst financial crisis since the Great Depression. Bank of Montreal, the country's fourth-largest bank, last week announced its biggest acquisition, agreeing to pay $4.1 billion in stock for Marshall & Ilsley Corp., the No. 1 bank in Wisconsin.
Mohammed Nakhooda, a Toronto-Dominion spokesman declined to comment today. Cerberus spokesman Peter Duda declined to comment.
Toronto-Dominion dropped C$1.68, or 2.3 percent, to C$70.52 in 4 p.m. trading on the Toronto Stock Exchange, its biggest decline since Dec. 2.
Bank Network
Toronto-Dominion has expanded in the U.S. over the past six years, building a consumer bank network that spans from Maine to Florida. Acquisitions included Portland, Maine-based Banknorth Group and Commerce Bancorp. This year, the bank increased its network in the U.S. Southeast, taking part in Federal Deposit Insurance Corp.-assisted transactions and buying Greenville, South Carolina-based South Financial Group Inc. Toronto-Dominion now has more branches in the U.S. than in Canada.
Cerberus, led by founder Stephen Feinberg, wagered on the U.S. auto industry with takeovers of General Motors Corp.'s auto lender in 2006, followed by the Chrysler automaker and lender the following year. The deals preceded a decline in U.S. auto sales that sent both carmakers into bankruptcy.
Feinberg, 50, subsequently lost control of both GMAC and Chrysler and held on to Chrysler Financial. The lender repaid its $1.5 billion in U.S. Treasury Department bailout funds last year and in July sought to return to large-scale lending.
The automaker, known as Chrysler Group LLC, is now controlled by managers from Italy's Fiat SpA.
Ally Financial, originally called GMAC, has financed about 50 percent of Chrysler Group's retail sales this year, according to a statement in September. At the time, the automaker was announcing an agreement with U.S. Bancorp to provide additional financing on some of Chrysler's vehicles.
Toronto-Dominion, based in Toronto, was formed in 1955 as a combination of two Canadian banks that trace back to the mid-1800s.
Before it's here, it's on the Bloomberg Terminal.
LEARN MORE