Obama Gains Enough Republicans for Treaty Approval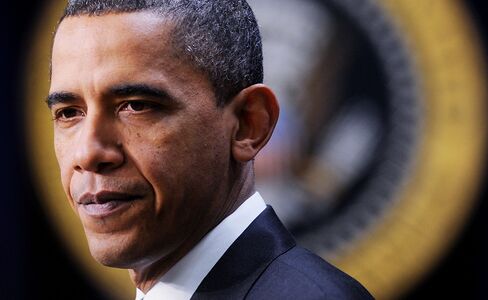 President Barack Obama picked up support from enough Republicans to gain Senate ratification of a nuclear arms treaty with Russia. One Republican predicted passage by a "decent margin."
Tennessee Senator Lamar Alexander, a member of the Republican leadership, announced on the Senate floor today his intention to support the treaty. Georgia Republican Johnny Isakson followed with an announcement of his backing.
That brought the number of Republicans supporting ratification outright to at least nine. With all Democrats in support, that brought support to the minimum two-thirds Senate majority required for ratification. At least two more Republicans, Thad Cochran of Mississippi and Judd Gregg of New Hampshire, have said they're leaning in favor of approving the treaty. Democrats control 58 votes in the chamber.
"The treaty is definitely going to pass," Tennessee Republican Senator Bob Corker told reporters. "It may even pass with a decent margin."
Alexander said he would vote to ratify the New Strategic Arms Reduction Treaty signed last April by Obama "because it leaves our country with enough nuclear warheads to blow any attacker to kingdom come." Alexander also cited the president's commitment to an $85 billion program to modernize the U.S. nuclear-weapons arsenal.
Obama has made calls and written letters of reassurance on modernization and other issues in recent days as he seeks to secure more than the minimum nine Republican backers he needs to ratify the treaty.
Test Vote
The Senate is preparing for a test vote likely today that would limit remaining debate to 30 hours on one of the last pieces of legislation remaining before Congress adjourns.
"I think there is a way we can complete this sometime tomorrow," said Senate Majority Leader Harry Reid, a Nevada Democrat,
Arizona Senator John McCain, the top Republican on the Armed Services Committee, said passage of an amendment he has co-sponsored to address some remaining concerns "would be helpful" in also getting his support.
Republican Senator Mark Kirk of Illinois said his support for the treaty's ratification also hinges on approval of the amendment, which he co-sponsored. The amendment would reaffirm the U.S.'s ability to construct a missile defense system intended to protect against potential attacks by countries such as Iran.
'A Deal-Breaker'
"Any downward pressure by the treaty on the United States and our allies to knock out an Iranian attack would be very bad," Kirk said today. Including Obama's assurances on that point, submitted in a letter to the Senate, in the final resolution of approval "would be very good," Kirk said, adding that failure to pass that amendment would be "a deal-breaker."
Democrats have defeated five other Republican-sponsored amendments, most of which would have required reopening negotiations between the U.S. and Russia -- a prospect Russian Foreign Minister Sergei Lavrov has ruled out.
Senator John Kerry, the Massachusetts Democrat who is chairman of the Foreign Relations Committee, said he has included in the ratification resolution 13 amendments aimed at satisfying Republicans' concerns without reopening treaty talks.
"We will reach further," Kerry told reporters at the Capitol yesterday. "There may be some additional things we can incorporate."
Top Priority
Obama has made ratification of the treaty his top foreign-policy priority during the post-election lame-duck session. Democrats, who now control 58 votes in the 100-member Senate, will have a narrower majority in the next Congress starting in January.
White House press secretary Robert Gibbs said support for the treaty from people such as Admiral Michael Mullen, chairman of the Joint Chiefs of Staff, and former secretaries of state from Democratic and Republican administrations helped turn the tide in the Senate.
"People have had an opportunity to focus on what's in the treaty," Gibbs said at a White House briefing today. Supporters such as Mullen and former Secretary of State James Baker helped assure senators that it "does nothing to impact or hinder our ability to defend ourselves."
Obama yesterday sent letters to Alexander and Cochran, as well as Senators Dianne Feinstein and Daniel Inouye, vowing to keep commitments to modernizing the U.S. nuclear arsenal, one of the issues that had been raised by treaty opponents such as Jon Kyl, an Arizona Republican.
Nuclear Modernization
"I recognize that nuclear modernization requires investments for the long-term," Obama wrote in the letters released by the White House. "That is my commitment to Congress -- that my administration will pursue these programs and capabilities for as long as I am president."
Even after some top Republicans, including Senate Minority Leader Mitch McConnell of Kentucky, expressed opposition over the weekend, others who had voiced concerns said they are supportive or leaning in favor of ratification.
Indiana Senator Richard Lugar, the top Republican on the Foreign Relations Committee, has been a vocal advocate for the treaty. Mark Helmke, his spokesman, said Dec. 11 that the agreement has sufficient support to approve ratification.
In addition to Lugar, Corker, Alexander and Isakson, other Republicans who've said they will vote for the treaty include Susan Collins and Olympia Snowe of Maine, Scott Brown of Massachusetts and George Voinovich of Ohio.
Former Top Officials
Utah Republican Robert Bennett, who is leaving the Senate, told reporters today he couldn't think of any reason why he would oppose the treaty. The support from former secretaries of state, top military officials and foreign policy experts "are pretty unanimous" in favor of the treaty, Bennett said.
Idaho Republican James Risch, who said he was among the presenters in the classified session yesterday and has concerns over how well the U.S. could verify Russia's nuclear arsenal under the treaty, declined to say that he would oppose ratification.
"I continue to have serious reservations," said Risch, who failed to win support for an amendment he proposed that would have required renegotiating the treaty.
Obama, Vice President Joe Biden, Secretary of State Hillary Clinton and Defense Secretary Robert Gates have been making calls to senators since the weekend to press for ratification, Gibbs said.
He said opposition from McConnell wasn't a surprise and didn't alter the administration's calculations of support.
Concerns Addressed
Gibbs said the concerns of Republicans -- including U.S. missile defense development and modernization of the U.S. nuclear arsenal -- had been addressed during 18 committee hearings. The treaty text has been available since it was signed by Obama and Russian President Dmitry Medvedev in April.
Among the issues raised by treaty opponents, including McConnell, is whether the accord would limit U.S. development of a missile defense. Obama sent a letter to McConnell on Dec. 18 saying that the treaty wouldn't hinder the U.S. from deploying such a system in Europe.
"We are proceeding apace with a missile defense system in Europe designed to provide full coverage for NATO members on the continent, as well as deployed U.S. forces, against the growing threat posed by the proliferation of ballistic missiles," Obama wrote.
Missile-Defense Options
Military commanders and defense and nuclear officials have testified that the accord doesn't limit missile-defense options and that it improves the ability to verify Russia's adherence to agreed-upon weapons thresholds.
New START would limit each side's strategic warheads to no more than 1,550, from 2,200 allowed previously, and sets a maximum of 800 land-, air- and sea-based launchers. The previous treaty expired in December 2009.
The Senate voted 66-32 on Dec. 15 to begin consideration of the agreement, highlighting how narrow a majority Obama and his Democratic Party may have for an accord that requires two-thirds of the senators present and voting -- 67, if all 100 are in the chamber -- for approval.
Before it's here, it's on the Bloomberg Terminal.
LEARN MORE