European Travel Disrupted as Snow Delays Flights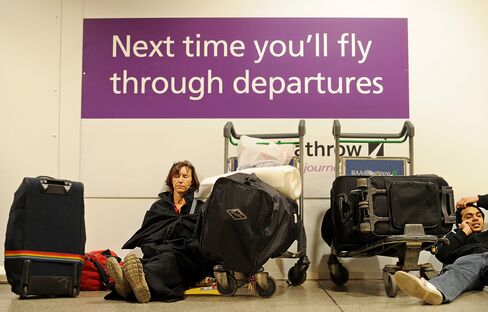 Air travel across Europe was disrupted for a third day as travel operators urged passengers to stay home with more snowfall and ice forecast for England, France and Germany.
Flights from London's Heathrow, City and Gatwick airports, Paris's Roissy-Charles de Gaulle and Orly, and Frankfurt and Geneva were canceled or delayed. Eurostar Group Ltd. said that trains between London, Paris and Brussels were operating with speed restrictions and there are queues at its stations due to a backlog from the weekend. There were also delays at Oslo Airport, according to its website.
"We will be running a severely limited schedule today," British Airways Plc spokesman Euan Fordyce said by phone today. "We are still urging people not to come to the airport unless they have a confirmed booking."
Snow and freezing fog have disrupted air travel across Europe for the past three days with as much as 20 centimeters (8 inches) of snow falling in parts of the U.K. Airlines including Cathay Pacific Airways Ltd., Qantas Airways Ltd. and Virgin Atlantic Airways Ltd. have been forced to cancel flights in the past 24 hours, leaving thousands of travelers stranded.
British Airways Chief Executive Officer Willie Walsh told Sky News he was "hopeful" of getting flights in and out of Heathrow today, even if snowfalls may cause disruptions.
Heathrow
British Airways canceled 83 flights from its Heathrow base, to destinations including Geneva, Prague and Berlin, according to its website. Heathrow airport is operating at 40 percent of full capacity and has only one runway in use, spokesman Nigel Milton said in a telephone interview today.
"Passengers need to check with airlines because we are running such a reduced service," Milton said. "There will be a number of cancelations and the knock on effect of yesterday's closure will be felt for a few more days yet."
Gatwick canceled 30 flights so far today and was expecting freezing fog to mid-morning with snow flurries in the afternoon, spokesman Sean McKay said by phone today.
Deutsche Lufthansa AG said it expected a reduction in flights within Germany and Europe, with much disruption at its Frankfurt hub, according to a statement on its website. Lufthansa extended a plan that pares the number of flights within Germany and Europe to today, Bettina Rittberger, a spokeswoman, said by phone.
Charles de Gaulle
Flights at Paris's Roissy-Charles de Gaulle airport are reduced by 30 percent until 6:00 p.m. while flights at the Paris-Orly airport are also expected be cut by about 30 percent over the day because of snowfall in the region, the nation's civil aviation authority said in an e-mailed statement.
Cardiff Airport is closed until at least 4:00 p.m. because of the "adverse weather conditions", it said on its website.
Some flights from Zurich to Heathrow, Paris and Frankfurt were delayed or canceled this morning and others are set to be scrapped over the course of the day, according to Zurich Airport's website.
More cancellations are likely at Geneva airport, where 20 flights were scrapped earlier today, Bertrand Staempfli, a spokesman for Geneva airport, said by telephone today. A total of about 50 were canceled yesterday.
"We don't have any problem with the weather, but we've had to cancel flights to the U.K. and also to Paris and to Frankfurt because some of their platforms are closed," Staempfli said. "We hope to have a new connection to Paris in the beginning of the afternoon, but it's still difficult with London and Frankfurt."
"Sleeping on the Floor"
Geneva airport offers sleeping accommodations to people who can't find or afford a hotel. On Saturday night, 67 people slept at the airport, which has about 100 beds, Staempfli said.
Sean O'Brien, an American student, has been waiting at Heathrow since yesterday evening for his flight home to Portland, Oregon, to see his family for the Christmas holiday.
"There's loads of people sleeping on the floor," O'Brien, 26, said in a telephone interview from terminal four. "Everything is so ridiculous that people are just laughing at it now."
Cathay Pacific Airways canceled two Hong Kong-London flights today, the airline said in an e-mail. The company expects to operate two other services on the route and all four of its flights from London. Air New Zealand Ltd. said London flights today may terminate at the midpoints of Hong Kong and Los Angeles if weather conditions didn't improve.
Qantas Airways
Qantas Airways has 3,000 passengers affected by the shutdown, after it canceled flights from London and turned back other flights headed to the U.K., Simon Rushton, a spokesman for the Sydney-based carrier, said by phone today.
About 1,000 passengers are stranded in London and the rest across Asian hubs, he said.
Amsterdam's Schiphol Airport said today on its website that it was open and some flights had been canceled. Air France-KLM Group's Dutch KLM unit canceled more than 60 departing and arriving flights at the airport yesterday.
Eurostar, which links London to Paris and Brussels, halted sales of new train tickets up to and including Dec. 24 and is operating a limited timetable, the company said on its website.
Eurostar trains and crew are "out of position" because of the weather and services will probably run with speed restrictions and delays, according to a statement on the Eurostar's website. The train operator expects to run reduced services for "a number of days," the company added.
"We recommend that if you do not need to travel you cancel or postpone your journey," the company said in the statement.
Deutsche Bahn
Deutsche Bahn AG said in an e-mail it expects weather disruptions and an increase in passengers after bottlenecks in the German railway system yesterday.
First Capital Connect trains have delays of up to 40 minutes on some trains into central London, according to National Rail Enquiries' website. London Midland services on all routes are subject to delay and cancellation, while Southern trains is operating a normal service today, according to the company website.
Transport for London said on its website that there were severe delays on the Metropolitan subway line because of the adverse weather.
Snow also delayed Chancellor of the Exchequer George Osborne's flight to London from New York, prompting him to postpone a meeting with the heads of the U.K.'s four largest banks, the Treasury said. Osborne and Business Secretary Vince Cable had been due to urge restraint in bonus payouts at the meeting later today with executives from Royal Bank of Scotland Group Plc, Lloyds Banking Group Plc, Barclays Plc and HSBC Holdings Plc.
Before it's here, it's on the Bloomberg Terminal.
LEARN MORE