Aussie Leads 'Extreme' Currencies Deutsche Says Avoid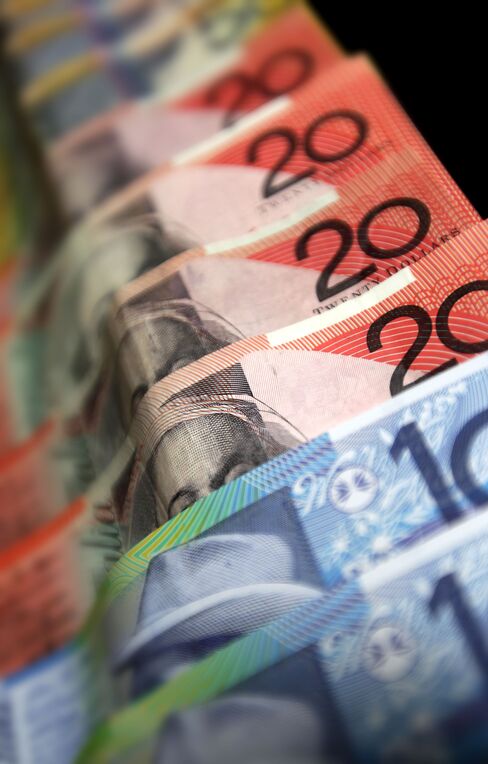 In the last two years there has been no better place for foreign-exchange investors than in nations whose economies are tied to commodities. Now the rally has left those currencies at least 9.5 percent overvalued based on the relative costs of goods and services as measured by the Organization for Economic Cooperation and Development.
Exchange-rates for Australia, Canada and New Zealand have appreciated at least 20 percent since the start of 2009 as their central banks boosted interest rates to curb inflation from rising prices of their raw-materials exports, according to data compiled by Bloomberg.
Surveys of strategists and economists by Bloomberg News show none of the so-called commodity currencies are likely to strengthen next year. Not even demand for commodities may be enough to sustain support for their valuations, said Ken Dickson, a money manager at Standard Life Investments.
"The commodity currencies are at extremes," said Dickson, who helps oversee $240 billion in Edinburgh. "The Aussie dollar is fully valued. The upside is limited and we would not be advocating long positions."
The Australian dollar, or Aussie, will end 2011 at 98 U.S. cents, compared with 99.34 cents as of 12:56 p.m. in London today, according to the median estimate of 29 forecasts compiled by Bloomberg. The Canadian dollar and the New Zealand dollar are likely to be little changed at C$1.01 per greenback and 76 U.S. cents, respectively, according to surveys.
Purchasing Power Parity
Purchasing power parity estimates are based on the idea that long-term exchange rates are determined by the ratio of prices for tradable goods and services between countries. A higher or lower level of inflation in one country relative to another will lead to a weaker or stronger currency.
As the world's biggest shipper of iron ore, coal and wool, Australia has received an influx of U.S. dollars as prices rose. That helped send the Aussie soaring 41 percent since the end of 2008, leaving it 31 percent overvalued, according to the relative price measure of the Paris-based OECD, which advises its 33 member governments on policy.
Canada's dollar is 15 percent overvalued, with the New Zealand currency at 9.5 percent, the data show.
Such a comparison suggests that Brazil's real is also too strong, according to Jim O'Neill, chairman of Goldman Sachs Asset Management. "I get people from Rio and Sao Paulo visiting me in London and describing London as cheap," he said in a radio interview on "Bloomberg Surveillance" with Tom Keene on Dec. 14. "The currency is overvalued."
Fair Value
Brazil's real strengthened 33 percent in 2009, the most since at least 1993, and about 2 percent this year as the world's largest exporter of coffee and second-biggest grower of soybeans profited from surging agricultural prices. Coffee reached a 13-year high of $2.267 per pound on Dec. 17. Soy hit a two-year high of $13.485 per bushel on Nov. 12.
While currencies tend to revert to fair value over time, that's not an accurate indicator for shorter periods, according to Dale Thomas, head of currency management at Insight Investment Management Ltd. in London.
"We don't see any currencies at extreme valuations at the moment, so it's not something we're focused on," said Thomas, who helps oversee about $121 billion. "We look at various different measures and only focus on them if they are all pointing in the same direction and all showing a currency is over- or under-valued."
Raw Material Demand
The last time that was the case, the pound was approaching parity with the euro in December 2008, he said. Before that, it was when the euro was at $1.60 in July 2008, and when the dollar was at 124.13 yen in June 2007. Sterling rose 0.3 percent to 84.62 pence per euro today. The euro depreciated 0.3 percent to $1.3149 and the dollar fell 0.4 percent to 83.68 yen.
Commodity currencies gained in the past two years as demand for raw materials increased. Gold rose 25 percent this year, reaching a record $1,431.25 an ounce on Dec. 7, driving up currencies in Australia and South Africa, the world's second-and third-largest producers. The Aussie hit an all-time high of $1.0183 on Nov. 5 and South Africa's rand rose to 6.7603, the strongest against the dollar since January 2008, the same day.
The currencies of commodity producers tend to appreciate during periods of heightened demand, because raw materials are sold in U.S. dollars, which must then be converted into local tender if the money is to be spent domestically.
'Not Recommending'
"While the Australian dollar has good fundamentals in terms of interest rates, its valuation means we're not recommending buying it at the moment," said Bilal Hafeez, head of currency strategy at Deutsche Bank AG in London. "The same goes for the New Zealand dollar."
The Reserve Bank of Australia held its cash rate at 4.75 percent at its meeting this month, while New Zealand's central bank rate is at 3 percent and Brazil's 10.75 percent. That compares with the Federal Reserve's target rate for overnight loans between banks of zero to 0.25 percent and the European Central Bank's 1 percent main refinancing rate.
"An increase in commodity prices is quite broadly expected, so it's priced in for the commodity currencies," said Paul Robinson, the head of European currency strategy at Barclays Plc in London, who predicts the Aussie will weaken to 92 cents by the end of 2011. "The Australian and New Zealand dollars are very expensive."
Rand Estimates
The rand will weaken to 7.30 per dollar by the end of 2011 from 6.8327 today, according to the median estimate of 15 economists and strategists surveyed by Bloomberg.
Standard Life's Dickson uses a combination of 13 valuation measures, including purchasing power parity, interest-rate and inflation differences and a monetary model that compares money supply and money demand.
"We find that purchasing power parity works best for developed world currencies," said Hafeez. "Typically PPP mean reverts in three-to-five year cycles. When you're at more extreme thresholds, 20 or 30 percent overvalued, then mean reversion is a lot quicker."
While the dollar has been weaker than it should be against the euro for all but one month since August 2003, according to PPP, at 5.9 percent, it's not undervalued enough for it to have a bearing on its direction, he said.
Before it's here, it's on the Bloomberg Terminal.
LEARN MORE