Apple Veil of Secrecy Pierced by Insider-Trading Suit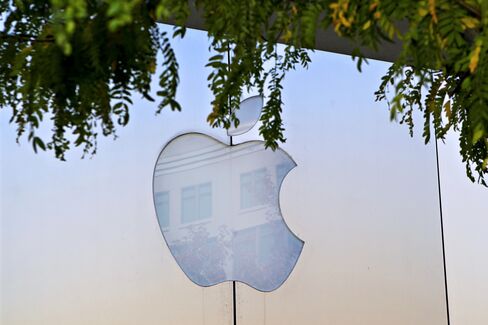 Walter Shimoon was one of a select few who get a peek behind the veil Apple Inc. cinches tightly around its products.
His alleged attempt to profit illegally from that privilege caught up with Shimoon last week, when the former manager at Apple supplier Flextronics International Ltd. was among three people arrested for supplying inside information to investors.
Shimoon, 39, was paid more than $22,000 to share non-public sales forecasts and other information about future products, including the iPad, according to the criminal complaint. His arrest underscores the difficulty faced by Apple Chief Executive Officer Steve Jobs, who runs the world's most valuable technology company, in keeping multibillion-dollar products under wraps, said Charlie Wolf, an analyst at Needham & Co.
"That's very hard to do when you have people in the supply chain who are going to get paid to supply information," said Wolf, who is based in New York and recommends buying the stock.
As a supplier of parts for Apple's devices, Shimoon, then a senior director at Flextronics, was privy to details about the computer maker's product road map and sales numbers, according to the 39-page complaint unsealed last week in New York.
Shimoon, who made his first post-arrest court appearance in San Diego on Dec. 17, lost a bid for bail. Bald and dressed in a white prison jumpsuit, he neither spoke nor entered a plea. His attorney told the judge that Shimoon's wife is eight months pregnant and is a university professor in San Diego.
Inside Information
Prosecutors say Shimoon provided inside information to clients of a Mountain View, California-based Primary Global Research LLC, which put him in touch with investors. His arrest was part of a nationwide investigation of illegal trading at hedge funds by Manhattan U.S. Attorney Preet Bharara, the Federal Bureau of Investigation and the Securities and Exchange Commission.
Apple, based in Cupertino, California, has jumped 53 percent this year, helped by the iPad tablet, released in April, and the iPhone 4, introduced in June. It has more than tripled since Jobs introduced the iPhone in January 2007. Apple rose $1.60 to $322.21 at 4 p.m. New York time in Nasdaq Stock Market trading.
Steve Dowling, an Apple spokesman, declined to comment.
The complaint offers insights into the information, including internal sales projections, exchanged between Apple and the suppliers of product parts, sometimes long before a device is unveiled or hits store shelves. The data can help predict Apple's financial performance and direction of its stock, Wolf said. Flextronics makes camera and charger components for the iPhone and iPad.
Stock 'Convulsions'
"That information is very valuable -- when Apple reports the stock usually goes into convulsions one way or another," said Wolf, the Needham analyst.
In 2009, Apple told Flextronics about a project known as "K48," the codename for what would eventually become the iPad. In October that year, Shimoon shared some of the details with a person who is cooperating with authorities, calling it a "very secretive program."
"It's a totally new category altogether," Shimoon said, according to the complaint. "At Apple you can get fired for saying K48 ... outside a, you know, outside of a meeting that doesn't have K48 people in it. That's how crazy they are about it."
The iPad had sold 7.5 million units as of the end of September, making it the best-selling tablet, and the device has generated almost $5 billion in revenue.
Code Name: N90
During the same call, Shimoon shared information about the next-generation iPhone, code-named N90, with two cameras.
"It'll be a neat phone," he said, according to the complaint. The iPhone 4 sold 1.7 million units in the first three days after its release.
Apple tries to keep a lid on its future products, even amid constant speculation among consumers, media and investors. For example, companies testing the iPad ahead of its release this year had to promise to keep it in a room with blacked-out windows and key-card locks, four people familiar with the matter said in March. Apple also required that the device be tethered to a fixed object.
According to the criminal complaint, U.S. investigators made consensual and wiretap recordings of an unidentified expert-networking firm's phones, the land lines of an unidentified hedge fund and the mobile phones of two of the defendants, including Shimoon.
'Corrupt Network'
"A corrupt network of insiders at some of the world's leading technology companies served as so-called consultants who sold out their employers by stealing and then peddling their valuable inside information," Manhattan U.S. Attorney Bharara said in a Dec. 16 statement.
If convicted of the wire fraud charge, the defendants face as long as 20 years in prison, said Edeli Rivera, a spokeswoman for Bharara's office.
Shimoon has been fired by Flextronics, Renee Brotherton, a spokeswoman for the Singapore-based company, said last week in a statement.
During the court appearance last week, Shimoon's lawyer, Jeremy Warren, argued in court that he should be allowed to post a bond using the equity in his home and retirement accounts as collateral. Warren also told the judge that Shimoon has strong ties in San Diego. Prosecutors said he may flee if released.
According to the complaint, in October 2009, Shimoon shared inside information with an employee of an unidentified hedge fund. He provided sales forecasts for the next-generation iPhone.
IPhone 4 Insights
In another conversation in March, Shimoon discussed what Apple had told suppliers to be prepared for with the release of the iPhone 4, according to the complaint.
"They are telling their core suppliers to plan for 6 million a month," Shimoon said.
In other calls, Shimoon discussed the iPod Nano, how many units of the music player Apple is manufacturing and its forecast for the remainder of the year.
"I wanna pull up the forecast I just got," he said, according to the complaint. "We're gonna do about 10 million... we're gonna do about 12 million module or iPods between August and December, and Christmas."
Meanwhile, Shimoon would also warn his colleagues and Apple employees about the sensitive nature of the information.
"I am sending this e-mail as a gentle reminder to all of us that [the Flextronics business unit] and Apple are covered under both NDA [non-disclosure agreement] and MDSA [Master Development and Supply Agreement]," he wrote, according to the complaint. "This ... will protect the work we have done with them up until now as well as the joint work we are doing with Apple ... on process improvements for the N90 [next-generation iPhone] program."
The case is U.S. v. Shimoon, 10-mj-2823, U.S. District Court, Southern District of New York (Manhattan).