Leading Indicators in U.S. Gain by Most in 8 Months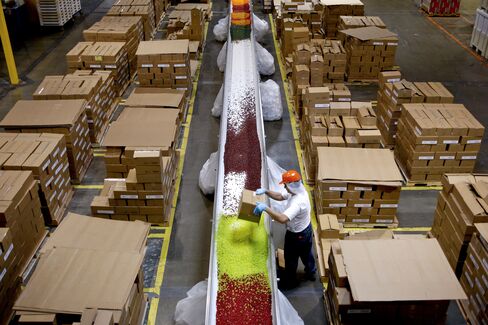 Dec. 17 (Bloomberg) -- The index of U.S. leading economic indicators increased in November by the most in eight months, a signal the recovery will strengthen early next year.
The Conference Board's gauge of the outlook for the next three to six months rose 1.1 percent after a revised 0.4 percent gain in October, the New York-based group said today. The reading matched the median forecast of economists surveyed by Bloomberg News.
Americans grew more confident last month, stocks rose and fewer people filed for unemployment benefits, boosting the prospects for consumer spending in coming months. Until growth picks up and sparks bigger job gains, Federal Reserve policy makers will stick to a plan to pump more money into the economy.
"Momentum is building in the economy," said Michelle Meyer, a senior U.S. economist at Bank of America Merrill Lynch Global Research in New York. "Outside of housing we are seeing strength in other parts of the economy."
Stocks in the U.S. declined as concern Europe's debt crisis will spread across the continent offset higher-than-estimated earnings forecasts from Oracle Corp. and Research In Motion Ltd. The Standard & Poor's 500 Index fell 0.1 percent to 1,241.16 at 10:59 a.m. in New York.
State Jobs
A separate report today from the Labor Department showed payrolls decreased in 28 U.S. states in November, led by declines in North Carolina and Massachusetts, indicating the labor market is undergoing an uneven recovery across the world's largest economy.
The median forecast for the leading index was based on a survey of 59 estimates that ranged from gains of 0.3 percent to 1.3 percent. The Conference Board revised the October reading down from as previously estimated 0.5 percent increase.
The biggest contributors to the increase in the index were a slowdown in supplier deliveries, the spread between short- and long-term interest rates and a drop in jobless claims. Slower deliveries signal factories are having trouble keeping up with demand.
The Conference Board's index of coincident indicators, a gauge of current economic activity, rose 0.1 percent in November after a 0.2 percent increase the month before. The measure tracks payrolls, incomes, sales and production -- the gauges used by the National Bureau of Economic Research to determine the beginning and end of U.S. recessions.
The index of lagging indicators fell 0.1 percent last month, the first drop since May. This measures business lending, length of unemployment, service prices and ratios of labor costs, inventories and consumer credit.
Stock Rally
Evidence the economic recovery is advancing has driven up U.S. stock prices. The Standard & Poor's 500 Index has advanced 22 percent through yesterday since reaching a 10-month low on July 2. The gauge is up 5.3 percent so far in December.
Even so, Fed policy makers said economic growth isn't strong enough to bring down the unemployment rate, which rose to 9.8 percent in November. The central bank's Open Market Committee on Dec. 14 repeated its pledge to leave the benchmark interest rate low for an "extended period" and retained a $600 billion Treasury-purchase program through June.
Seven of the 10 measures that make up the Conference Board's leading index are known ahead of time: stock prices, jobless claims, building permits, consumer expectations, the yield curve, factory hours and supplier delivery times. Of those, five gained strength in November.
The Conference Board estimates new orders for consumer goods, bookings for capital equipment and money supply adjusted for inflation.
Today's report showed nine of the 10 components contributed to the increase, with only building permits showing a decline.
Balance Sheets
Improved household balance sheets may be boosting spending during the Christmas holiday period. The International Council of Shopping Centers on Dec. 14 revised its November-December holiday-season sales forecast up by 0.5 percentage point to a range of 3.5 percent to 4 percent, citing "the strong November performance and promising trends in early December."
"All the brands around the world are having so far so good a very great Christmas," John Demsey, group president of Estee Lauder Cos., said in a Bloomberg Television interview Dec. 15. "Consumer confidence is up and it's really about the power of the brands and pent up demand that consumers have."
The pickup in consumer spending complements factory growth that helped bring the economy out of the worst recession since the 1930s.
Broadcom Corp., the biggest maker of chips for television set-top boxes, this week increased its fourth-quarter revenue projection to about $1.9 billion, the top end of an earlier forecast range. Irvine, California-based Broadcom is making inroads in the mobile-phone market, supplying radio chips for handsets from South Korea's Samsung Electronics Co. and Finland's Nokia Oyj.
To contact the reporter on this story: Courtney Schlisserman in Washington at cschlisserma@bloomberg.net
To contact the editor responsible for this story: Christopher Wellisz at cwellisz@bloomberg.net