Obama Signs $858 Billion Tax-Cut to Revive Economy, Add Jobs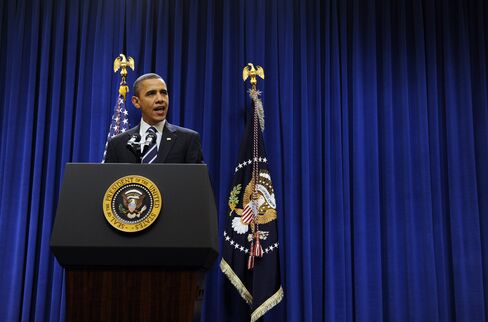 President Barack Obama signed into law an $858 billion bill extending for two years Bush-era tax cuts to boost a fragile economy and add jobs.
"It's a good deal for the American people," Obama said at a signing ceremony in Washington. "Putting more money in the pockets of families most likely to spend it, helping businesses to grow, that's how we're going to spark demand, spur hiring and strengthen our economy in the new year."
Obama overcame resistance from congressional Democrats and labor leaders to broker a tax-cut deal with Republicans, who'll take control of the House in January and gain Senate seats after last month's elections.
"Candidly speaking, there are some elements of this legislation that I don't like," Obama said. "That's the nature of compromise."
The president signed the measure after meeting privately with about a dozen labor leaders, including AFL-CIO President Richard Trumka. Organized labor leaders opposed the tax-cut deal. The meeting was closed to press coverage.
Final action came late yesterday when the House voted 277-148 to pass the $858 billion package, sending it to the White House. Before the final vote, lawmakers defeated an amendment offered by some Democrats opposed to a Republican-backed estate-tax proposal they said favored the wealthy. Obama had lobbied wavering House lawmakers by telephone for much of the week, Bill Burton, a White House spokesman, said.
The plan extends all Bush-era tax rates through 2012, guaranteeing a fight over taxes during that year's presidential campaign. It continues expanded jobless aid to the long-term unemployed for 13 months and reduces payroll taxes for workers by two percentage points during 2011.
Double-Dip Recession
Failure to pass the bill would "cause grave economic harm and possibly send us back into a double-dip recession," said Representative Eric Cantor, a Virginia Republican who will become majority leader in January.
The Senate passed the tax-cut plan 81-19 on Dec. 15 with broad support from Democrats and Republicans.
The Business Roundtable, a group of chief executives, said in a statement that the payroll tax reductions, fresh investment incentives and the certainty of tax rates would help increase jobs and reduce the jobless rate.
"It will provide a substantial boost to growth in 2011; the unemployment rate for the year is going to average about 8.7 percent, as a result of the tax bill, compared to about 9.8 percent we were expecting before the tax bill," said Gus Faucher, director of macroeconomics at Moody's Analytics in West Chester, Pennsylvania. The U.S. unemployment rate was 9.8 percent in November.
Estate Tax
Under the plan negotiated with Obama, the estate tax next year would have a top rate of 35 percent to be applied after an exemption of $5 million per person. House Speaker Nancy Pelosi of California, who will become minority leader in January and wasn't part of final negotiations on the measure, said she was troubled by the cost of the agreement, especially for the estate tax breaks.
Many House Democrats favored a top estate tax rate of 45 percent with a $3.5 million per person tax-free allowance.
Before it's here, it's on the Bloomberg Terminal.
LEARN MORE