Nouriel Roubini Buys $5.5 Million Manhattan Condo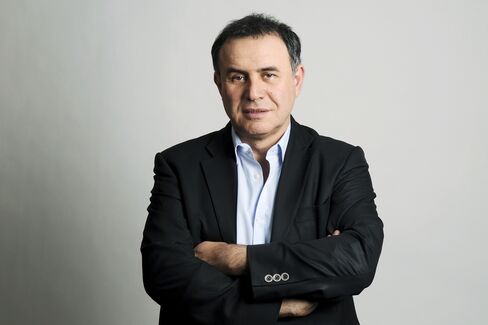 Nouriel Roubini, the New York University economist who predicted the global financial crisis, bought a $5.5 million condominium in Manhattan, according to public records.
Roubini took out a $2.99 million mortgage to buy the condo on East First Street, according to New York City Department of Finance records. The "sun-blasted" apartment atop a former steel warehouse is a 3,700-square-foot (340-square-meter) triplex penthouse, according to listings website StreetEasy.com.
"He is making a statement, definitely, in the rent-versus-buy argument," Sofia Song, vice president of research for StreetEasy, said in an interview. "For his own personal situation, it makes sense to buy. It might prompt others to potentially start looking."
Roubini, who has said there is still a risk the U.S. economy could slide back into recession, said last month that another "disaster" will happen if U.S. home values fall again and prime-mortgage defaults increase.
"If house prices are going to fall another 5 to 10 percent, another 8 million households are going to be in negative equity," Roubini said Nov. 2 at a conference in Cape Town. "We are going to have another nasty crisis. That's going to happen unless we do something about it. Forget about subprime, look at prime."
Adjustable-Rate Mortgage
Roubini, the chairman and founder of international consulting firm Roubini Global Economics LLC, took out an adjustable-rate mortgage that has a fixed rate of 3.625 percent for five years, according to city property records. The rate on the loan, which runs through 2041, will change in January 2016 and once each year after that.
In Manhattan, sales of luxury apartments, defined as the top 10 percent by price, jumped 19 percent in the third quarter to 266 transactions, according to New York-appraisal firm Miller Samuel Inc. Their median price climbed 12.5 percent to $4.39 million. Roubini's purchase is more expensive than 96 percent of all Manhattan sales in the third quarter, said Jonathan Miller, president of Miller Samuel.
"Wow," Miller said. "One of the most pessimistic economists who called it right, called the housing bubble. At first glance this could easily be taken as a sign that things are better."
The three-bedroom, three-and-a-half-bathroom apartment includes a 50-bottle temperature-controlled wine refrigerator, a "custom walnut wet bar," and a wrap terrace "ideal for sunbathing, stargazing and dining al fresco," according to the property listing.
'Amazing Home'
"Connected by a custom cantilevered steel staircase, each level of this amazing home offers something unique and unforgettable," reads the listing by Richard Orenstein, a Halstead Property broker. "On the first floor, you'll find a massive living/dining area bathed in southern light with 11-foot beamed ceilings, exposed brick walls, a wood-burning fireplace, and light from a 50-foot expanse of oversized windows."
Roubini, reached on his cell phone today, said he was in a meeting and didn't comment on the condo purchase. He didn't immediately respond to an e-mail sent to his NYU address. Orenstein, the Halstead broker, declined to comment.
Before it's here, it's on the Bloomberg Terminal.
LEARN MORE